Apple MacBook Pro 13—Core 2 Duo Performance
It's kind of embarrassing to be reviewing a $1200 computer with a two year old processor and application performance to match. It's not that evident in day to day use, and in most games performance is more dependant on the graphics card, but application performance benchmarks are where the Core 2 Duo really makes itself felt (and not in a good way).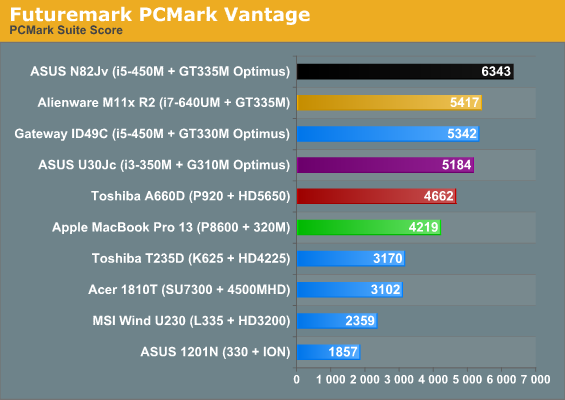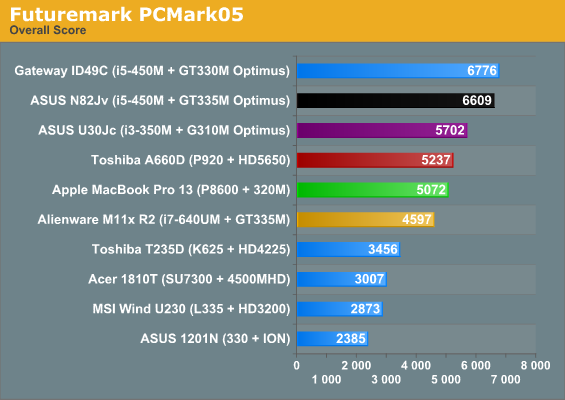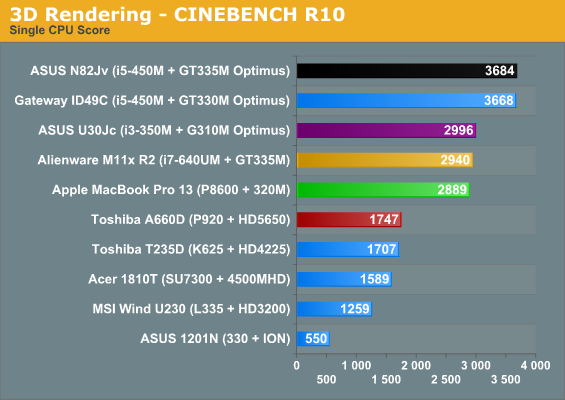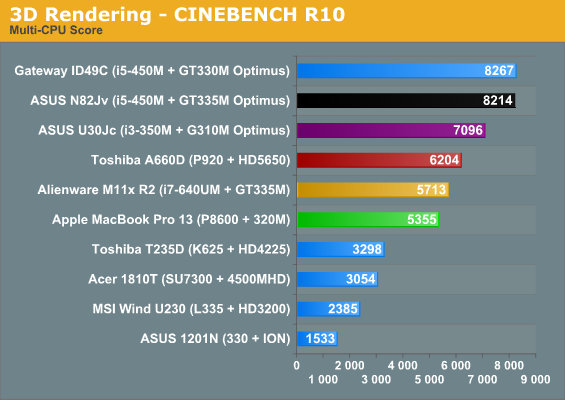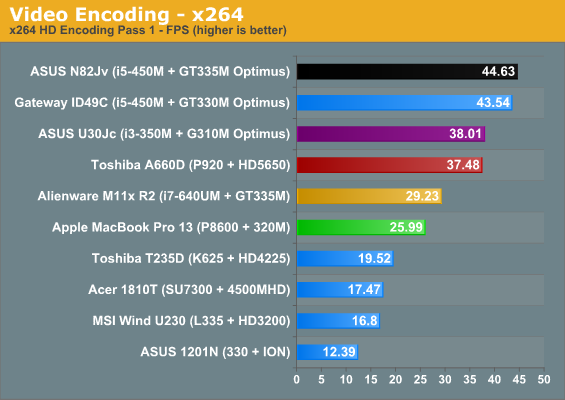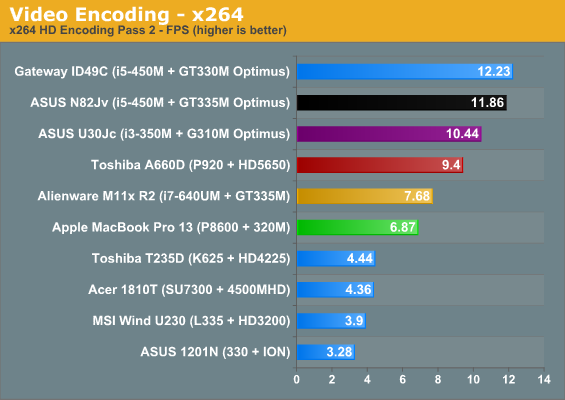 Here's why it's really sad: the MBP13 results would fit pretty well in our old Core 2 Duo notebook roundups, like this one from two years ago. The G50V and dv5t were $1200 notebooks back then, and they're basically on par with the current MBP13. Quite frankly, it's almost pathetic that Apple decided they could get away with a Core 2-based processor for another year at a price point that can get you a 14" aluminum unibody notebook with a quad core i7-720QM (HP, we'd still like to test an Envy 14, thanks). People expect Macs to cost more almost by default, but after a couple of years of the MBP13 being a decent value for a premium quality notebook (look at the old Envy 13 for comparison), it's particularly jarring now to see it be so far behind the competition. I have none of these complaints for the Core i5/i7 sporting 15" and 17" models, however.
At this juncture, any notebook with a Core i3 can outrun the MBP. Same goes for the Core i7 ULV chip. We've never tested a Core i5 ULV, but we'll see the Core i3 ULV in a review shortly and it's in the same ballpark as Core 2—and the overclocked Core i3-330UM in the ASUS UL80Jt is basically on par with the MBP.
There are two ways you can look at this; you can say that at this point, anything with a Core 2 (even an old Merom) is more than powerful enough to run Windows and handle any reasonable task a thin and light notebook might be asked to. A lot of Apple fans say that. There's another camp that says it's completely unreasonable for Apple to sell a notebook with a Core 2 Duo processor at $1200, regardless of what it might be asked to do—there are smaller, thinner, lighter systems that perform better in basically every way. A lot of anti-Apple fans say that. They're both right.
The Core 2 Duo is most certainly adequate to handle the normal, every day rigors of a portable notebook, but that's not a reasonable justification for Apple selling a notebook that is more expensive than more powerful competitors. Apple is getting a bargain price on P8600 CPUs and the 320M chipset, which means the Core 2 + 320M is more about increasing profit margins than anything else. (And for those people who still cling to the theory that Apple couldn't fit a third chip onto the board without reducing the battery size or making the notebook larger, that's nonsense. If ASUS can manage to fit a Core 2010 processor, the chipset, and a dedicated graphics card into a system with similar dimensions to the MBP13 and a 33% larger battery, then Apple could have too. Simple as that.)
While we're here, we also ran all the 3DMark suites. This hints at the Core 2 + 320M combination being a lot more impressive than the above results, but then why couldn't Apple get GT 320M or faster with switching graphics into the system instead? Oh, right: that's only for 15" and 17" MBP. More on this when you hit the next page.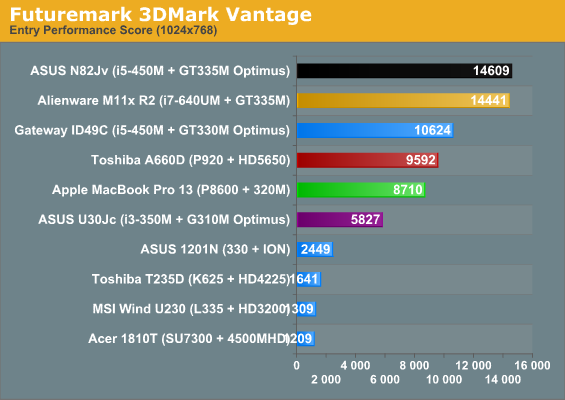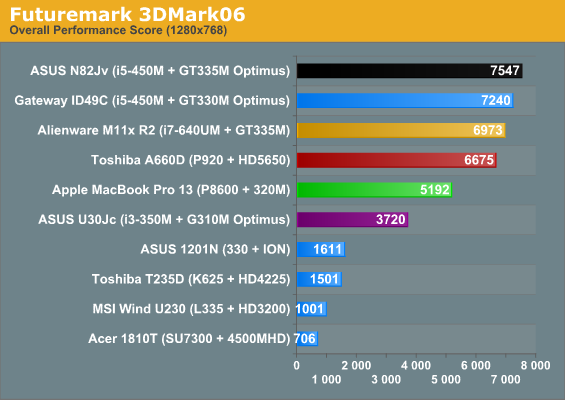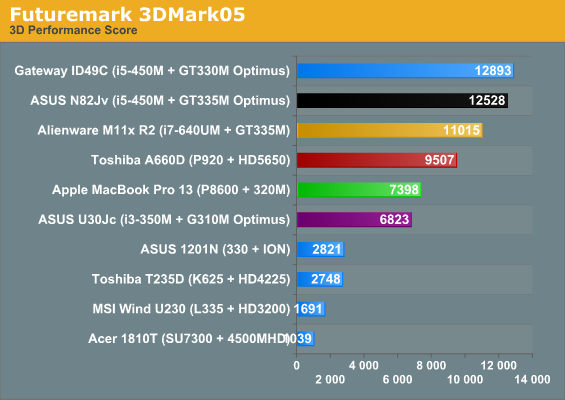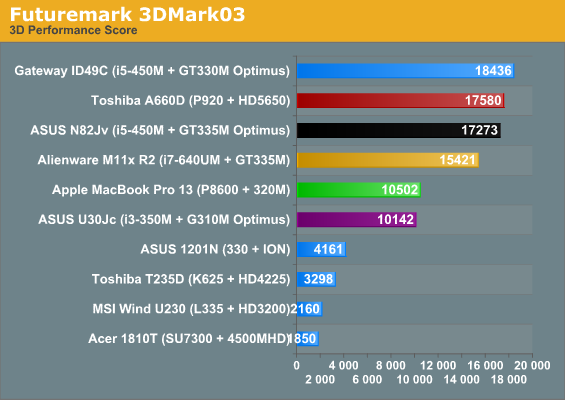 Okay, 320M looks decent, but the CPU is still old. We'll get into the graphics stuff on the next page, but while we're here looking at 3DMarks, we do have a quick question: how many of you want us to continue posting 3DMark results with our laptop reviews? We know they're a consistent point of reference for the long-term, but 03 and 05 in particular are getting very long in the tooth. So, if you want to sound off in the comments, would you like us to ditch 3DMark entirely, keep 06 and Vantage, keep all four like we've got above, or only skip 03/05?