The Roadmap & Pricing
I've defined the launch parts earlier in this article, but now I'm going to put them in perspective. When Intel provides its partners with roadmaps it also provides them with an idea of where future CPUs slot into various segments/price points. For example, Intel's LGA-1366 roadmap tell us that in the "Extreme" market segment Intel only has a single product offering: the Core i7 980X. And in Q1 2011 the 980X gets replaced by the 990X.
Usually based on this information you can get a general idea of how much future products will cost - or at least what they will be comparable to. In this example the 990X will most likely be priced at whatever the 980X is priced at. Products may change, but the price people are willing to pay in a certain market segment usually doesn't.
What we have below is the Intel roadmap, with Sandy Bridge included, for Q3 2010 through Q3 2011. The further out you go in a roadmap the lower your accuracy becomes, so I wouldn't worry too much about us not seeing LGA-2011 on there yet.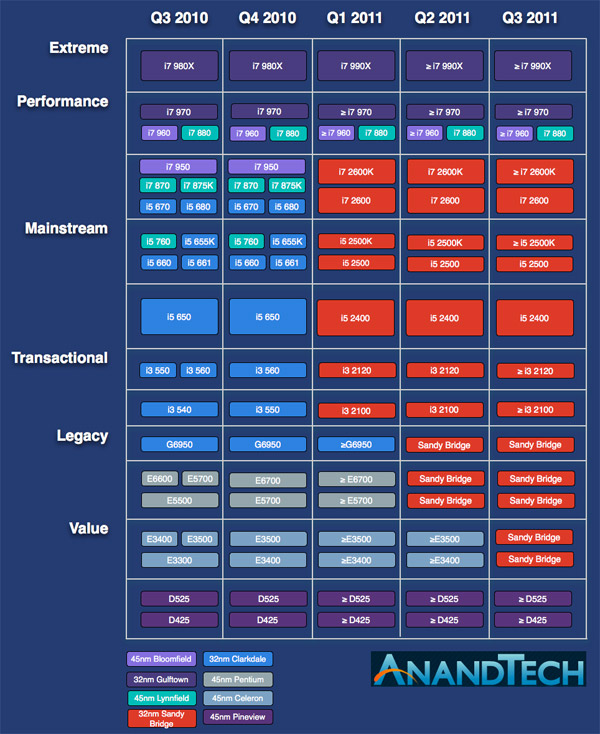 Click to Enlarge
It's based on this roadmap that I mentioned some pricing earlier. If all stays the same, the Core i7 2600K will take the place of the Core i7 950, currently priced at $562. The 2600 will fit somewhere around the 680 and 875K ($342) and the 2500K will replace the i5 760/655K ($205 - $216).
The cheapest Sandy Bridge at launch will be the Core i3 2100, which will replace the i3 560 at around $138.
Now pricing is always a huge variable, but I have to say, based on the performance you're about to see - these parts would be priced right.