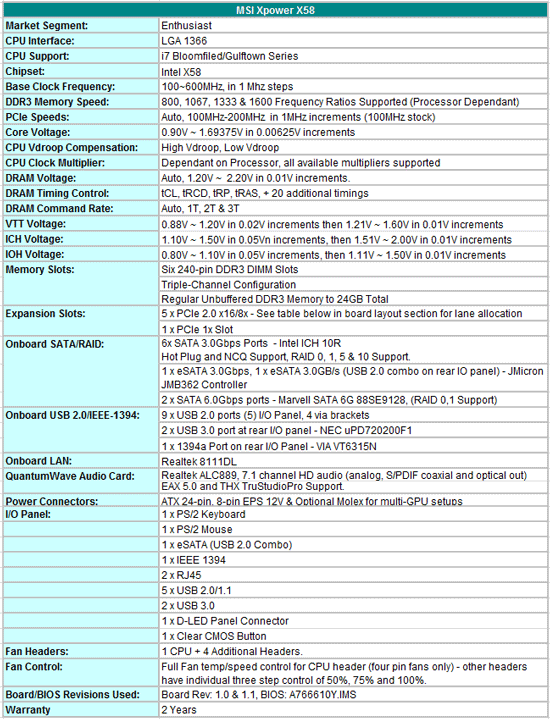 Now this is more like it on the pricing front for a flagship motherboard, at $299 shipped the XPower looks a lot more attractive than the other three boards we're testing today. SATA 6G and USB 3 are present, together with a plug-in soundcard that includes Creative X-Fi drivers as part of the package.
Let's take a look at package contents:
1 x Driver/utility DVD
7 x SATA cables
1 x Two port eSATA bracket
1 x Two port USB bracket
1 x Molex to 2 x SATA power connector cable
2 x Molex to SATA power connector cable
3 x SLI bridges
1 x CrossFireX bridge
4 x V-Check cables
1 x QuantumWave audio card
1 x User guide
1 x Quick start visual guide
1 x I/O shield
1 x OC Dashboard (remote overclocking panel)
A fairly comprehensive package from MSI, including needed brackets, a plug-in soundcard plus a nifty little remote overclocking device known as OC Dashboard. For a description of the soundcard and OC panel we re-direct you here as there are no changes to either device, either electrically or in terms of operation – both work well. A decent bundle of goodies from MSI, especially if you take a gander at what Gigabyte are providing with the UD9 at over double the price.
Software
The software saga is the same as what has gone before on MSI. The main tool being Control Center: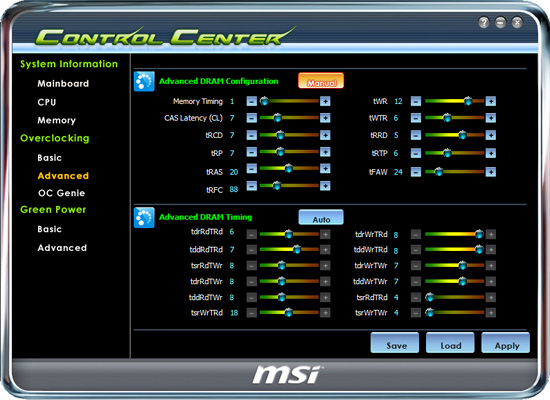 We're not sure what version MSI are currently shipping with retail boards, whatever it is, we'd advise you to head over to the MSI download section and grab the latest version just to be sure. Early versions of the software work in most regards, but do have a tendency to misreport voltages on occasion. This has been fixed so you should be good to go on the latest release.
Control Center hasn't really seen any improvements over the past six months; every iteration offers the same level of options. While the memory tweaking section is a nice touch, changing any parameters requires a reboot - we may as well change things from BIOS instead. Third party tools like CPU Tweaker do a better job than Control Center in this regard so it's probably wise for MSI to either follow suit or put resources behind other areas of operation.
Where Control Center falls behind other vendor tools is a lack of multiplier changing options, which can be a pain for users who benchmark Gulftown processors. Other than that, options to control fans, voltages, bus speeds are all present – although we find OC Dashboard more convenient to use.
Board Layout
When we first laid eyes on the XPower, we were certain MSI had included an NF200 chip due to the number of PCIe slots on offer. However, that's not the case, it's straight X58 routing. Here's a table copied from MSI's user manual: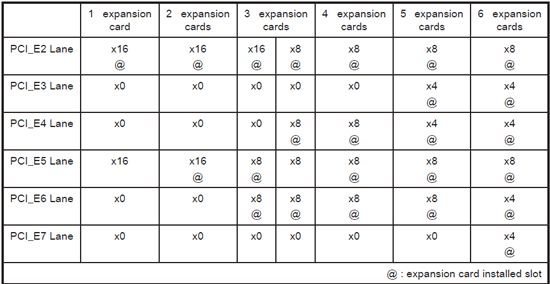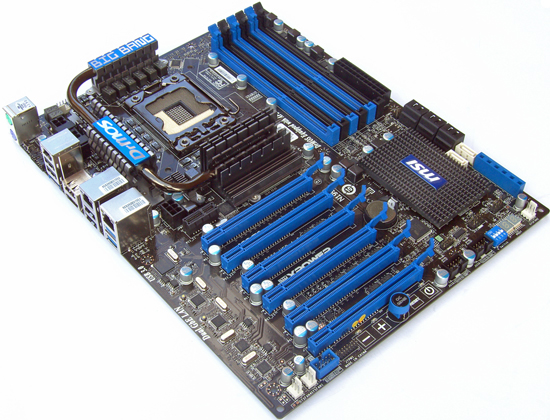 Board dimensions are standard ATX (24.4cm X 30.5cm). The XPower can run up to four cards in 8x lane width mode like the ASUS R3E, while dual and triple card configurations are confined to 16x/8x or 16x/8x/8x allocation respectively. There may be a very slight penalty as a result of this for outright benchmarking scores, nothing worth worrying about for everyday use, though.
Layout is reasonable barring placement of the SATA 6G ports which become obscure if running a long dual-slot GPU in PEG slot four. On-board features include, an OC Genie switch (one-touch pre-set overclocking), and also touch sensitive power, reset and BCLK adjustment pads. Voltage measurement points are also available, and MSI supply four plug in cables that allow hands free voltage monitoring from a digital multi-meter. Based upon features alone, the XPower appears to offer more "value" than ASUS's R3E, and certainly better value than the two NF200 based boards included in this article.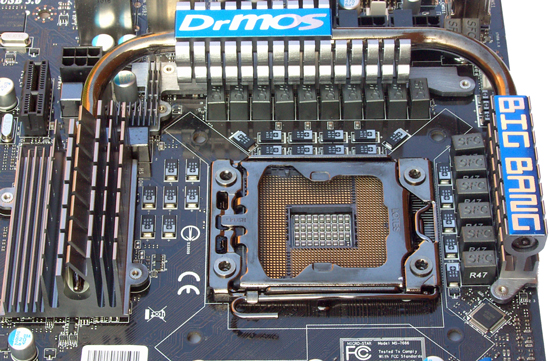 Like other vendors, MSI have redesigned the power delivery stage for CPU Vcore for their new board, upping current delivery capabilities to around 360 amps (without need for modification -so we're told). Everything else is standard fare for the Big bang series, DrMOS FETs used in key locations, and a slew of tantalum capacitors used for decoupling major rails.
BIOS & User Experience
Familiar start here; be sure to flash the XPower to the latest BIOS as soon as it lands if you want a stress free ride during operation. Early BIOS releases won't resume from S3 much past stock, and memory sub-timings have a habit of either being misreported or unresponsive to changes. The latest BIOS fixes S3 resume, which should work up to 210 BCLK provided the board is setup properly (stable).
In total, the MSI BIOS is probably the least refined out of today's test samples. Basic functionality is in place, and adequate for stock use. Heavier overclocking requires a fair amount of patience and/or knowledge of memory sub-timings to get the best from this board. Actually, the subject of memory overclocking is a bit of a sore point for us with the XPower board in comparison to everything else we've tried our memory modules and processors in. Speeds up to DDR3-1900 are okay, anything higher than that starts to suffer problems no matter what we do. There is more data on this later in the article, so we'll sum up here by saying that we don't think the XPower is an ideal choice for high speed memory clocking. Not only that, but this becomes quite an hindrance in certain benchmarking scenarios, too.
The positive side to the BIOS is that you can key in voltage values directly and that there is a built in BIOS flashing utility unlike EVGA. Peripheral setup options are also available in abundance, and work fine. Where things start to go awry, on the functionality side is that the built-in flashing routine does not seem to work with certain thumb drives (our PNY 2GB stick is incompatible). The BIOS does recognize and read the drive, root and subfolders, but does not manage to find the BIOS file for flashing. Plug in a different USB stick and everything works fine. We have reported this back to MSI several times now and they have not managed to fix it. Out of interest, the PNY stick is what we use with every other board for BIOS flashing and we've never seen this problem before.
Automated memory timing adjustment of individual parameters has never been one of MSI's strong points, and that trait is prevalent on the XPower, too. Once again, you can either leave things completely in the hands of AUTO, tackle half of the timings manually, or if you're feeling really brave, take on the whole brigade yourself. For new users, it's better to set the DRAM frequency multiplier ratio manually and leave the DRAM section of the BIOS on AUTO at first, reboot the board then select the manual option. Doing so will at least give you a set of loose base timings to work away from when manual adjustment mode is selected.
This pretty much sums up our experience with the XPower; MSI have put together a good package of peripherals for wow factor and are more than competitive on pricing in present company, but the overall execution of BIOS lacks refinement, and we feel there may be some hardware issues that hinder overclocking based upon how our sample boards behave when pushed hard.