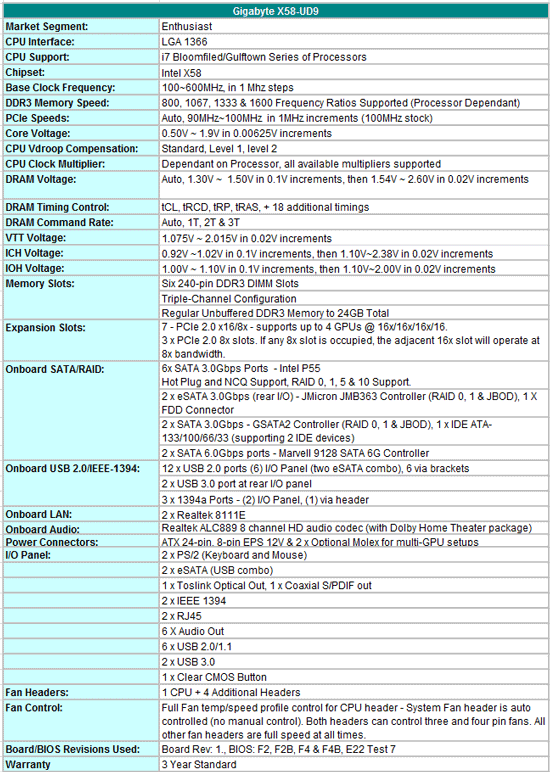 Where to start? Yes, there is an abundance of SATA ports and such on the UD9, but, there's nothing on the component front that sticks out as special at the asking price. Much of what we see here is utilized by Gigabyte on their lower end models which are substantially cheaper (same NICs, audio and JMicron style SATA controllers , SATA 6G, USB 3 and associated features like on/off charge). We can't help but feel that there is some serious price gouging going on here. The only thing setting the UD9 apart from the UD7 model is the addition of the NF200 bridge chips, and a revamped VRM – it's impossible to see how this adds $300 worth of value. Until Gigabyte or Newegg drop the asking price (whoever the guilty party is), we're not in any kind of position to offer a recommendation.
Here's what you get bundled with the UD9:
1 x Driver disk
1 x User manual
1 x Quick installation guide
1 x IDE cable
4 x SATA cables
1 x two port eSATA bracket
1 x I/O shield
1 x "Silent-Pipe" heatsink (optional)
1 x 2-Way SLI connector
1 x 3-Way SLI connector
1 x 4-Way SLI connector
2 x 2-Way CrossFireX connectors
No major extras in the bundle or special goodies like a pre-paid trip to Vegas. With all those extra SATA ports one would expect Gigabyte to have provided more than four SATA cables. Unlike ASUS, EVGA and MSI, Gigabyte don't have any kind of external overclocking hardware in the bundle, it's all very basic Gigabyte stuff with the UD9, which leaves us even more bemused by the price.
Software
For a software rundown check here as there aren't any major changes for the UD9. There's a slight revamp to Dynamic Energy Saver in that the software has been updated to manipulate Gigabyte's dual VRM topology on the UD9. Basically, what the DES software allows you to do is utilize half the phases during light~moderate loads to save some power.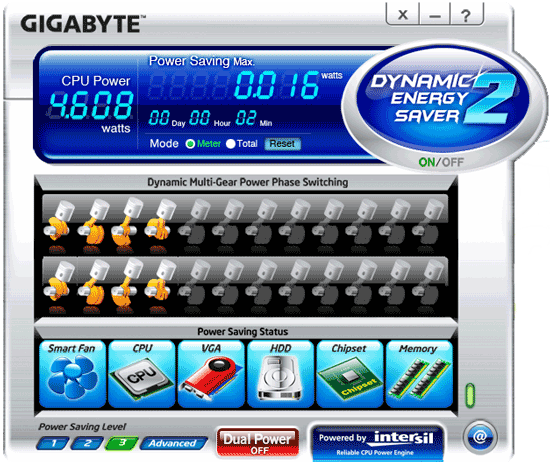 The primary functions of DES work fine, the custom aspects like underclocking don't. Any time we tried to apply our custom power saving preferences the OS prompted us to reboot and then froze before completing the process. Upon reboot we were told that DES had been disabled, and when we re-enabled the software none of our preferences seemed to take effect. Stick with the primary functions of the software if you must use it until Gigabyte fixes the problem. The saving grace is that we can't see many users opting for a board like this with energy efficiency at the top of their buying shortlist. We'd expect most users will want to use Gigabyte's Easy Tune software for overclocking though. Updates to the software have added extra functionality such as quick load profiles for benchmarkers and such. Overall, the software is quite heavily laden with options which can make it a little slow to navigate and to load. We didn't find this to be too much of a hindrance during benchmarking though - everything one needs to adjust is readily available.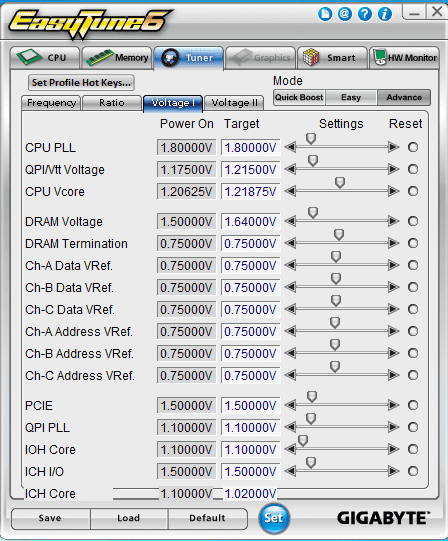 The only thing Gigabyte do need to fix with Easy Tune and in their BIOS is the misreporting of DRAM Vref values. The BIOS and Easy Tune show these at 0.75V regardless of where we set VDIMM. All DRAM side voltage references track 50% of VDIMM by default (the norm for differential signal stages). We've pointed this out to Gigabyte before but things are still the same. It doesn't affect operation of the board in any way, which is probably why we have been ignored, regardless; these values should be reported correctly in our opinion.
Board Layout
Like the EVGA E762, the UD9 is an oversized ATX board (34.5cm x 26.2cm), rendering most PC cases as unsuitable for a home. We refer you to Gigabyte's supported chassis list here for a list of candidates.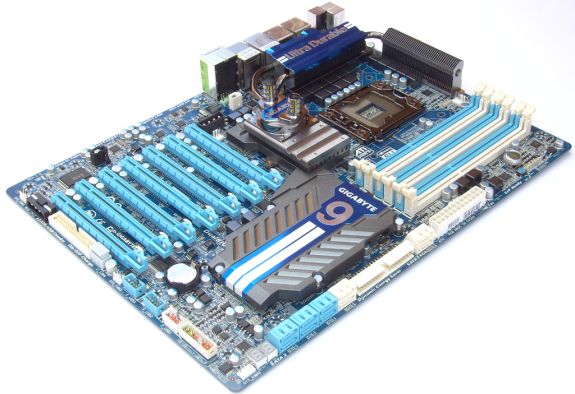 Like other Gigabyte boards, the UD9 is strewn with a plethora of peripheral ports right down to legacy stuff like FDD (no PCI though). PCIe layout is identical to EVGA, and geared for multi GPU setups.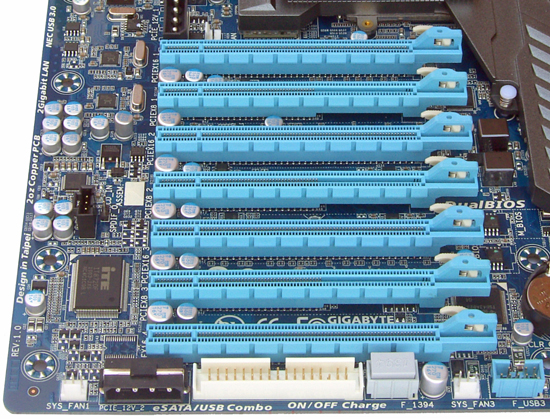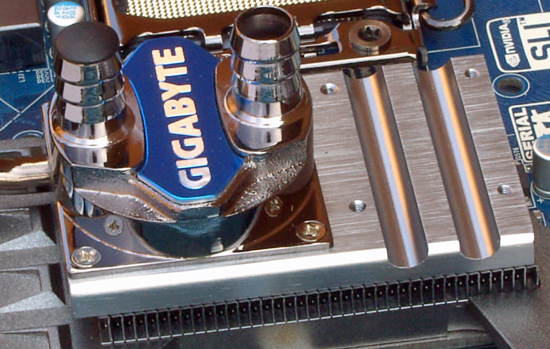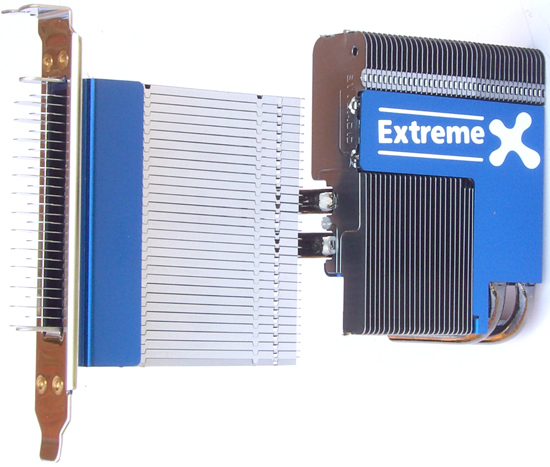 While the base setup works fine with a bit of airflow, the addition of a built-in water block and the plug in heat sink look like they were an afterthought. There is heat transfer to the water block, but placed in this location, water-cooling the assembly is more hassle than it's worth - the same thing applies to Gigabyte's optional heatsink (we noted a two Celsius change in temperatures using this solution). it makes more sense pointing a fan at the base assembly to keep temperatures in check. Our final verdict about the add-on parts is that for a $700 outlay we'd prefer a custom full-coverage water-block from the likes of EK bundled in the package.
We don't have any layout gripes per se, everything is accessible. Something we did expect to find on a board like this is the inclusion of voltage measurement pads for multi-meters. Software reporting is seldom accurate, so many users like to use a multi-meter and measure voltage as close to the load as possible (provided vendors tap traces at the right point). Gigabyte are the only vendor on test today that don't provide provision for this and that is a shame for anyone who is going to push the UD9 hard. Monitoring voltages under full load conditions during heavy overclocking experiments can save a lot of time, and at least paint a more accurate picture of what the processor is seeing at the power pads.
As we mentioned earlier Gigabyte's VRM has undergone a revamp – still using Intersil's six phase controller (MUXed out to 24 phase), with the major change over previous iterations being a switch out to integrated driver/FET stages. Overall current handling capabilities are purported to be a crazy 1.5KW, more than any single processor can draw. We've seen peaks in excess of 320 watts from a Gulftown running the CPU tests of Vantage at 5.1GHz, while users have reported up to 500W from Gulftown processors running Vantage around 6GHz. So, there's far more than anyone will physically and theoretically be able to use on tap. Gigabyte has gone this far to aid long-term reliability. Whatever the reason may be, it's not a big enough lynch-pin to justify an elevated price tag in our opinion.
BIOS & User experience
Our test journey began with the F2 public release BIOS, which was updated in a matter of days to the F4 series of releases. A common problem on all of these releases (and one we keep finding on Gigabyte boards), is an issue using AHCI mode with optical DVD drives. Gigabyte's BIOS base code does not include a sufficient hold time during POST for our optical drives to initialize and boot from inserted disks. Usually the workaround is to hit the Pause button before BIOS goes into drive detection routines, although we found this did not work for us on the UD9, forcing us to install Windows 7 in IDE mode and then using a workaround to enable AHCI drivers in the OS registry. Someone back at Gigabyte needs to take note of this reoccurring issue and force through a permanent fix.
Getting past that, one thing we've seen vendors do in the past is apply small overclocks to boards at board defaults in order to improve their position in "stock" benchmark compares during reviews. The UD9 applies a 2MHz BCLK overclock as standard to ALL processors. While this is within the bounds of stability without needing over-voltage, it is something anyone testing these boards needs to be made aware of – like ASRock, Gigabyte aren't going out on a limb to tell review sites they are doing this, you either see it or you don't. Fortunately, we're always on the lookout for stuff like this and make sure we line up all boards as fairly as possible in our base compare tests. Right now, the only two vendors we've seen employ such methods to keep their nose ahead of the pack are ASRock and Gigabyte. ASRock ar probably the bigger guilty party here (forcing other vendors to follow suit) and will apply as much as 5 BCLK on AUTO defaults (138BCLK effective). Vendors like ASUS are a little less obvious, and apply a small positive offset of .7 MHz which gives a tiny overclock (133.7Mhz) – EVGA are a little more honest and apply the same .7 offset but keep you one BCLK below what you've set (133BCLK is 132.7MHz) We'd like to see the positive offset practice stop – stock defaults should be absolute specification defaults and as close to 133 BCLK as possible. Little things like this may not sound like a lot, but they are enough to skew benchmark results. (Sigh, end of rant).
Back to the UD9 proper, we quite like Gigabyte's BIOS layout, it's well laid out and comprehensive enough for all types of users. Gigabyte is the only vendor really pushing ASUS on general BIOS quality. There are a couple of areas where we feel ASUS have the edge; slightly better implementation of automated parameters for overclocking and more obviously fan control options. Only the CPU header can be fully controlled on the UD9. The System fan header can control both three and four pin fans but this is tied to automatically ramp up and down with system temperature – direct user changes are not possible. The other three headers remain full-on at all times. Again, this is not what we expected to find on a high-end motherboard.
On a positive note, recovery from failed overclock does work pretty well and is on-par with the ASUS R3E – the only improvement we had to suggest to Gigabyte for this was to add an F1 halt alert, as we found pre F4B BIOSes to sometimes POST in safe-mode after a failed overclock without alerting the us that BIOS settings had been changed to safe.
Plug-in peripheral compatibility is good, we did not encounter any problems (other than what we mentioned above), with our test equipment. Overclocking stability is also good for the most part, the only exception to that will be of interest to the extreme benchmarking crowd; we found this board to be a little less stable than the ASUS and EVGA offerings when pushed hard during sub-zero benchmarking runs. Heavy CPU load test like Vantage were not a problem; it's Super Pi 32M where we ended up 2~3 BCLK adrift and hence achieved a lower overall score. Clock for clock efficiency using Gigabyte's benchmarking BIOS is pretty good, and on the face of it appears to have an edge of the EVGA E762, unfortunately, the frequency disparity we experienced between the UD9, E762 and R3E while using the same processor and parts nullifies the gain in 2D, although the 3D side edges the other boards in scores.
Recovery from S3 resume works very well on the all BIOS releases, allowing us to recover our system from sleep all the way up to 221 BCLK (higher than any other board in this test).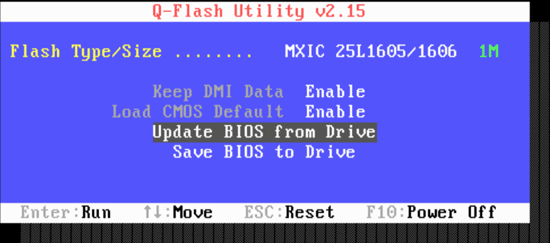 Q-Flash is Gigabyte's rendition of a built in BIOS flashing routine, and we're happy to report this works well. If we recall correctly, Gigabyte were the first vendor to market with dual-BIOS, providing a failsafe in the event of BIOS corruption. This feature is also utilized on the UD9, and as on previous motherboards does not allow users to load two separate BIOSes for compare. As we see so often in this industry, nothing is sacred for long; if it means improving sales, someone will copy a good idea and occasionally improve it, and that's what's happened here with ASUS. We'd like to see Gigabyte offer something similar to what ASUS are providing on the R3E (flashing two separate BIOSes and easy changing between both). There is a slight reprieve for Gigabyte in that neither EVGA or MSI have dual BIOS options on their X58 boards, mind you, that's balanced against you know what – the dollar.