Final Words
The base configuration of the SeaMicro SM10000 comes with 512 Atom servers, 1TB of DDR2 memory and no storage. SeaMicro charges $139,000 per SM10000 in this configuration.
It is easy to see how this technology might scale. Simple drop the number of cards used in the server and now you have a lower end configuration. SeaMicro needs to be able to make enough revenue to support its business model so I wouldn't expect any ultra cheap Atom servers out of the company anytime soon. Scaling down appears to be a top priority, although scaling up is also a possibility.
The limitations are of course numerous. There's no official Windows support, so this for Linux only deployment. Each server is limited in performance not only by the CPU but also by the memory capacity (2GB). There's no ECC, no real RAID support (other than striping). It's very clear that the SM10000 can potentially serve one specific niche very well: a setup with tons of servers that have low CPU usage requirements.
The benefits are clear. If you're running tons of servers that are mostly idle, the SM10000 could save you boatloads on power. By stripping out most of the components on the motherboard and simplifying each server down to something that consumes roughly 4W of power, SeaMicro does have a very valid solution to the power problem in data centers.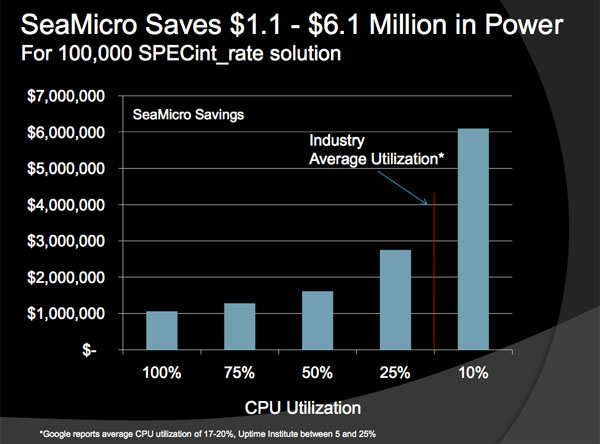 The power savings scale up tremendously. On a large scale the cost of running servers really boils down to hardware, then software then power in order of increasing cost. If you're running tens of thousands of servers, power consumption becomes a real problem. And this is where SeaMicro is most effective: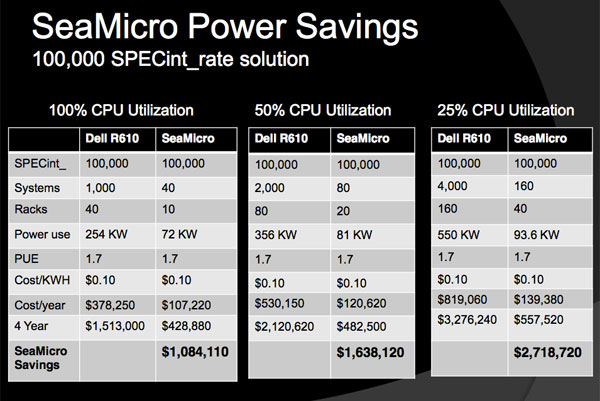 I suspect that anyone faced with rising data center power costs will be at least interested in what SeaMicro has to offer.
The obvious argument against the SeaMicro approach is virtualization. Combine multiple servers into one beefy Xeon or Opteron machine and then you start to use those processors at their peak efficiency by keeping them loaded most of the time.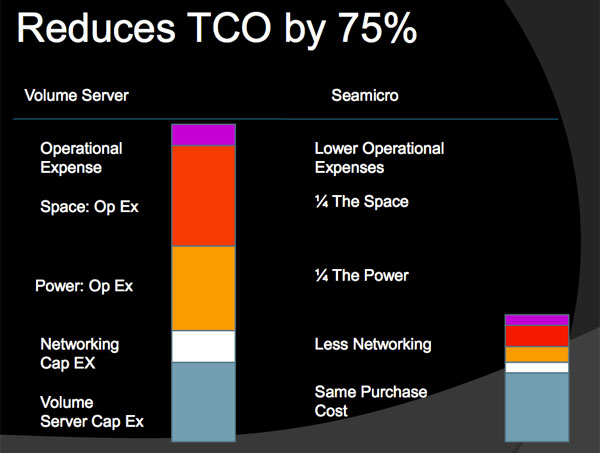 It's difficult to tell based on a press presentation how well the SeaMicro solution fares against a beefy Xeon server running hundreds of VMs. I don't doubt that it is a lower power solution, the question is whether or not the performance characteristics work with your specific needs.
From where I stand, the SM10000 looks like the type of product that if you could benefit from having it, you've been waiting for something like it. In other words, you will have been asking for something like the SM10000 for quite a while already. SeaMicro is simply granting your wish.