Middling Performance

To measure performance, I continued using the WiFi page loading test methodology Anand described in his HTC Droid Incredible review, and also added in a few other tests that are android specific.

Our first test is loading the AnandTech.com front page, where we've got lots of text and images to stress bandwidth and parsing.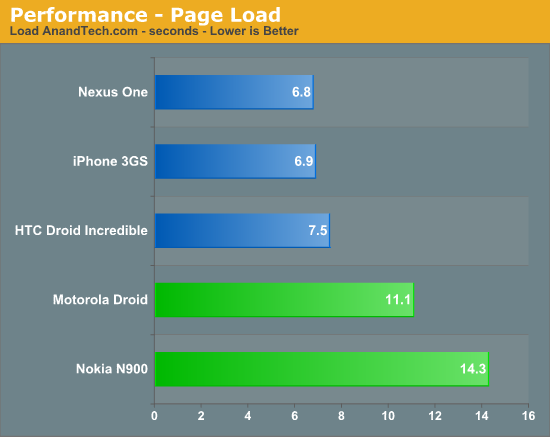 Next is the very intensive engadget.com homepage load. There are a number of flash elements here, taxing the HTC Incredible and N900 alike.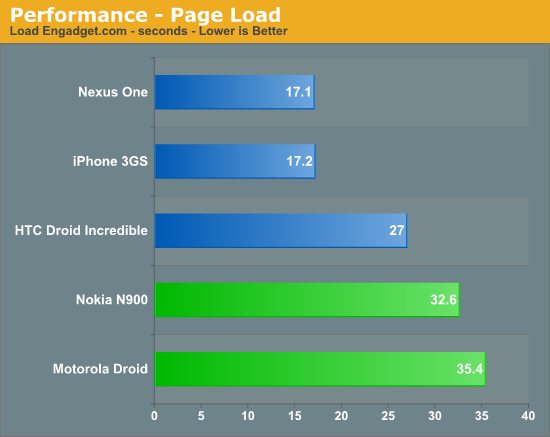 We also continue to run the SunSpider 0.9 JavaScript benchmark. This interestingly enough will illustrate the huge JavaScript performance delta between the N900's Maemo browser and the Android browser, however the comparison across Android devices gives a good idea how much the OMAP 3430 differs from the Qualcomm Snapdragon.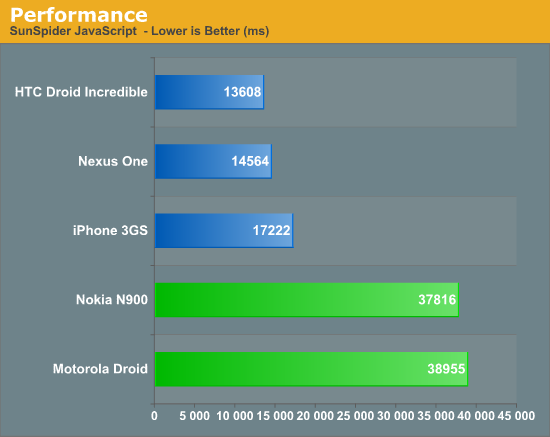 Common to the Android platform are two benchmarking applications that have slowly seen a rise in popularity - Linpack for Android and Benchmark Pi. Here we can get a good idea of the performance difference between the OMAP 3430 and the Snapdragon SoCs.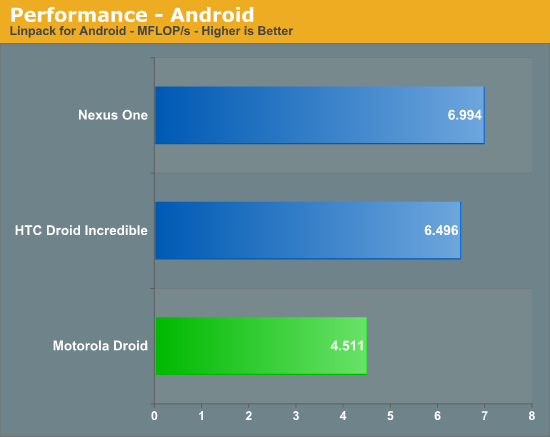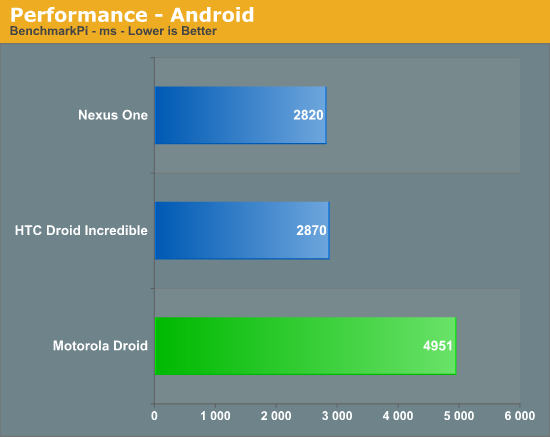 We can see that the OMAP 3430 holds its own, but still just isn't as fast as the 1 GHz Snapdragon SoC. What's interesting here is that the Motorola Droid's Cortex A8 is running at 550 MHz, some 81% slower than the 1 GHz Snapdragon. However, the performance difference between the two is only 44% for Linpack. Benchmark Pi numbers are closer to the kind of scaling I'd expect, as the 81% increase in clock speed results in a 73% faster compute time.

In practice the N900 is undoubtably a snappy phone. While using Maemo, I never once wanted for more power, even though users have successfully achieved 1 GHz or more on the OMAP 3430 in the N900 and Motorola Droid. Only after getting 8 or more webpages open did I really start to notice any lag or slowdowns at all. On the Motorola Droid, Android 2.1 was more than usable, and far faster in practice than the ARM11 class SoCs used in some of the other Android phones, like the 528 MHz Qualcomm MSM7600A or MSM7200A in the HTC Hero.