ASUS U30Jc Battery Life
ASUS has lately put a larger focus on battery life, and in the case of the U30Jc they easily eclipse the competition by including an 8-cell, 84Wh battery instead of the typical 6-cell units we see. ASUS also has their Power4Gear utility that lets you tune battery powered features, including the ability to shut off power to the optical drive, webcam, and WiFi adapter. We disabled all of those devices as appropriate for our battery life testing (i.e. we left WiFi enabled on the Internet test and disabled on the other two), and it looks like it helps the U30Jc provide a bit more mobility relative to other i3/i5 laptops. We set the LCD at ~100nits brightness, which is 47% on the U30Jc (seven steps down from maximum brightness if you're using the Fn+F5 keyboard shortcut).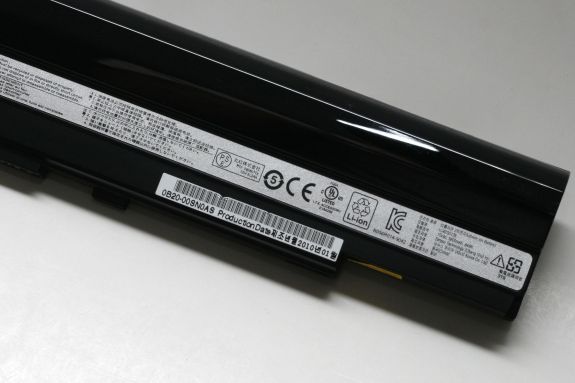 Like the HP 5310m review, we have also included idle and Internet battery life results with the standard laptop build in place—i.e. without uninstalling all of the bloatware. ASUS pre-installed Trend Micro Internet Security (a 60-day trial), so you'll see these results in the charts below. Idle battery life doesn't take much of a hit, which is what we expect since the system shouldn't be doing anything (though we didn't see this when testing the HP with McAfee). Internet battery life on the other hand drops quite a bit, again in line with what we'd expect: the Trend Micro firewall needs to do some extra work if you're surfing the Internet. Naturally, if you choose to run without any sort of protection, you assume a risk. Casual users that don't know how to "surf safe" may need to bite the bullet and take a battery life hit.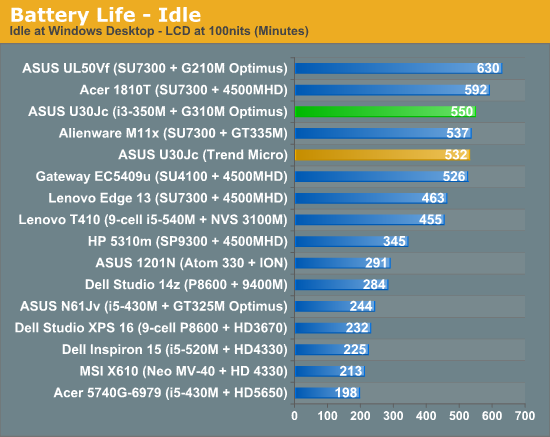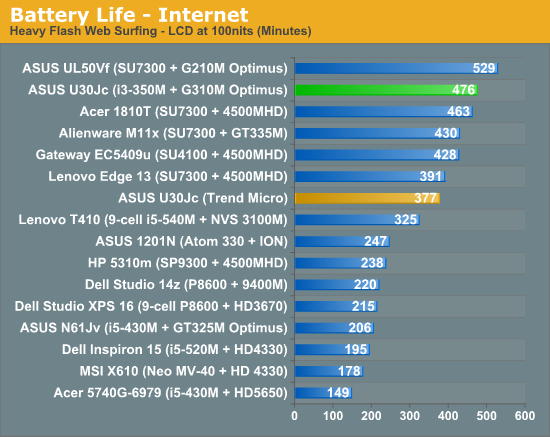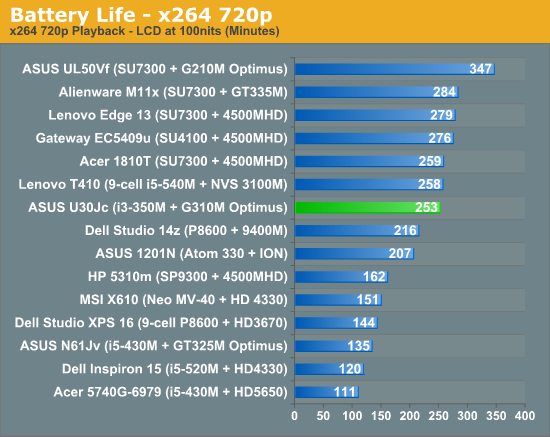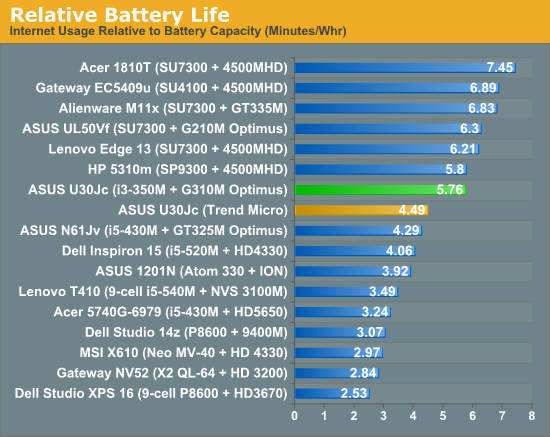 Considering the amount of performance packed into the U30Jc, the battery life is very respectable. In the "clean" state (which is how we tested all of the other laptops), maximum battery life is just over nine hours and Internet battery life is eight hours. Compared with the other i3/i5 laptops we've tested, the U30Jc is far ahead and even manages to beat out quite a few of the CULV laptops. Granted, that's largely due to the 8-cell battery, but in our relative battery life metric we still see a large lead over the other i3/i5 systems. Battery life during x264 playback (using Media Player Classic: Home Cinema and running on the Intel HD Graphics) we still get over four hours of battery life. It's interesting to note that the x264 test is the one result where the Lenovo T410 with a 9-cell battery is able to match the U30Jc.
With Trend Micro Internet Security enabled, battery life at idle drops about 3%—nothing too serious. Internet battery life in contrast drops 21%. Again, this is pretty much what we expected to see. Anyone who has used a system that's protected with anti-virus and internet security software can attest to the difference it makes in performance. That said, Trend Micro does appear to beat McAfee in light usage situations (McAfee caused a 35% drop in idle battery life on the HP 5310m), though we're not testing on the same hardware so we can't say for certain how the two compare. Stay tuned for more investigations in this area….