In terms of power supplies, it can sometimes become astounding at how much a company will charge for a unit, and whether it is valid, in terms of features and warranty/support. So when Sparkle are announcing a 1000W Gold rated unit for just over $200, we sit up and take notice.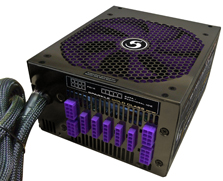 This is Sparkle's first venture into the power supply genre of computing (previously, they sold only graphics cards), and they are advertising two units, the GW-EPS1000DA and GW-EPS1250DA, their 1000W and 1250W units respectively. Both units come with a five-year warranty, upgradeable to a lifetime warranty upon online registration of each unit.
Both units achieve 80PLUS Gold certification, which guarantees 87% efficiency at 20%, 50% and 100% load for 115V users (88% efficiency at 230V). Both models, which will initially include a $100 game bundle package (via gift cards for 3 full retail games from the Tom Clancy and Brothers In Arms franchises), supply the user with 6 power rails. However, each of these rails supplies only 20A for the 1250W and 18A for the 1000W unit, therefore limiting power to hungry graphics cards when overclocking.
The 1000W model will feature four 6+2 pin connectors, whereas the 1250W will have six. This makes the 1000W unit a model to consider if you're building an overclocked core i7 920/930 system with two stock ATI HD 5850 graphics cards (around 500-600W altogether). Part-time overclockers, folders and gamers may look at the 1250W power supply, if running 3 dual PCI-E connector graphics cards in tandem. If these power supplies are released at below $250, Sparkle could be onto a winner.
Also of note, the 80 PLUS Gold list show Sparkle as having three units achieving this rating, so another unit (possibly in the 850W region) could possibly be available at some point in the future.