Availability and Medfield
We got Menlow in 2008. Intel promised Moorestown in 2009/2010. The chips are done, but you won't see products until the second half of this year. We've actually seen Moorestown reference designs at this point so it's safe to say that we'll see some devices before the end of the year, but perhaps the most exciting ones won't appear until later.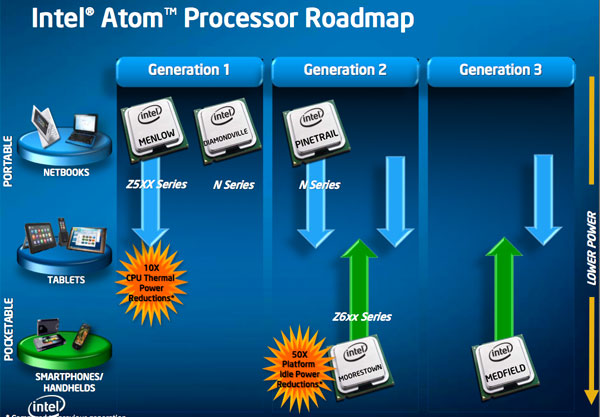 In 2011 we'll meet Medfield. A 32nm shrink of Moorestown that combines Lincroft and Langwell into a single SoC. Medfield will double graphics performance, triple imaging capability (higher MP cameras) and bring full HD encode/decode (Blu-ray on my phone?). A reduction in chip count will mean even smaller form factors, while the move to a single 32nm SoC (rather than 45nm + 65nm) should give us longer battery life for idle, video and web browsing. Things like talk time are more a function of the modem than anything else. When you're on a call the majority of Intel's components are almost completely powered down, it's just the modem and its friends that are sipping power.
Medfield is apparently on track, it'll be in production next year and Intel told me not to expect any more updates on Medfield until the second half of 2010.