CPU Performance: Moorestown Rocks?
In my iPad review I pointed out the huge gap between the performance of today's 1GHz smartphone SoCs and an Atom powered netbook.
It's impossible to estimate the performance of Moorestown without functional hardware, but we can assume that it's somewhere in between the ARM based SoCs and the netbook in the chart below.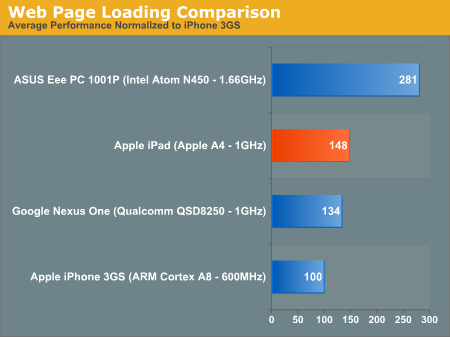 Intel provided some SPECint numbers comparing Moorestown to various smartphone application processors shipping in 2010 (either now or later). Keep in mind that SPECint is just as much of a compiler benchmark as it is a hardware benchmark, so real world performance could very well differ. We won't know how well Moorestown stacks up until we can evaluate it ourselves. But if Intel's numbers are even remotely accurate, this is the sort of leap in performance we honestly need in the smartphone space: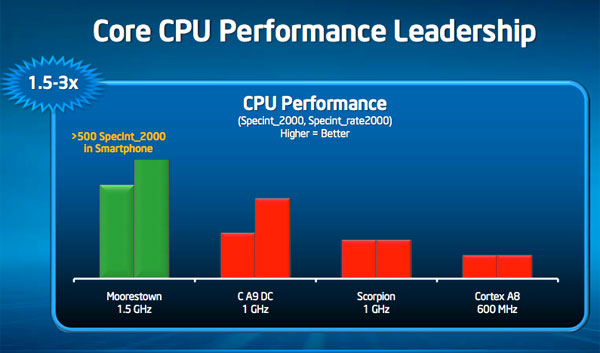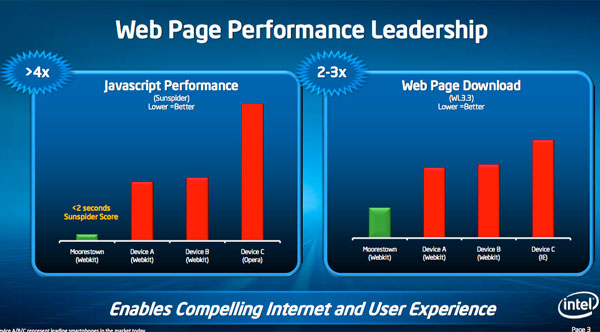 The slowest member of the Atom Z600 series will run at 1.2GHz, the fastest (for smartphones) will run at 1.5GHz. While multithreaded performance on a dual Cortex A9 at 1GHz approaches that of a 1.2GHz Moorestown, nothing can touch the 1.5GHz part. Single threaded performance is just as impressive.
The Sunspider score is super impressive as well. Intel is posting a sub-2s Sunspider score, the best we've seen thus far on a ARM based platform is ~10 seconds on the iPad: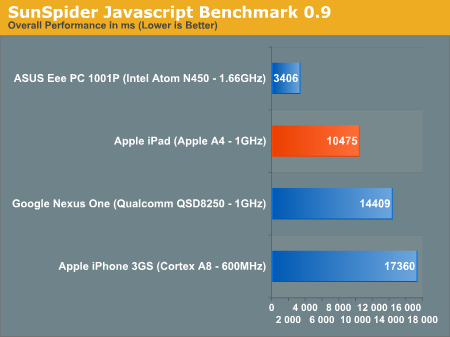 These numbers are from Intel so we have to take them with a grain of salt. And as I already mentioned, we're looking at pure CPU/compiler performance here - real world application performance is a different story entirely. But it's a safe bet to assume that Moorestown will at least be faster than any application processor on the market today.
A high clocked dual Cortex A9 could give it a healthy challenge though.
GPU Performance: Moorestown Rules?
Intel provided three numbers to instill confidence in Moorestown's graphics capabilities. The first was a claim of over 100 fps running Quake 3. I saw this in person so I can confirm that you can actually run a timedemo of Quake 3 at above 100 fps on Moorestown. NVIDIA claims over 40 fps on the Tegra 2 at 720p with AA, but it's unclear how comparable these numbers are.
The next two numbers are from 3DMark Mobile ES 2.0 using the Taiji and Hoverjet benchmarks: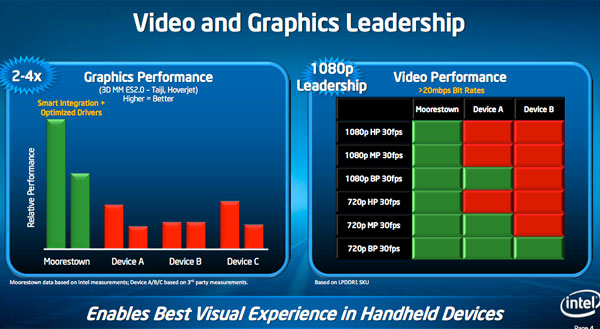 This is comparing the performance of Moorestown to the lower clocked SGX 535 among other GPUs. The performance improvement is more than 2x.
Again, these came from Intel directly so we can't vouch for their applicability to the real world.