Uncharacteristically late for ASUS, the P55 based Maximus III Extreme was rolled out to retail a couple of weeks ago.
ASUS's "M3E" follows in the footsteps of boards from EVGA and MSI, by teaming up nVidia's NF200 chipset to multiplex sixteen native PCIe lanes out to provide additional front-end bandwidth for multiple graphics cards and other devices. Overall, it's not a solution that ends up high on most enthusiast shortlists because Intel's X58 seems to be the logical choice and offers superlative performance in almost every way over the "lesser" P55.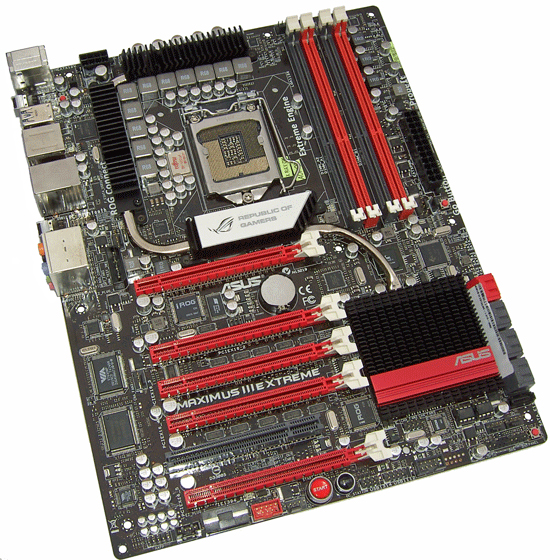 The truth is, we're waiting on vendors to send us their second-gen X58 motherboards so that we can provide you with a round-up of which makes the best buy. As we've probably got a few weeks before things will be ready, a review of the M3E is the first of our time fillers, to be followed by a test of the mini-ITX ECS H55H-I next week. On top of that, Richard will be taking a look at Gigabyte's P55A-UD7 shortly, and we've also got AMD 890FX boards to squeeze in somewhere. Put simply, lots to do but so little time.
Back to what's going down today, given the limited demand for $349 P55 boards, we'll spare you any further drivel and get down to the facts...
Summary/Overview
Our retail sample arrived pre-flashed to the public release 0606 BIOS. For the most part, overall compatibility is good barring an alarming tendency to set high DIMM voltage on Corsair Dominator GT modules if VDIMM is left on AUTO in BIOS. As part of our stock benchmark compares we use 4GB of Corsair memory at 1333MHz just as a starting point to see how boards measure up to one another. Setting primary memory timings, and the correct memory multiplier ratio and proceeding to reboot, we found the ASUS BIOS had seen fit to jam 1.82V into our favorite Corsair 2200 Dominator GT kit – eek! We're told this has been fixed in the latest release BIOS, so just a heads-up not to leave things in the hands of AUTO settings on the shipping BIOS.
Other than that glitch, things are fairly rosy on the functionality front. Overclocking recovery is workable; at worst, we had to switch off at the PSU and reboot to encourage the board to POST in safe-mode so that we could enter BIOS and adjust settings. Peripheral compatibility is good, overclocking & stability are excellent and on-par with the very best P55 boards. S3 suspend/sleep resume works over 200 BCLK if need be, and you also get very comprehensive fan control spanning no fewer than eight headers. Bottom line is that the M3E is a well executed product, marred only by price of entry...