AMD's Mobility Radeon HD 5650 may be the slowest of its mainstream mobile graphics, but as you'll see in the moment it's still quite a demon for a mobile chip. Based off of the desktop Redwood chip that powers the Radeon HD 5570 and 5670, it sports a 128-bit bus, 400 stream processors, 20 texturing units, and 8 ROPs. The stream processors alone are ten times the number found in AMD's integrated graphics parts. The 1GB of GDDR3 Acer chose to pair with the 5650 does seem almost superfluous, though: at the Aspire's native resolution, half that amount would've been plenty. It's only when (if) connected to a much higher resolution screen that we might start to see a benefit to the extra memory. On the other hand, Windows 7 is able to better leverage GPU memory for windowing tasks, so as long as the price isn't negatively impacted we're happy to get more than enough dedicated GPU memory.
The 3DMark results should be interesting if for no other reason than to watch how a substantially more powerful GPU than mainstream notebooks typically see can compare to the more common – and more anemic – offerings. Try to remember this performance is in a $749 machine.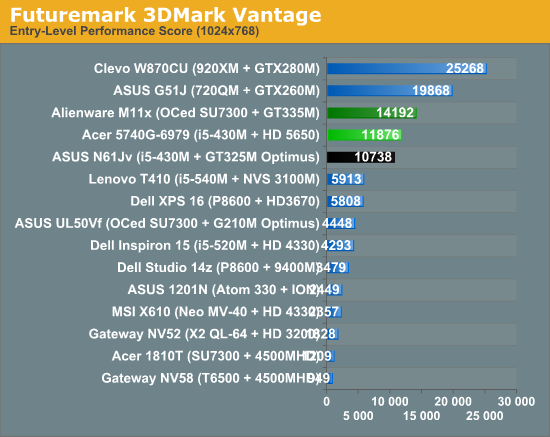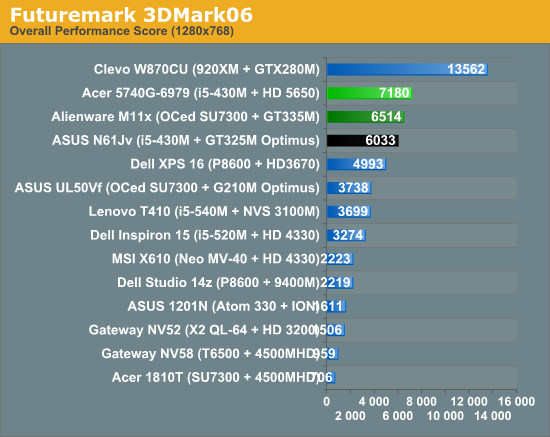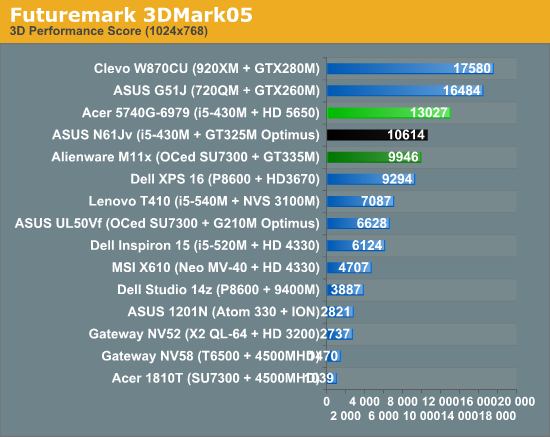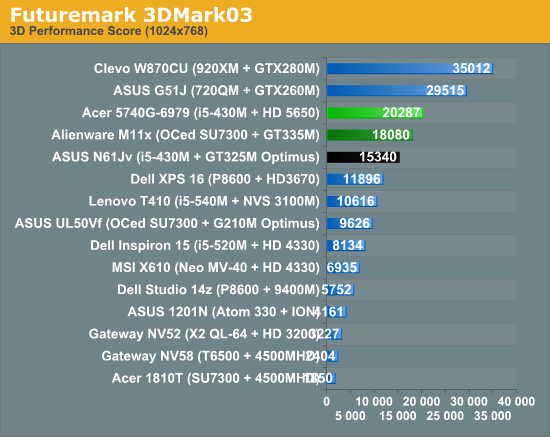 Despite the Inspiron 15's faster processor, it can't hold a candle to the Aspire's Radeon HD 5650. We expect the 5650 to deliver the same kind of performance in our gaming tests. The more interesting comparison for gamers is going to be the Alienware M11x, and here the HD 5650 shows its muster and beats the M11x by 10% to 30% in 03/05/06… but interestingly enough the M11x ends up being 20% faster in Vantage. Similarly, the 5740G beats the N61Jv by 20-30% in the older 3DMark suites, but the gap shrinks to 10% in Vantage. So which result should we trust? How about neither: we'll let actual gaming performance do the talking!