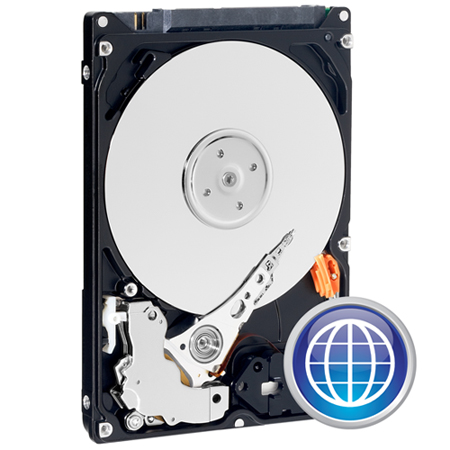 Western Digital informed us this morning that it had begun shipping 2.5" mobile hard drives with capacities of 1TB and 750GB, which is an industry first. The Scorpio Blue 1TB hard drive sports an impressive three 333GB platters spinning at 5,200 RPM. Each drive comes with 8MB of cache and a 3Gb/s Serial ATA interface. WD claims acoustic levels of 24-26 dB(A) depending on idle and load conditions. Power consumption numbers are at SSD levels with quoted figures of 0.10W at idle and 2.5W during normal read/write operation.
The one drawback for either drive is that both utilize the 12.5mm form factor instead of the de facto standard 9.5mm. This means the drives are ideally suited for external storage solutions, larger DTR notebook designs, or small form factor desktop systems. However, your mileage will vary depending on the design of your notebook.
The Scorpio Blue 750GB (WD7500KEVT) is "available now through select distributors/resellers" with an MSRP of $189.99. The 1TB Scorpio Blue (WD10TEVT) is also available today, but configured into the My Passport Essential SE Portable USB drive product series. It will be shipping to the retail channel in the near future with an estimated MSRP of $249.99. Each drive carries a limited three-year warranty. We have review samples on the way and will look at their performance in an external enclosure and SFF setup shortly.