I saw this over at Engadget today, it's a video of what many are assuming will be the next-generation Chocolate by LG.
Two things stuck out about the phone; first, its form factor. It's unusually long for a smartphone, but I do remember at least one more example of an unusually long smartphone: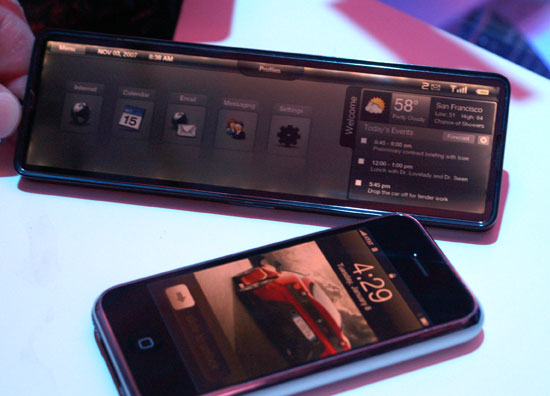 The phone above my iPhone in this pic is actually a mockup of a Moorestown based device that Intel has been showing off for a while. Could the new LG phone be the first Moorestown based smartphone?
The answer is unfortunately, no. Despite the similarities in design to the Moorestown mockup and despite the ridiculously fast UI, there's no Moorestown in this phone. The video lists the phone as coming out in 2009 and Moorestown isn't arriving until 2010. Chances are that this new LG phone is using a SoC based on ARM's Cortex A8. While I don't think it's impossible for the Cortex A8 to deliver such a smooth UI, it is just far more believable that Moorestown could do it.
The second thing that stuck out is obviously the phone's awkward shape. The extremely long phone has a 4" screen, something called an "Active Flash UI" , touch screen keyboard and an active camera UI that lets you smoothly apply filters to your viewfinder before you take your photo (hooray).
Intel and LG do have a good working relationship, but the fruits of their collaboration won't be seen with this phone. That being said, if the video isn't a blatant lie, that's one sweet looking phone.