Computex 2009
ASRock is formally introducing both new products and product lines at Computex this year. ASRock has always been one of our favorite motherboard companies over the past few years. The reason, they tend to innovate and take chances in what has become a commoditized market while still being a value leader. Now, at times these risks have paid off tremendously with unique products like the 775Dual-VSTA that offered early adopters of the Core 2 processor series a chance to utilize their DDR and AGP video cards from prior generation platforms.
At other times some of their product introductions were a bit quirky even for the alternative market but at least they take chances and if a product does not pan out they move on to something different having learned a lesson. While some of ASRock's more recent Intel or AMD based products are in alignment with other value offerings from the likes of Biostar, Jetway, or ECS, they still focus on ensuring excellent price to performance ratios. This along with offering solid technical support, great feature sets, and good customer service is something that we highly value in a company. I know, this sounds like another Internet commercial, but if you have tried a recent board like the A780GMH/128M, then I think you will tend to agree with us on this subject.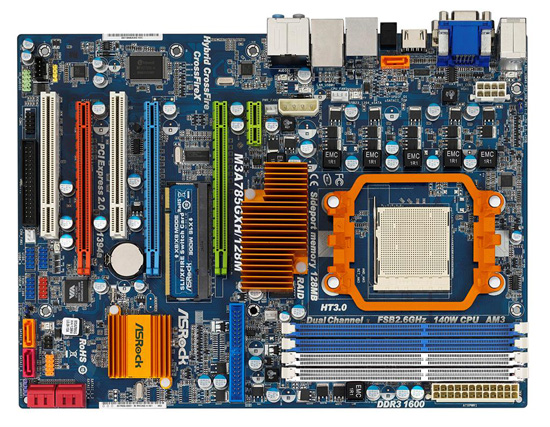 AMD will be launching the successor to the highly acclaimed 780G chipset in the coming months and ASRock will be one of the first manufacturers out of the gate with the 785G. Originally known as the 880G, AMD decided (wisely) to change the nomenclature after testing revealed that performance was not worthy of a full point revision. This is not to disparage the 780G (HD 3200 GPU) or the clock speed enhanced 790GX (HD 3300 GPU) performance capabilities as overall IG performance is still better than the NVIDIA GF8200/8300 or Intel G4x series, not to mention the value aspect when paired with one of AMD's latest processors.
The new graphics core is called the HD 4200 and features several incremental improvements including the 55nm RV620 core with support for DX10.1 and UVD2. The 785G also supports AMD OverDrive 3 Fusion, PowerPlay, and HyperTransport 3. It appears core clock speeds will remain at 500MHz so any performance differences will be incremental with estimated (behind closed door testing on early drivers) improvements being in the 6%~10% range on average.
The big news for those in the HTPC arena is that this chipset supports the current UVD 2.0 feature set on the 4000 series discrete GPUs which means 8-channel LPCM audio out finally comes to an integrated AMD/ATI chipset. Granted we do not get native Dolby True HD / DTS-HD MA decoding yet, but at least AMD matches NVIDIA and Intel in offering similar HD video and audio features now. The majority of the boards will feature the SB710 Southbridge that features working Advanced Clock Calibration (ACC) for improved overclocking or unlocking that third or fourth core on the Phenom II X2/X3 processor series. We have heard that a couple of manufacturers will probably use the SB750 that provides RAID5 support missing on the SB710.
The ASRock M3A785GXH/128M features the 785G and SB710 chipset combination along with DDR3-1600 support, 128MB DDR3 SidePort memory, CrossFireX capability, Realtek ALC890 HD audio, Gigabit LAN, and IEEE 1394a along with DVI, HDMI, and VGA output. The one item we do not like is the first PCIe x1 slot being partially blocked by the heatsink, otherwise we look forward to seeing what ASRock can do with the 785G chipset.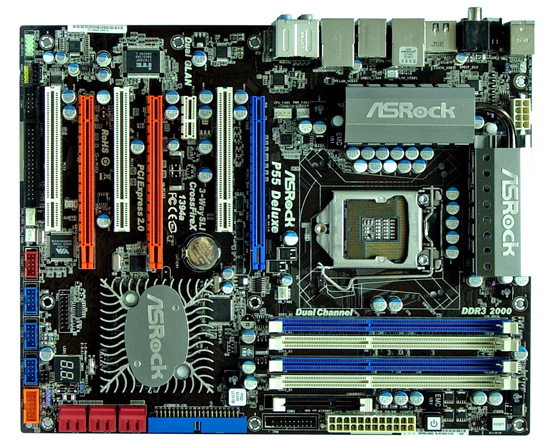 Next up is the ASRock P55 Deluxe board based on, you guessed it, the upcoming Intel P55 chipset. ASRock plans on entry level P55 boards but this one is loaded out. It features their new "Advance V16 Power Phase Design", up to DDR3 2000 capability, 3 PCIE 2.0 x 16 slots (8x/8x/4x) for 3-Way SLI or tri-CrossFireX, dual Gigabit LAN with teaming, IEEE 1394a, ALC890 (full DTS support), and powered eSATA/USB connectors. ASRock will also be throwing in a CMOS Switch, Power Switch, POST LED, and Reset Switch for those who like to run the board outside of the case. The board will also ship with an exclusive ASRock USB 3.0 expansion card and an enthusiast oriented BIOS for your overclocking adventures. The color scheme is very similar to their X58 motherboard and is still a little over the top for us, but it does get noticed.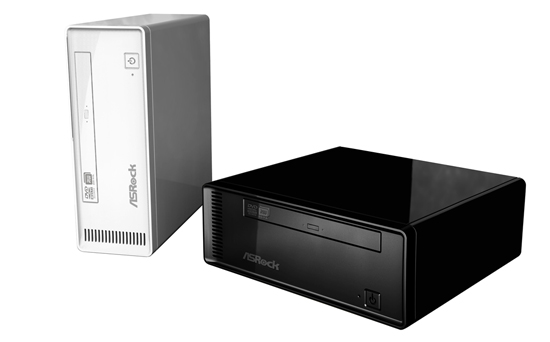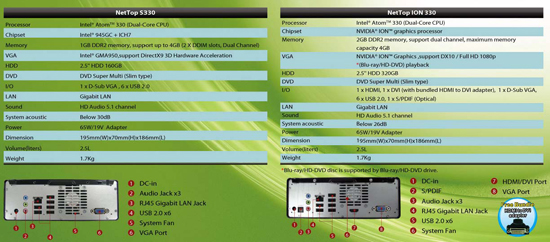 One of the new product lines ASRock announced is the NetTop S330 and ION 330 featuring the Intel 945GC/IC7 and NVIDIA ION chipsets respectively. Both of these systems feature the Intel Atom 330 Dual Core processor, 2.5" Hard Drives, Super Multi Slim DVD drives, DDR2 memory, Gigabit LAN, 5.1 HD audio, and 65W external power bricks. The ION 330 is geared towards the entry level HD user with hardware assisted 1080P playback and just enough muscle to handle older casual gaming titles. Both systems feature ASRock's unique Instant Boot technology, overclocking options (we will try to break current i7 records shortly), dual-channel memory support up to 4GB, and fairly robust board designs.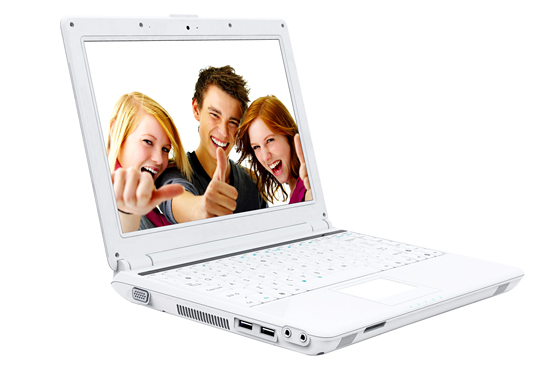 My kids never looked this happy on a computer...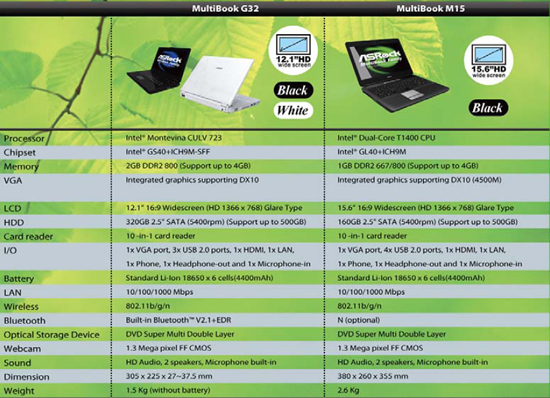 Last, but not least is ASRock's new MultiBook product family featuring the G32 and M15 series. After several critiques of potential notebook products at CeBIT this year, ASRock decided to launch the MultiBook series this month with these two models. The G32 is based on a CULV design with a 12.1" panel featuring a 1366x768 resolution, Intel's Montevina CULV 723 processor, GS40/ICH9M SFF chipset combo, 320GB SATA 2.5" drive, Gigabit LAN, 802.11b/g/n wireless capabilities, bluetooth 2.1+EDR, DVD Super Multi optical drive, HDMI/VGA output, and 1.3 megapixel FF CMOS Webcam. The unit comes in a gloss white or black finish and includes ASRock's Multi-Touch trackpad technology.
The M15 is a standard notebook design with a 15.6" screen featuring 1366x768 resolution, Intel T1400 Dual Core cpu, GL40/ICH9M chipsets, 160GB 2.5" SATA drive, 6 cell battery, DVD optical drive, Gigabit LAN, 802.11b/g/n wireless capabilities, 1.3M Webcam, and comes in any color imaginable as long as it is black.