(7/22/08 update - We are still clarifying ACC details with AMD before we publish the full article this week)

Our first AMD SB750 equipped motherboard arrived this weekend courtesy of Foxconn. We have been working around the clock to dispel or verify the rumors about how a simple update to the SB700 SouthBridge could unlock the overclocking potential of the Phenom processor series. It turns out changes to the SB750 are actually significant and include a new low level link interface that AMD has named Advanced Clock Calibration. Along with the new ACC technology is a significant update to the AMD Overdrive Utility and required BIOS code changes for this new interface to operate properly.
In fact, there are so many changes that we will be back tomorrow with a full review of this new SouthBridge, the technology behind it, and an in-depth look at AOD version 2.1.2. Also, we will provide performance results from a few different Phenom processors to indicate what works well and what does not when utilizing ACC. With that in mind, our sneak peak today will not fully dispel or verify the performance rumors. Instead, we think our initial test results should provide a clue as to the potential of this new technology. To be blunt, our initial results were not that impressive but after a BIOS update, a day of tweaking and some conversations with AMD, our opinion is starting to change quickly based on the following results.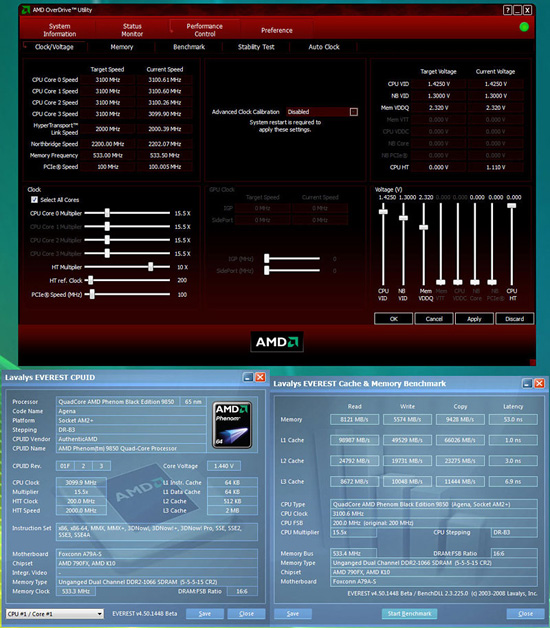 This particular 9850BE required 1.425V to reach 3.1GHz with a NorthBridge clock of 2.2GHz. This was basically our limit on a variety of AM2+ boards and it did not matter whether we increased voltages, decreased NB clocks, or chose a 2GB memory configuration under Vista 32, the CPU just was not stable at most settings above 3.1GHz. As a side note, we are running 4GB of GSkill DDR2-1066 memory at 1.90V under Vista 64 for these tests. Now that we have our baseline, we turned ACC on in the AOD control panel using auto settings (also available in the BIOS) and rebooted.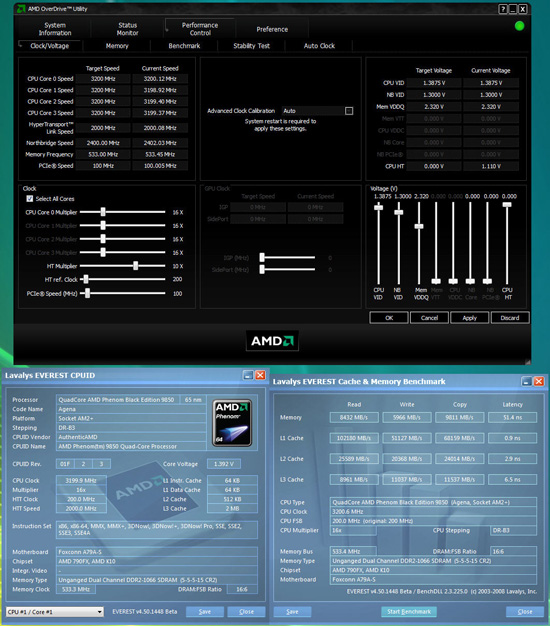 After a few tweaks and reboots, we reduced our core voltage from 1.4250V to 1.3875V, increased our NB speed from 2.2GHz to 2.4GHz, and changed our clock multiplier from 15.5 to 16 giving us a 3.2GHz core clock speed. This is an instant 100MHz increase in core speed while decreasing core voltages by 3%, increasing NB clock speed by 9%, and improving memory latencies up to 6% (all important L3 cache). These results were completed with ACC on set and forget auto settings.
We have reached 3.3GHz on this CPU with further tuning of system settings including individual core tuning with ACC. While our initial 100MHz speed increase may not sound impressive, we must consider the fact that this CPU was right on the ragged edge of stability at 3.1GHz. We are now able to run higher NB clock speeds and higher core clock speeds at lower voltages while maintaining a fair amount of headroom for further performance improvements. Even more impressive (results tomorrow) is that fact that this CPU will now clock to 3GHz on stock voltages instead of 2.7GHz before tuning with ACC.
Our last screen shot shows what is possible with ACC and the new AOD improvements when focusing on improving memory performance with minimal core clock increases. Our goal was to find optimal system performance with the 9950BE while decreasing system voltages below normal standards to keep thermals in tact.
We will be back shortly with additional results and an overview of AMD's new SB750 SouthBridge and ACC technology, until then, start saving your pennies if you are an AMD enthusiast.