It's been over a year since AnandTech looked at a Chaintech motherboard, the last being their 6BTM based on the i440BX chipset. Back then, we were impressed by Chaintech's "highly overclockable nature, rock solid stability, and not to mention their first class quality and extreme attention to detail." But a year is a long time - have things changed since then? Fortunately, no, but their latest board, the 6AIA is interesting in its own right.
---
New Anand Tech Report Card Rating
84/B-
Do not compare newer ratings to older ones, the newer ratings are much more aggressive
CPU Interface
Socket-370
Chipset
VIA Apollo Pro Plus
L2 Cache
N/A (on-chip)
Form Factor
microATX
Bus Speeds

66 / 75 / 83

Clock Multipliers
1.5x - 8x
Voltages Supported
Auto Detect
Memory Slots
2 168pin DIMM Slots
Expansion Slots

0 AMR Slots
1 AGP Slots
3 PCI Slots (3 Full Length)
1 ISA Slot (1 Shared / 1 Full Length)

BIOS
Award 4.51PG
---
The Good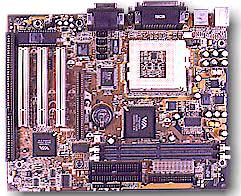 Chaintech's 6AIA is a Socket-370 VIA Apollo Pro Plus solution. The Apollo Pro Plus offers pin compatibility with Intel's i440BX/ZX/LX, and as such has become a popular solution for motherboard vendors looking to stray outside the Intel lines. Therefore, it's no surprise that Chaintech also makes the 6ZIA, an identical board with the i440ZX chipset.
The 6AIA pretty much follows all the rules for a microATX board. The layout is excellent, with all FDD/HDD, ATX power, and front panel connectors right at the front of the board so that none of these cables need to run over your CPU and/or memory. The CD audio connectors are, however, at the back of the board, so you will have one small cable running in that area. Those front panel connectors are placed right in front of the HDD connectors, meaning that they won't block any of the expansion slots - a good thing with the limited space on a microATX motherboard. The board uses a standard microATX mounting format and should fit just fine in any microATX or ATX case.
Two DIMM, 3 PCI, 1 ISA (shared), and 1 AGP slot round out the expansion capabilities of the board. Atop the VIA north bridge is the classic green heatsink found on nearly every motherboard these days, but this time it's got the Chaintech logo silk screened on top. Fourteen 1000uF capacitors surround the CPU socket, but still provide room for a normal sized heatsink to be attached easily. Two 3 pin fan connectors are available near the CPU socket.
Onboard PCI sound is provided courtesy of the ESS Solo-1 chipset, which does a good job of providing basic audio functionality. As expected, CPU utilization is low thanks to the PCI interface. The Solo-1 can easily be disabled by toggling an option in the BIOS. Chaintech also wisely made the sound only take up one IRQ to handle DOS compatibility issues, unlike some other solutions featuring the same chip that take two - one for the actual card and one for DOS emulation.