Integrated Graphics Performance
In our 890GX review I looked into integrated graphics performance of the entire Clarkdale lineup vs. AMD's chipset offerings. You can get a look at the full set of data here, but I'll also provide a quick summary here.
Intel's best case performance happens in our Dragon Age Origins benchmark: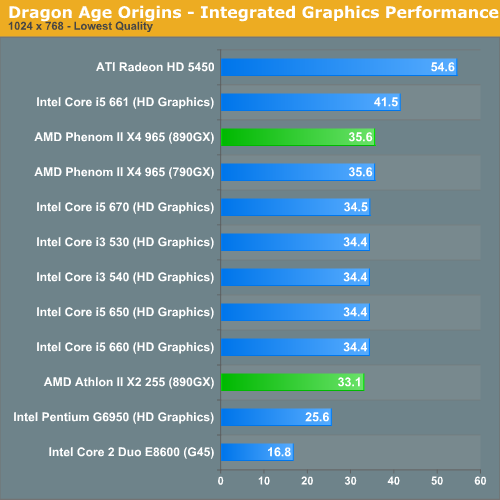 Thanks to its 900MHz GPU clock the Core i5 661 does much better than AMD's integrated graphics. The rest of the Clarkdale lineup is basically on par, and the Pentium G6950 is a bit slower. Note that the G6950 is still over 50% faster than G45. That was just a terrible graphics core.
The worst case scenario for Intel's integrated graphics comes up in Call of Duty Modern Warfare 2: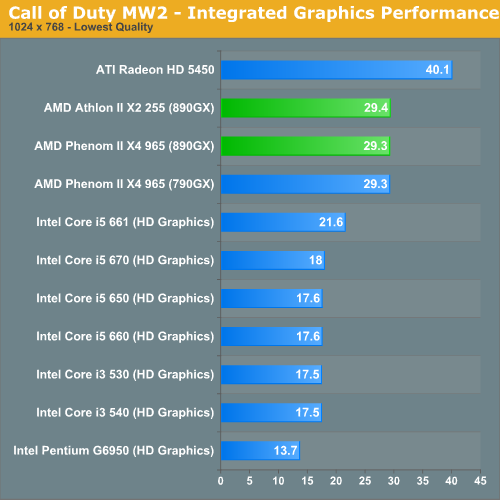 Here even the Core i5 661 can't best AMD's 890GX. Intel's integrated graphics performance can range from much slower to competitive if not faster than AMD's depending on the game. Unfortunately in a couple of key titles Intel is much slower. Using GPU clock speed as a means to differentiate CPUs isn't a wise move if you're trying to build up your reputation for not having terrible graphics.
If you're not going to do any gaming and you're using the integrated graphics for Blu-ray playback, it's a much better story for Intel.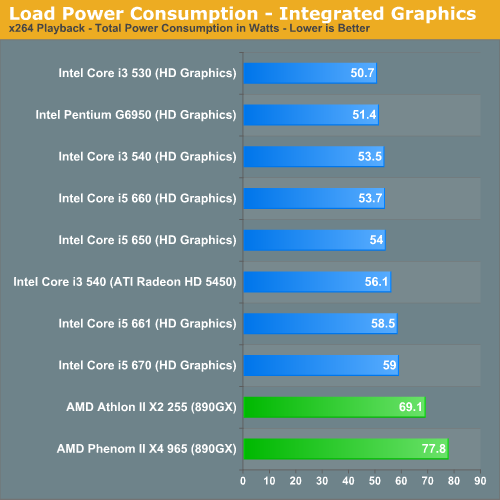 Under load the entire Clarkdale line is very conservative with power consumption.
Full Data in Bench & The Test
We're presenting an abridged set of benchmarks here in the review to avoid this turning into too much of a graph-fest. If you want to see data that you don't see here check out all of these CPUs and more than 100 others in Bench.
Motherboard:
ASUS P7H57DV- EVO (Intel H57)
Intel DX58SO (Intel X58)
Intel DX48BT2 (Intel X48)
Gigabyte GA-MA790FX-UD5P (AMD 790FX)
Chipset Drivers:
Intel 9.1.1.1015 (Intel)
AMD Catalyst 8.12
Hard Disk:
Intel X25-M SSD (80GB)
Memory:
Qimonda DDR3-1066 4 x 1GB (7-7-7-20)
Corsair DDR3-1333 4 x 1GB (7-7-7-20)
Patriot Viper DDR3-1333 2 x 2GB (7-7-7-20)

Video Card:
eVGA GeForce GTX 280
Video Drivers:
NVIDIA ForceWare 180.43 (Vista64)
NVIDIA ForceWare 178.24 (Vista32)
Desktop Resolution:
1920 x 1200
OS:
Windows Vista Ultimate 32-bit (for SYSMark)
Windows Vista Ultimate 64-bit