Adobe Photoshop CS4 Performance
To measure performance under Photoshop CS4 we turn to the Retouch Artists' Speed Test. The test does basic photo editing; there are a couple of color space conversions, many layer creations, color curve adjustment, image and canvas size adjustment, unsharp mask, and finally a gaussian blur performed on the entire image.
The whole process is timed and thanks to the use of Intel's X25-M SSD as our test bed hard drive, performance is far more predictable than back when we used to test on mechanical disks.
Time is reported in seconds and the lower numbers mean better performance. The test is multithreaded and can hit all four cores in a quad-core machine.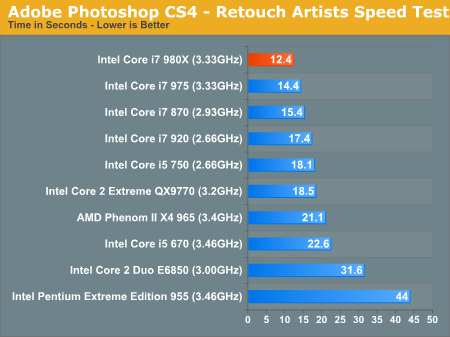 Our Photoshop test is multithreaded, but its performance doesn't scale linearly with core count. Despite that fact, the larger L3 cache helps the 980X complete the test 16% faster than the Core i7 975.
Go back two years and the 980X is 50% faster than the Core 2 Extreme QX9770. Go back five years and then we're in the hundreds of percentage points. The Core i7 980X is the new holy grail for photographers and image editors.