SYSMark 2007 Performance
Our journey starts with SYSMark 2007, the only all-encompassing performance suite in our review today. The idea here is simple: one benchmark to indicate the overall performance of your machine.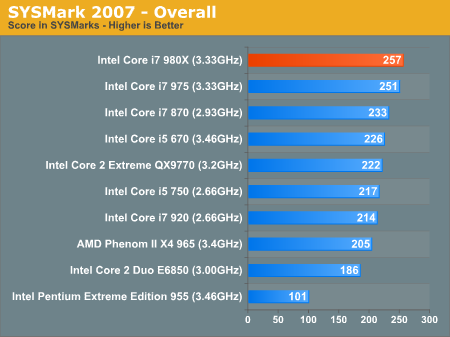 With more cores and cache, the Core i7 980X inches ahead of the Core i7 975 in SYSMark 2007. Most of the SYSMark tests show the two Extreme Edition processors trading blows. Sometimes the higher latency cache penalizes the 980X, sometimes its size helps. In lightly threaded workloads, you can expect the 980X to perform like a Core i7 975 - in other words, not bad at all.
Compared to the QX9770, the 980X only 16% faster. That's not terrible given that the QX9770 is 2 years old at this point. There may just be some value in these Extreme Edition parts.
The old Pentium EE 955 can deliver around 40% of the performance of today's 980X. While its two cores and 4 threads were impressive for their time, these days you get the same core/thread count out of a $100 CPU.