Power & Temperature
Since AMD isn't doing a reference Radeon HD 5830, non-performance data is of limited value. Even with the variety of cards among AMD's partners, the power draw of the 5830 cards should be within a few watts of each other and vary only with the difference in their fans so long as they use a 5870 PCB. On the other hand temperature data is going to heavily depend on the cooler used, and noise data is completely useless here since it entirely depends on the cooler used.
So we have power and temperature data for you, but please keep in mind that this temperature data is really only useful as a frame of reference – retail cards could be quite dissimilar.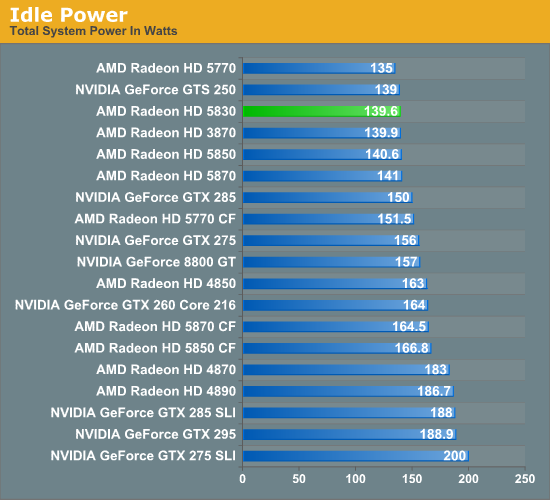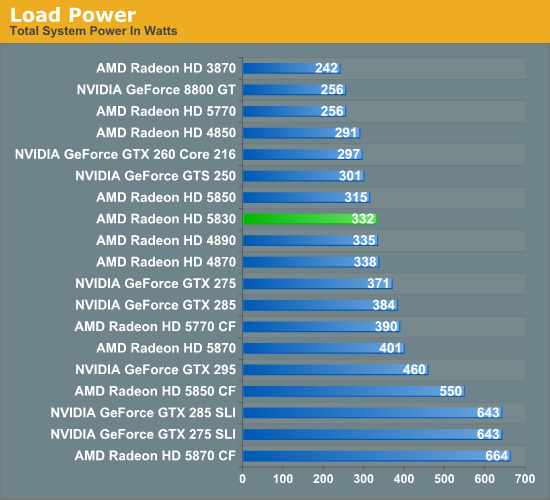 At idle, the power usage is just as AMD promised: it's a hair under the 5850, by a single watt to be exact. As far as high-end cards go, this is the least power hungry among them when idling.
Under load the story is quite a bit more interesting. We know the 5830 is rated for a TDP between the 5850 and 5870 that's much closer to the 5870, but the power draw doesn't reflect that. Here it's 17W over the 5850, and nearly 70W off the 5870. We've double checked and the card isn't throttling (a very possible situation given the higher voltage used) so we're not quite sure what to make of these results. The 5830 is apparently more alike the 5850 than the 5870 when it comes to power consumption, which is certainly a good thing since it means it edges out the 4870 and 4890, and is well ahead of the GTX 275.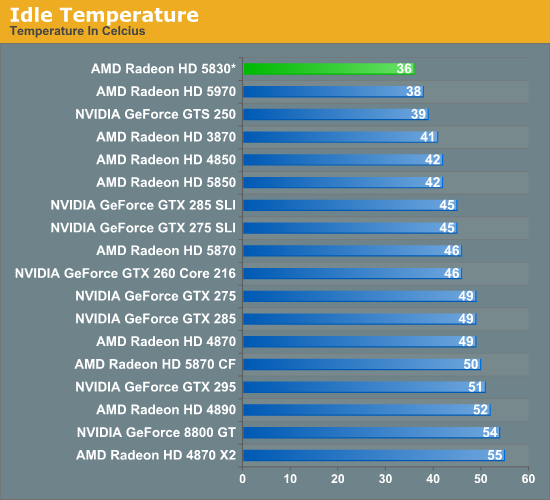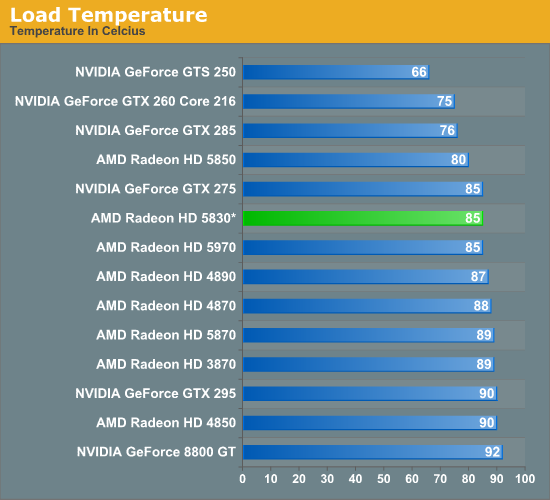 With an eye on the fact that this temperature data is going to be heavily dependent on the cooler used, for our sample card we certainly have some interesting results. Under idle this is the coolest of our high-end cards, which is no surprise given the use of the 5870's big cooler and the lower idle power usage of the 5830. On the other hand under load, even with the otherwise minor difference in power draw compared to the 5850 and the bigger cooler it's 5C hotter, which is actually more in-line with what we would have expected. However it still stays below the 4800 series and the 5870, both of which get warm enough that they really have to rev up their fans.
It'll be interesting to see just how good the vendor coolers end up being. With the relatively low load power usage, the 5830 doesn't have to be a particularly loud card.