Carrell Loses His Baby: Say Goodbye to Sideport
Sitting at dinner with Eric Demers and Carrell Killebrew is honestly one of the best experiences I've ever had working with ATI. Before he got huge and subsequently left, I used to have annual dinners with Pat Gelsinger at Intel. They were amazing. To get to sit at the same table as someone as talented and passionate as a Gelsinger, Demers or Killebrew is one of the most fortunate and cherished parts of my job.
Eric was telling me about how they trimmed down 870 from over 400mm2 down to 334mm2 and how wonderful the end product was. I stopped him and asked for more detail here. I wanted an example of a feature that they had to throw out but they really wanted to keep in. Manufacturers rarely tell you what they threw out, marketing likes to focus on what's in the chip and make everything sound like a well calculated move. Thankfully, marketing wasn't allowed to speak at my dinner.
Eric turned to Carrell and said: "i know one feature we could talk about."
"Sideport".
Carrell responded, "OH MY GOD, that's totally not fair." (note that Carrell does not sound like a teenage girl, imagine that phrase just spoken more engineer-y).
When ATI first talked about the Radeon HD 4870 X2 they told us about a feature called Sideport. It was a port off each RV770 GPU that could be used for GPU-to-GPU communication.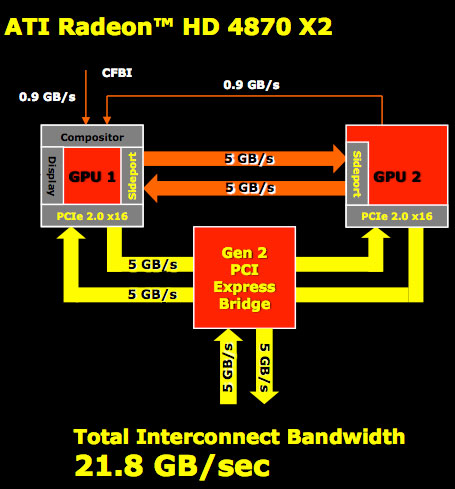 Sideport as it was intended to be used
The whole point of doing CrossFire in alternate frame rendering mode (AFR) is that the chips never have to talk. The minute you have to start synchronizing them, you kill performance. Sideport was supposed to alleviate that.
Unfortunately, due to power reasons, Sideport was never used on the 4870 X2. ATI's reference design had it disabled and all vendors followed suit.
Sideport was Carrell Killebrew's favorite feature, and he had to give it up.
In early 2008 ATI realized they had to cut this chip down from 20 - 22mm on a side to 18mm, everyone had to give up something. Carrell was the big advocate for making 870 smaller, he couldn't be a hypocrite and not give anything up.
A bunch of my conversation with Carrell at this point had to go off the record. Sideport would have been useful in RV870, but it's unfortunately not there. Although he did tell me not to be surprised if I saw Sideport again at some point. Carrell doesn't give up easily.