CES 2010 - Netbooks, Netbooks, Everywhere!
Anand and Ryan are running around Vegas, but lucky for me I get to cover the show remotely - it's a lot less stressful and at the end of the day my feet don't hurt. With the recent launch of Intel's Pineview and Arrandale processors, we expect to see a plethora of new laptops, netbooks, and notebooks at this year's CES based on these platforms. We will also see some new laptops using AMD processors. Since I'm not actually at the show, I can't comment specifically on LCDs, keyboards, or build quality, but I will do my best to provide some analysis of the various product launches.
Pine Trail Netbooks
The biggest area in laptops right now appears to be the netbook. Everyone is making something using the latest Atom N450 CPU, it seems. Netbooks are also all over the show floor, which is no surprise considering their light weight, small size, and stellar battery life. If there's one usage case where netbooks excel, running around a tradeshow floor has got to be it! Personally, I'd still take a slightly larger 11.6" CULV laptop, but there's no accounting for taste.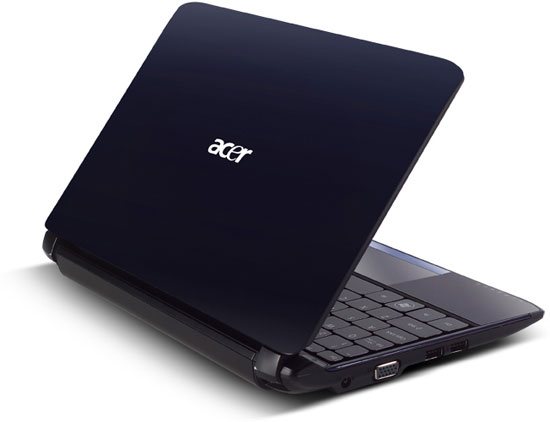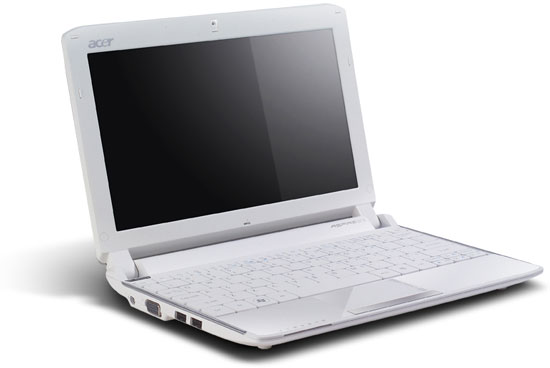 First out of the gate with a new Pine Trail netbook is Acer, with the Aspire One 532h (AO532h). We expect to see quite a few netbooks with similar specifications, so it's really going to come down to availability, pricing, and overall design. The AO532h comes with an Atom N450 CPU, 10.1" chassis, WSVGA (1024x600) LED backlit LCD, 1GB DDR2-667 RAM, and a 160GB hard drive. With a 6-cell battery it weighs just 2.76 pounds and delivers more than 10 hours of battery life. The AO532h is available in Onyx Blue, Garnet Red, and Silver Matrix with an MSRP of $300.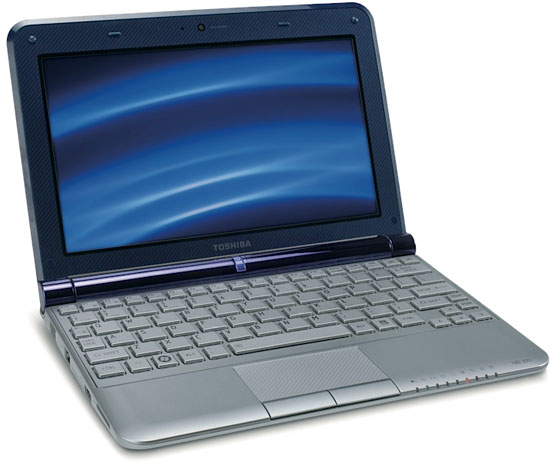 Plenty of others are showing Pine Trail netbooks. Toshiba had their NB305 on display, rated at up to 11 hours of battery life with a 6-cell battery. The NB305 has a couple models, with the less expensive starting at $350 with a typical keyboard and a glossy black exterior while the $400 model gets a chiclet keyboard and a "scratch resistant" surface.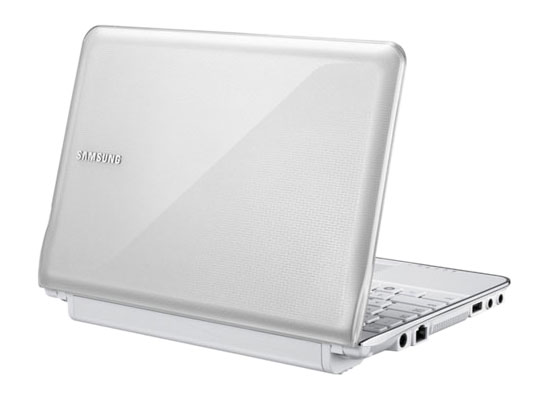 Samsung announced a bevy of new netbooks, differentiated by battery life and exterior design. The N210 and N220 have a "crystal pattern design" and offer up to 12 hours of mobility, while the N150 and NB30 reach 8.5 hours and 11 hours respectively. The hinge on the N150 has a modified "integrated hinge" and the NB30 is designed to withstand harsher treatment with features like a water-tight seal and freefall sensor. Availability is expected any day now.
And just to round things out, yet another N450 netbook is the HP Mini 210, which Engadget reports has been seen at retail shops for $350. One feature that's clearly different from other netbooks is the unibutton touchpad. I've tried Dell's latest touchpad on the Inspiron 11z and 14z, though, and the thought of losing my discrete left and right buttons does not appeal to me! Sure, it works for Apple, but this netbook is running Win7, an OS designed with two mouse buttons in mind.
There are other N450 netbooks coming, and the core features are all the same. HDD capacity and amount of RAM are going to be the primary differentiators in terms of specs, but look for other features like non-glossy LCDs (we hope!), matte chassis, varying battery capacities, and other stylish elements to define these netbooks. As we noted in our ASUS 1005PE Pineview article, one of the things Pine Trail lacks is support of H.264 offload, but some netbooks should also include a Broadcom chip to handle HD video decoding. That's probably the biggest feature we'd look for if we were out shopping for a new Pine Trail netbook right now.
Lenovo Breaks their Mold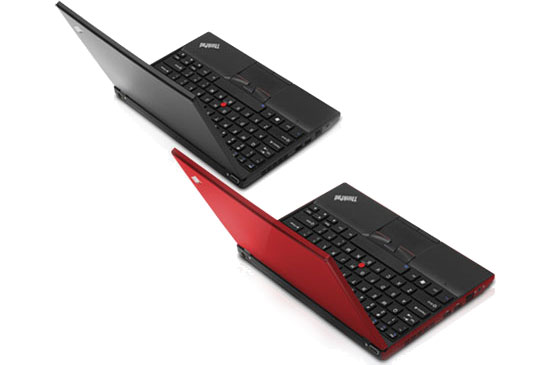 When it comes to Lenovo, you can always count on them to provide conservative styling… right? Well, no longer, as it seems Lenovo has decided to mix things up a bit. Today Lenovo announced several new laptops. The one that's almost certain to catch your eye is the new ThinkPad X100e, an 11.6" laptop - Lenovo is careful to state it's not a netbook - using AMD's Neo processors. Both single-core and dual-core CPUs will be available, but the big news is that the X100e will be available in traditional black as well as… red. Yes, you saw that right: a red ThinkPad! "Heatwave Red" to be exact.

You can't tell me that isn't just a little bit too sexy for a ThinkPad!
Unlike most other laptops, this new red ThinkPad still uses a matte surface, and it looks pretty cool. Lenovo also worked hard to maintain full-size keys with their traditional chiclet style keyboard. Their customary pointing stick is also present and accounted for. Battery life is less than we see from typical netbooks; Lenovo claims up to five hours of battery life, and that's presumably with a single-core processor. On the bright side, performance should be substantially better than Atom-based netbooks, but then the real competition is probably CULV designs. Pricing for the 100e will start at less than $449, though we expect better equipped versions will cost quite a bit more.
Lenovo Goes Glossy? Meet the ThinkPad Edge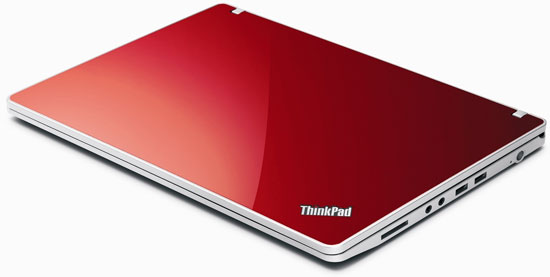 Another new move for Lenovo is the ThinkPad Edge, which is a glossy black (or red) version of your typical ThinkPad. It looks really nice in the pictures, but you can see fingerprints even in their promo video. Considering I've complained about all the glossy laptops for the past couple of years, the Edge isn't something I'm super excited to see. The good news is that Edge is merely an alternative design; as Lenovo states at the end of the video: "Classic or Edge, the choice is yours". Personally, we'd stick with the Classic design. The Edge laptops will also be available with Intel or AMD processors; the Intel models state that they can reach up to 7.8 hours of battery life, and we suspect AMD models will be about 25% lower (5 to 6 hours).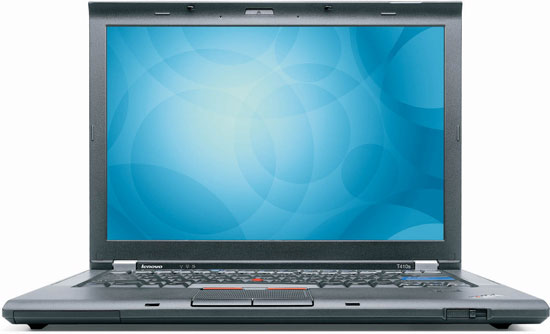 And just to assuage your fears, there are plenty of new Classic ThinkPads in the works, including reworked T410s, T410, T510 and W510 models.
What about Arrandale?
Right now, all the official Arrandale announcements are on hold until January 7. We'll talk more about the various offerings then, but we've already given a preview of Arrandale performance. The rundown at present is more performance relative to Core 2 Duo (Penryn) without using more power. The integrated graphics also appear to be roughly twice as fast as the old 4500MHD, which puts Intel within spitting distance of NVIDIA's 9400M. Of course, drivers are still a concern and if you're really looking at gaming we'd look for a better GPU. What will really be interesting is Sandy Bridge with a 32nm IGP inside the CPU; if we see another reasonable boost in performance (and driver support), Intel could finally earn the distinction of providing a competitive IGP. But we digress. Arrandale is still a couple days away, so stay tuned.