Windows 7 Gaming Performance
Our Bench suite is getting a little long in the tooth, so I added a few more gaming tests under Windows 7 with a new group of processors. We'll be adding some of these tests to Bench in the future but the number of datapoints is obviously going to be small as we build up the results.
Batman: Arkham Asylum
Batman is an Unreal Engine 3 game and a fairly well received one at that. Performance is measured using the built in benchmark at the highest image quality settings without AA enabled.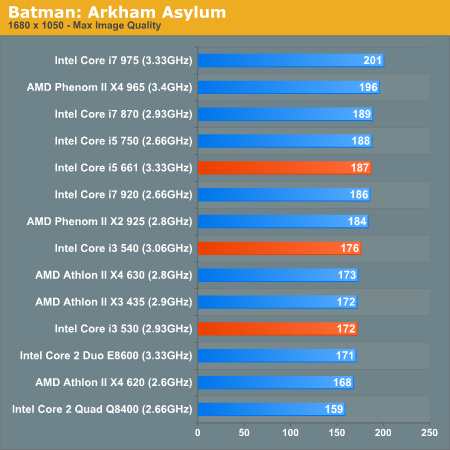 Pretty much everything performs well here. Technically this is one of those exceptions where the i5 661 actually performs like it's priced. The i3s continue to be competitive with similarly priced AMD options.
Dragon Age Origins is another very well received game. The 3rd person RPG gives our CPUs a different sort of workload to enjoy: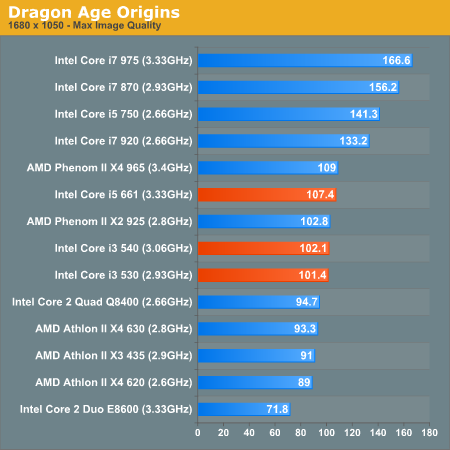 Many games these days can actually use more than two cores, and thus we see the Lynnfield/Bloomfield chips scale ridiculously well here. As such, the i5 661 loses its appeal since it's priced like a Lynnfield.
The i3s however do very well. They outperform the similarly priced AMD CPUs and are just behind the Phenom II X4 925. They're definitely a lot faster than the old Core 2 Duo E8600 despite the clock speed deficiency.
Dawn of War II is a beautiful RTS that we've used in our GPU reviews for some time now. It scales will core count reasonably well but also shows the strengths of the new Clarkdales: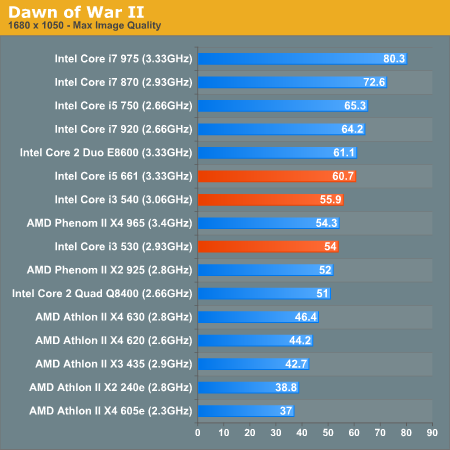 Again, the i5 661 isn't fast enough for its price but the i3s are great.
World of Warcraft needs no introduction. An absurd number of people play it, so we're here to benchmark it. Our test favors repeatability over real world frame rates, so our results here will be higher than in the real world with lots of server load. But what our results will tell you is what the best CPU is to get for playing WoW: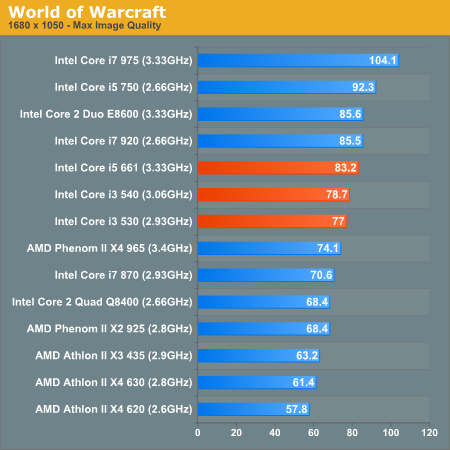 It's surprising how little difference there is between the i5 661 and the i3 540. It's almost as if Intel knew that the nomenclature had to exaggerate whatever little difference there was.
The i5 661 does well here, but the most bang for your buck comes from the i3s which even outperform the Phenom II X4 965. If you want an affordable gaming CPU, the Core i3 is where it's at.