Fallout 3 Game Performance
Bethesda's latest game uses an updated version of the Gamebryo engine (Oblivion). This benchmark takes place immediately outside Vault 101. The character walks away from the vault through the Springvale ruins. The benchmark is measured manually using FRAPS.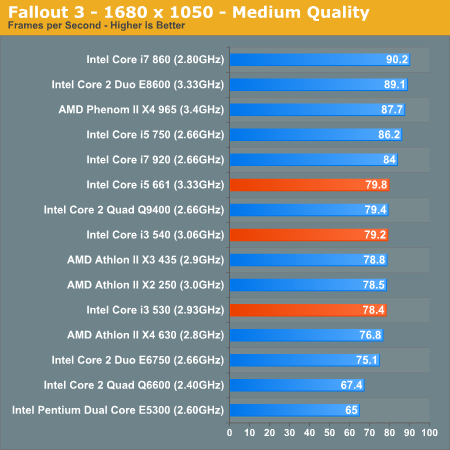 For the price, the gaming performance of these chips is pretty good. The Core i3 540 and 530 are competitive with their similarly priced AMD alternatives.
Left 4 Dead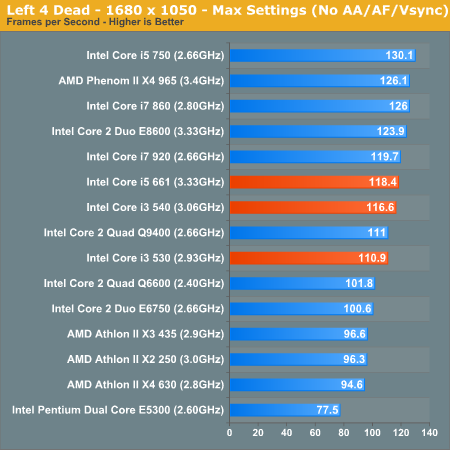 More of the same. At $133 or less, the Core i3s are good gaming chips - especially when you consider how far you can overclock them. The i5 661 doesn't make a whole lot of sense though.
Far Cry 2 Multithreaded Game Performance
Far Cry 2 ships with the most impressive benchmark tool we've ever seen in a PC game. Part of this is due to the fact that Ubisoft actually tapped a number of hardware sites (AnandTech included) from around the world to aid in the planning for the benchmark.
For our purposes we ran the CPU benchmark included in the latest patch: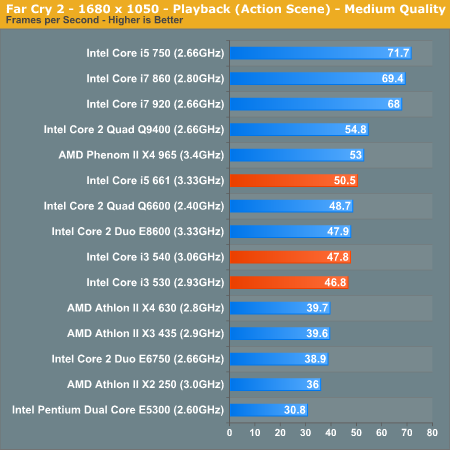 In games that are better threaded, the old Core 2 Quad Q9400 is a better buy. But you do get more balanced performance out of the new i3s. Compared to the Athlon II X4 these new chips make sense.
Crysis Warhead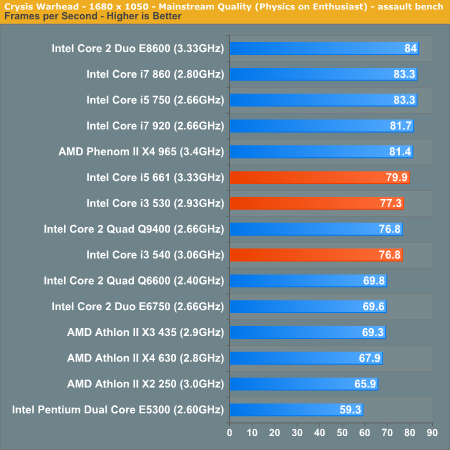 Crysis also shows the Clarkdales in a good light: we become mostly GPU limited, and the i3 parts do very well against the AMD Athlon II chips.