Last month's Core i7 Giveaway was a great way to bring back contests/giveaways to AnandTech. I asked our winner, Gregory Peng, to write up a bit on the new system. The next one isn't going to be quite as large, but I'm hoping to give away a pair of 6GB DDR3 memory kits before I leave for CES in January.
Anand,

The new Core i7 system is up and running with the important parts from my old system (two WD Caviar Black 1 TB drives, Creative X-Fi XtremeMusic soundcard) and files migrated over earlier this week. I have installed the recently released Intel SSD firmware update that adds Trim support and am awaiting the re-release of the Intel SSD Toolbox to run the Optimizer program once . The SSD is definitely snappier when I'm multitasking and loading the more resource intensive programs.

I spent the last three days working on overclocking the CPU and have been able to achieve at least 3.96 GHz (22 x 180 BCLK) at 1.35V with stability tested using 15 passes of IntelBurnTest at Maximum stress level. It appears that I might be limited by BCLK and will have to see what I can adjust to increase it. I was not able to pass stability tests at similar and even lower CPU clock speeds with a higher BCLK. One thing I had to do was add one of my Scythe S-FLEX-F fans to the push side of the Asetek liquid cooler's radiator. The iBuyPower system came with only a fan acting to pull air through the radiator, which was not sufficient to properly cool the overclocked CPU. Idle temperatures of the overclocked CPU were in the high 40's and low 50's (Celsius). Stress tests would cause the core temperatures to quickly skyrocket up towards the Tj max of 99 C. With the added Scythe fan acting as part of a push-pull system with the original fan, temperatures were much more controlled. Idle temperatures were more reasonably in the high 30's, and the highest temperatures reached with IntelBurnTest were in the high 70's and low 80's.

I really wanted to run some gaming benchmarks to compare the system I was using (Q6600 @ 3.4 GHz with Radeon HD4870 512 MB) to the system I won (i7 870 with Radeon HD4890 1 GB), but unfortunately it seems that something is wrong with the included XFX HD4890 and it is actually running slower than my HD4870. I didn't realize this until I started running the benchmarks today and my old system scored about 6% higher in 3DMark 06 and 11% higher in a Far Cry 2 test. I tried swapping the video cards between systems and the results were also swapped, so I am almost certain something is wrong with the 4890. I will be contacting XFX and iBuyPower on Monday to see what can be done. Hopefully there is still a warranty on the computer system and parts even though I won them.
Here are pictures with captions of the Core i7 as I received it and as I reconfigured it.

First I'll start out with a quick picture of my old system, which was initially built in January 2008: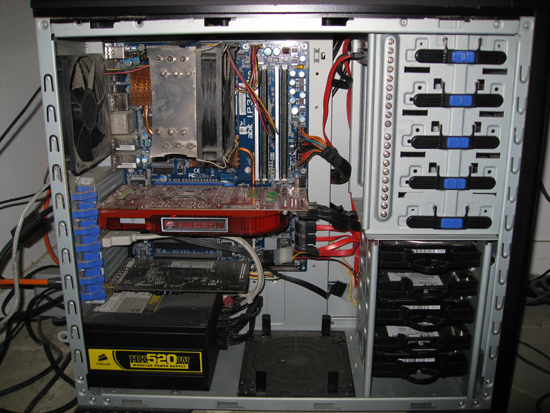 Case: Coolermaster CM-690
CPU: Intel Q6600 overclocked to 3.4 GHz
CPU cooler: Thermalright Ultima-90 with Scythe S-FLEX-F fans
Motherboard: Abit IP35-Pro
Memory: 8 GB DDR2-800
Video card: Sapphire HD4870 512 MB
Sound card: Creative SoundBlaster X-Fi
Hard drives: 500 GB WD Caviar SE16, 2x 1 TB WD Caviar Black
Optical drive: Pioneer 212D
Power supply: Corsair 520HX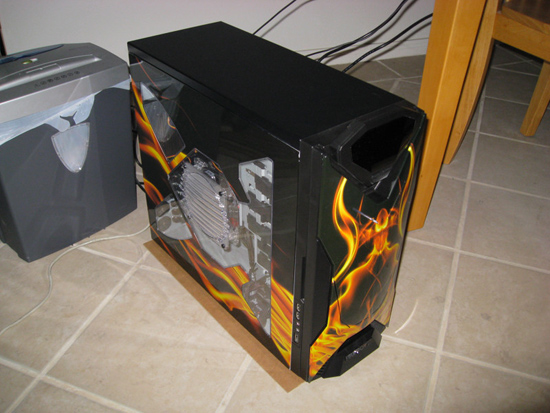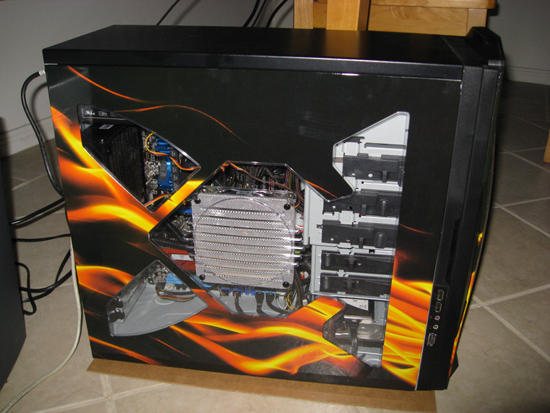 Here is the iBuyPower Core i7 computer after being unboxed. The case is actually an NZXT Guardian 921 with iBuyPower's custom paint scheme.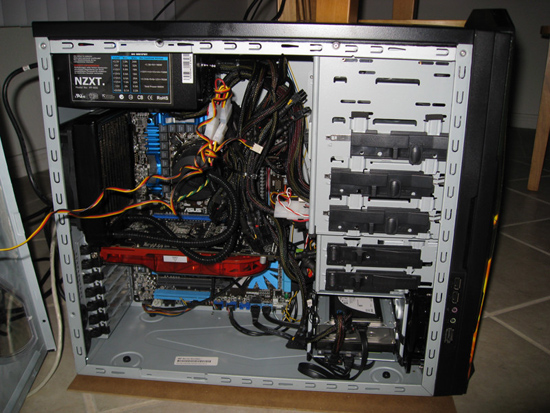 A look inside the case as it was built and wired from iBuyPower.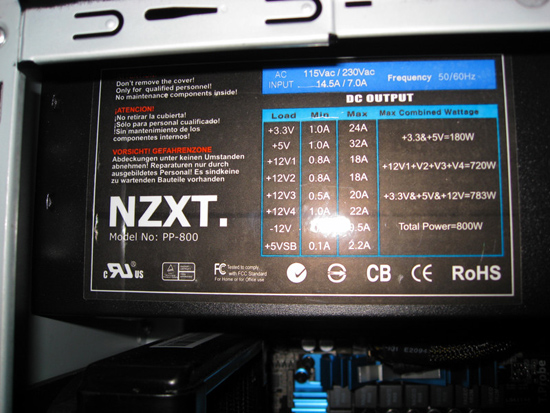 NZXT PP-800 800W power supply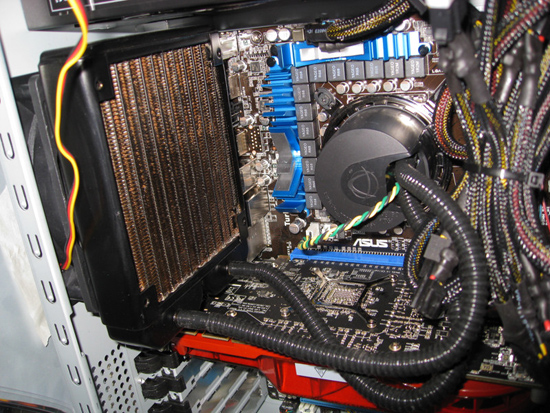 Asetek liquid CPU cooler with a fan configured to pull air through the radiator.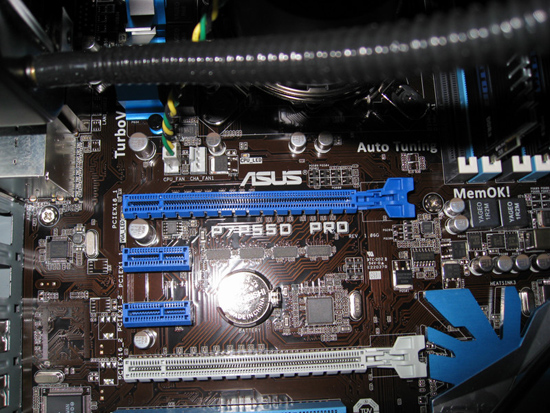 The motherboard turned out to be an ASUS P7P55D Pro, a step up from the ASUS P7P55D-LE that was listed in the contest.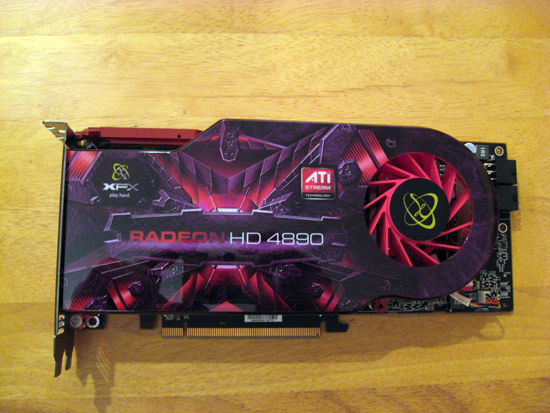 XFX ATI Radeon HD4890 1GB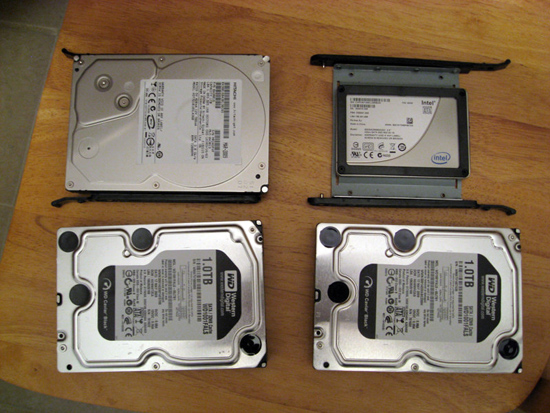 Hitach 7K.1000B 1TB hard drive on the upper left. Intel X25-M 80 GB SSD on the upper right (Ed: That's an X25-M G2, extra sweet). The two Western Digital Caviar Black 1 TB hard drives are from my old system, where they were used as redundant storage drives. The SSD is now being used as my Windows 7 OS drive, the Hitachi 1 TB drive is a redundant backup of one of the WD Caviar Blacks used for storage, and the other Caviar Black is used for games and other miscellaneous storage.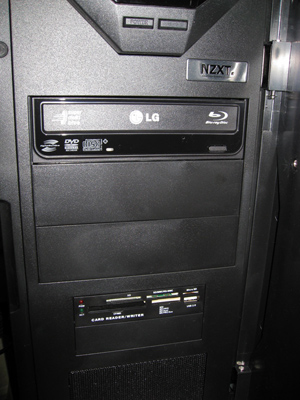 The optical drive is an LG Bluray reader and DVD burner. A generic memory card reader sits in one of the 3.5" drive bays.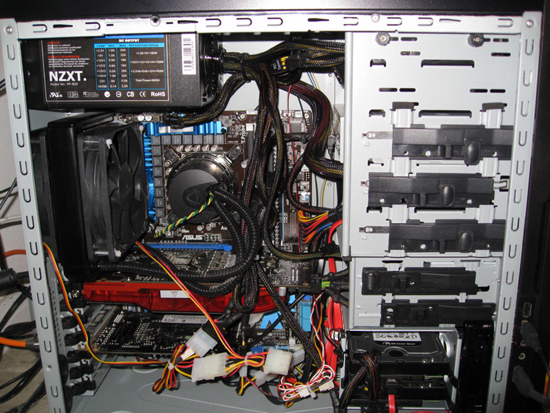 A look at the inside of the case after I moved the included hard drives around so I could add my other two hard drives, installed my old X-Fi sound card, added a Scythe S-FLEX-F fan for push-pull cooling of the Asetek radiator (this drastically improved CPU cooling), and re-routed the power supply cables. It was a lot easier to make the wiring neat in my Coolermaster CM-690 with the modular cables of the Corsair 520HX. This NZXT case doesn't make it easy to add more hard drives. The two WD Caviar Blacks are in the only two dedicated hard drive bays, the Intel SSD is sitting in the 3.5" bay under the memory card reader, and the Hitachi drive is mounted in the 5.25" bay just above the memory card reader with some adapter rails. I think eventually I will install a 3x3.5" to 2x5.25" backplane module in the 5.25" bays below the optical drive to hold the three mechanical hard drives and move the SSD back into the case's hard drive bay.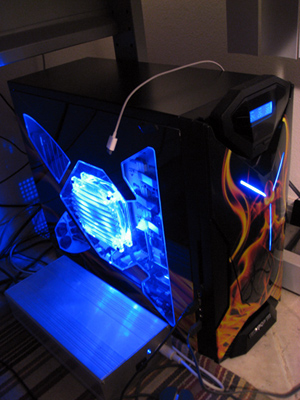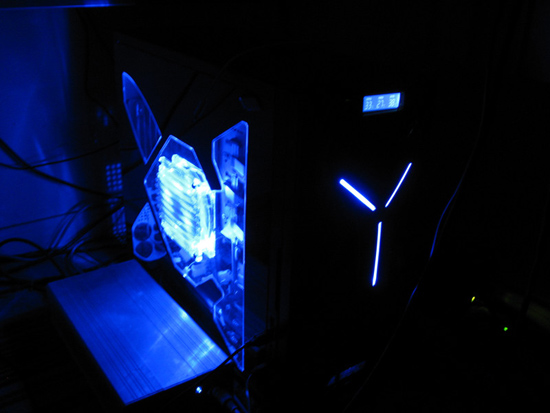 Here is the computer powered on. The bright LEDs, side window, and flashy flame paint scheme are pretty much the opposite of the subtle look I was going for with my past cases (Antec Sonata II and Coolermaster CM-690), but I can live with it.