Test Setup -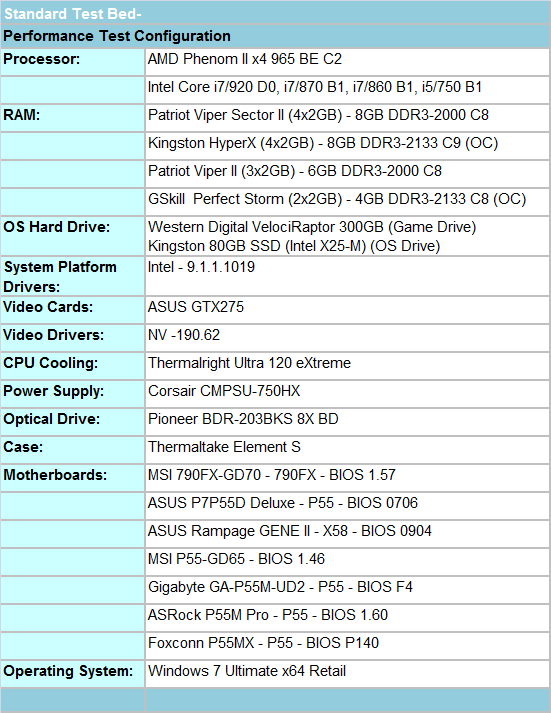 We utilized a wide variety of memory kits from Corsair, OCZ, Patriot, GSkill, Kingston, and Super Talent to verify memory compatibility on our test boards. Our OS and primary applications were loaded on the Kingston 80GB SSD drive and our games were operated off the WD 300GB VRaptor drive. We did a clean install of the OS and applications for each motherboard.
We chose the ASUS GTX275 video card and Corsair's 750HX power supply. Our air cooler of choice is Thermalright's Ultra 120 eXtreme, primarily for its exceptional performance during our overclocking tests. We also tested with the retail cooler and those results along with direct CPU comparisons can be found here.
Our 790FX/X58 results are provided for comparison only. For our test results we setup each board as closely as possible in regards to memory timings. Otherwise all other settings are left on auto. The P55 and 790FX motherboards utilized 8GB of DDR3, while the X58 platform contained 6GB. The P55 and X58 DDR3 timings were set to 7-7-7-20 1T at DDR3-1600 for the i7/920, i7/870, and i7/860 processors at both stock and overclocked CPU settings.
We used DDR3-1333 6-6-6-18 1T timings for the i5/750 stock setup as DDR3-1600 is not natively supported in current BIOS releases for this processor at a stock Bclk setting of 133. We had early BIOS releases that offered the native 1600 setting but stability was a serious problem and support was pulled for the time being. Performance is essentially the same between the two settings.
The AMD 790FX setup is slightly different as trying to run DDR3-1600 at CAS 7 timings on the 1:4 divider is extremely difficult. Without resorting to some serious overvolting and relaxing of sub-timings, we set our AMD board up at DDR3-1600 8-8-8-20 1T timings but with NB speed at 2200. The difference in performance between C7 and C8 DDR3-1600 is practically immeasurable in applications and games on this platform.