Efficiency Gets Another Boon: Parallel Kernel Support
In GPU programming, a kernel is the function or small program running across the GPU hardware. Kernels are parallel in nature and perform the same task(s) on a very large dataset.
Typically, companies like NVIDIA don't disclose their hardware limitations until a developer bumps into one of them. In GT200/G80, the entire chip could only be working on one kernel at a time.
When dealing with graphics this isn't usually a problem. There are millions of pixels to render. The problem is wider than the machine. But as you start to do more general purpose computing, not all kernels are going to be wide enough to fill the entire machine. If a single kernel couldn't fill every SM with threads/instructions, then those SMs just went idle. That's bad.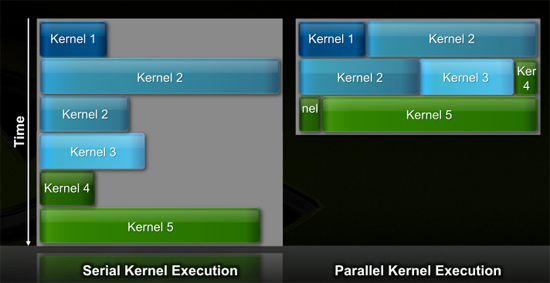 GT200 (left) vs. Fermi (right)
Fermi, once again, fixes this. Fermi's global dispatch logic can now issue multiple kernels in parallel to the entire system. At more than twice the size of GT200, the likelihood of idle SMs went up tremendously. NVIDIA needs to be able to dispatch multiple kernels in parallel to keep Fermi fed.
Application switch time (moving between GPU and CUDA mode) is also much faster on Fermi. NVIDIA says the transition is now 10x faster than GT200, and fast enough to be performed multiple times within a single frame. This is very important for implementing more elaborate GPU accelerated physics (or PhysX, great ;)…).
The connections to the outside world have also been improved. Fermi now supports parallel transfers to/from the CPU. Previously CPU->GPU and GPU->CPU transfers had to happen serially.