ECC Support
AMD's Radeon HD 5870 can detect errors on the memory bus, but it can't correct them. The register file, L1 cache, L2 cache and DRAM all have full ECC support in Fermi. This is one of those Tesla-specific features.
Many Tesla customers won't even talk to NVIDIA about moving their algorithms to GPUs unless NVIDIA can deliver ECC support. The scale of their installations is so large that ECC is absolutely necessary (or at least perceived to be).
Unified 64-bit Memory Addressing
In previous architectures there was a different load instruction depending on the type of memory: local (per thread), shared (per group of threads) or global (per kernel). This created issues with pointers and generally made a mess that programmers had to clean up.
Fermi unifies the address space so that there's only one instruction and the address of the memory is what determines where it's stored. The lowest bits are for local memory, the next set is for shared and then the remainder of the address space is global.
The unified address space is apparently necessary to enable C++ support for NVIDIA GPUs, which Fermi is designed to do.
The other big change to memory addressability is in the size of the address space. G80 and GT200 had a 32-bit address space, but next year NVIDIA expects to see Tesla boards with over 4GB of GDDR5 on board. Fermi now supports 64-bit addresses but the chip can physically address 40-bits of memory, or 1TB. That should be enough for now.
Both the unified address space and 64-bit addressing are almost exclusively for the compute space at this point. Consumer graphics cards won't need more than 4GB of memory for at least another couple of years. These changes were painful for NVIDIA to implement, and ultimately contributed to Fermi's delay, but necessary in NVIDIA's eyes.
New ISA Changes Enable DX11, OpenCL and C++, Visual Studio Support
Now this is cool. NVIDIA is announcing Nexus (no, not the thing from Star Trek Generations) a visual studio plugin that enables hardware debugging for CUDA code in visual studio. You can treat the GPU like a CPU, step into functions, look at the state of the GPU all in visual studio with Nexus. This is a huge step forward for CUDA developers.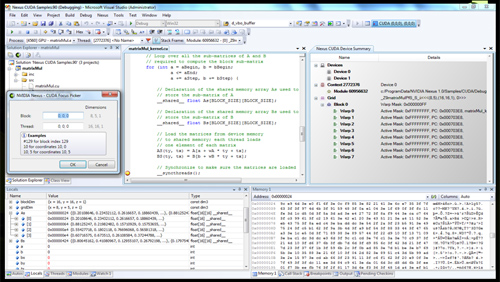 Nexus running in Visual Studio on a CUDA GPU
Simply enabling DX11 support is a big enough change for a GPU - AMD had to go through that with RV870. Fermi implements a wide set of changes to its ISA, primarily designed at enabling C++ support. Virtual functions, new/delete, try/catch are all parts of C++ and enabled on Fermi.