Batman: Arkham Asylum
Batman: Arkham Asylum is another brand-new PC game, and has been burning up the review charts. It's an Unreal Engine 3 based game, something that's not immediately obvious from just looking at it, which is rare for UE3 based games.
NVIDIA has put a lot of marketing muscle into the game as part of their The Way It's Meant to Be Played program, and as a result it ships with PhysX support and 3D Vision support. Unfortunately NVIDIA's influence has extended to its anti-aliasing abilities too, as its in-game selective AA abilities only work on NVIDIA's cards. AMD's cards can perform AA on the game, but only via traditional full screen anti-aliasing, which isn't nearly as efficient. Because of this, this is the only game where we will not be using AA, as doing so produces meaningless results given the different AA modes used.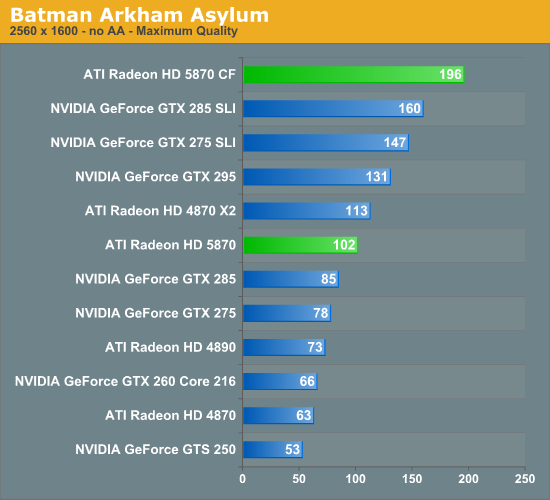 Without the use of AA, the performance in this game is best described as "runaway". The 5870 turns in a score of 102fps, and even the GTS 250 can do just 53fps. However we're also seeing the 5870's performance pattern maintained here: it beats the single-GPU cards and loses to the multi-GPU cards.