The Best Gaming CPU?
When I first previewed Lynnfield I theorized that its aggressive turbo modes would make it the best gaming CPU on the market. Most games these days use between two and four threads, not enough for Hyper Threading to be truly beneficial. As a result, Nehalem never really did all that well in games. It was generally faster than the competition, but not much and not on a performance-per-dollar basis.
I ran a few new game tests under Windows 7 to accompany our usual game benchmarks. The competitors here are limited to Lynnfield (of course), Bloomfield, Penryn and AMD's Phenom II.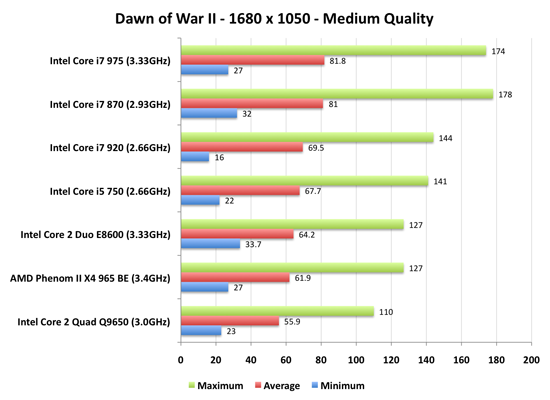 Dawn of War II doesn't actually shatter any expectations. While turbo clearly benefits Lynnfield, it isn't enough to dethrone Bloomfield. The Core i7 920 is marginally faster than the new i5 750. Here's where things get interesting though: look at minimum frame rates. In both Lynnfield platforms, the minimum frame rates are higher than the competing Bloomfield system. That appears to be Lynnfield's aggressive turbo modes at work. While they're not constantly pushing Lynnfield to a higher clock speed, they do apparently help out when it matters the most.
The other thing to notice is the lowest Lynnfield is a faster gaming CPU than Intel's fastest dual-core: the E8600.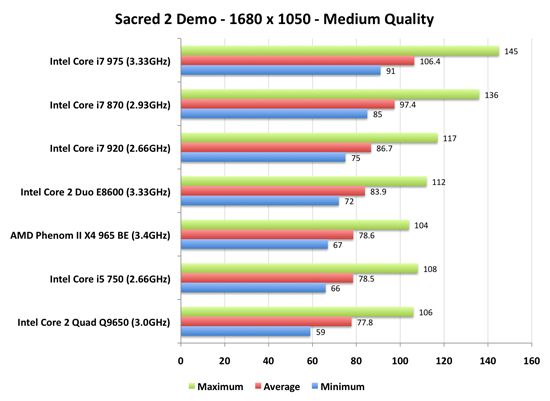 Sacred 2 is an example of performance standings in a more normal manner. Lynnfield can't seem to outperform Bloomfield, and the Core i5 750 actually falls slightly behind AMD's Phenom II X4 965 BE.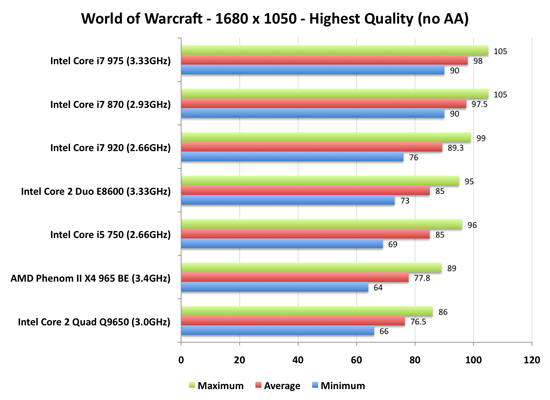 With World of Warcraft we're back to turbo mode having a very positive impact. The Core i7 870 is nearly as fast as the i7 975, while the i5 750 is a bit slower than the i7 920. Both are faster than the Phenom II X4 965 BE, which is in turn faster than the Q9650.
These three benchmarks seem to outline the three most realistic options for Lynnfield's gaming performance. In situations where its turbo modes can work, Lynnfield can be equal to if not faster than Bloomfield. In those situations where it doesn't kick in, Lynnfield is at least competitive with Phenom II and Bloomfield. In all situations the old Core 2 Quad Q9650 is at the bottom of the charts.
I'll throw in one more option just to complicate things. Have a look at this: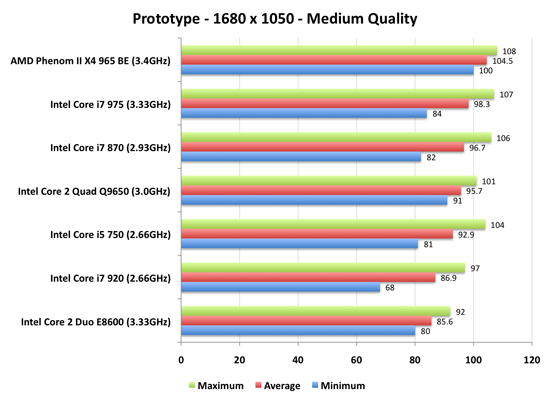 Not exactly the norm, but here we have the Phenom II X4 965 BE faster than everything - including the Core i7 975. Unfortunately there's no one benchmark that will sum up how these things perform, but overall it looks like Lynnfield is going to be one capable gaming CPU.