New Heatsinks and Motherboards
LGA-1156 processors use a different heatsink than both LGA-1366 and LGA-775 chips.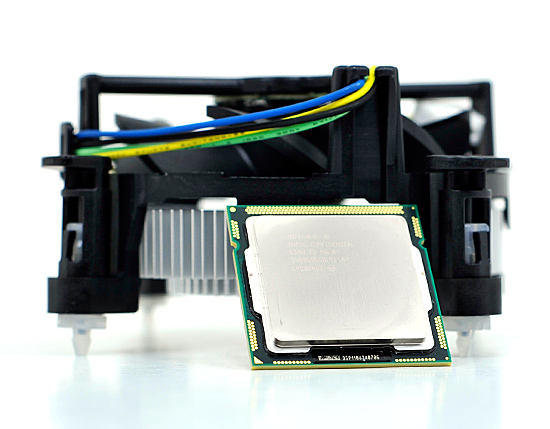 Lynnfield and its cooler
As the numbers would imply, the LGA-1156 heatsink has a larger footprint than LGA-775 but smaller than LGA-1366.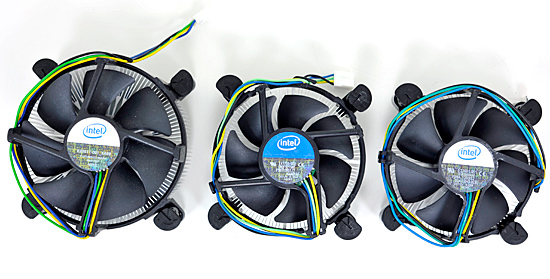 From Left to Right: Retail LGA-1366 Cooler, Retail LGA-1156 Cooler, Retail 45nm LGA-775 Cooler
The retail LGA-1156 is actually much closer to the 45nm LGA-775 retail cooler than the LGA-1366 retail HSF:

As you'll see later on in the article, the retail cooler isn't very good for heavy overclocking. Power users will want something a little bigger: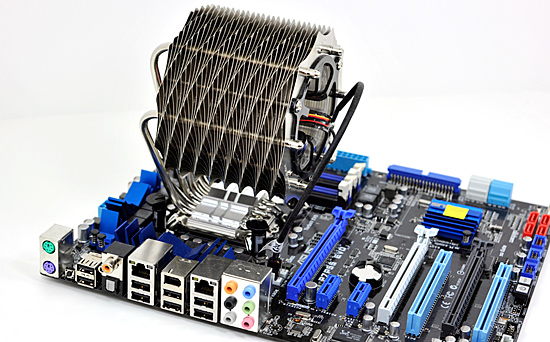 The Lynnfield/P55 launch is huge. Virtually every single motherboard manufacturer has a P55 board available. Prices range from ~$110 - $300 depending on the number of bells and whistles.


Gigabyte's ultra high end UD6 (left) and Gigabyte's lower end micro-ATX UD4 (right)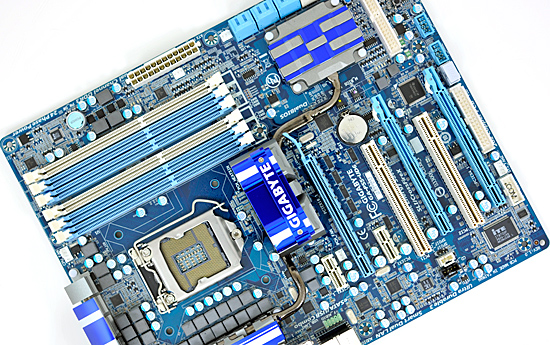 Gigabyte's high end UD6 comes with 6 DIMM slots like its X58 brethren.
Micro-ATX is increasing in popularity and we actually have some good options this time if you're trying to build a smaller Lynnfield system. Combined with Lynnfield's excellent idle power (the lowest of any quad-core we've ever tested), this could make for an unusually potent HTPC.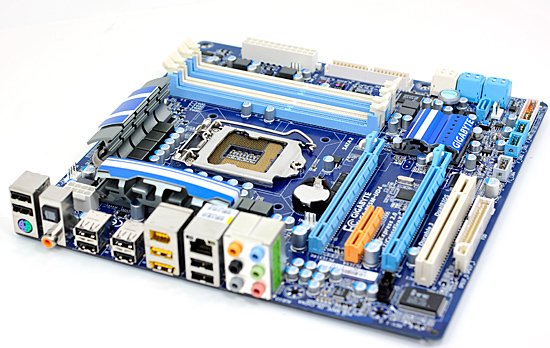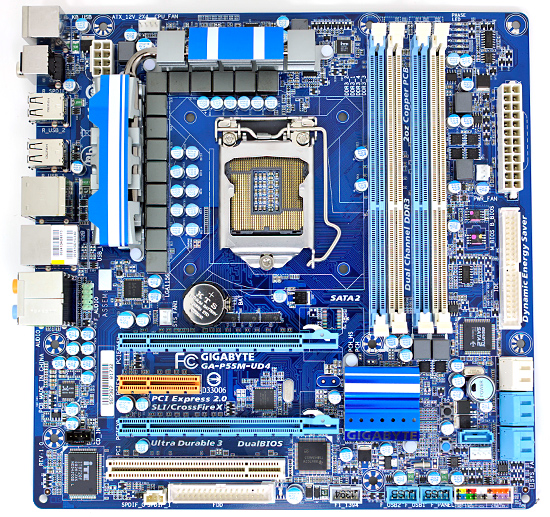 A closer look at Gigabyte's micro-ATX P55M-UD4
The only thing we're really missing is a good mini-ITX Lynnfield board. But perhaps the manufacturers will wait until we have on-package graphics before going down that route...
One More Time: New H55 Boards Next Year
As I subtley implied at the end of the last section, Intel is bringing on-package graphics to Nehalem starting in Q4 of this year: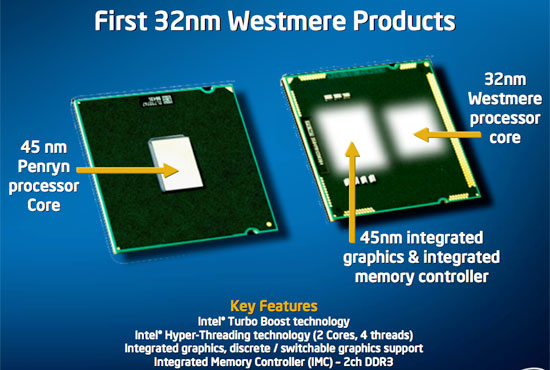 The 32nm Nehalem shrink, codenamed Westmere, will be available with a 45nm Intel graphics core on the processor's package. This graphics core is an evolution of what's currently in the G45 chipset and not Larrabee (although eventually that will change). From what I've heard, this is actually going to be Intel's first reasonably good integrated graphics core.
With the graphics on-package, there needs to be an interface from the processor socket to video output located on the motherboard. As you can see from the P55 motherboards that are launching today: none of them have this video out. Granted there aren't any CPUs out to take advantage of it either.


No DVI/HDMI/VGA out...yet
Early next year (or maybe even late this year) we'll see a new breed of LGA-1156 motherboards with video output, designed for use with these Westmere IGP parts. Rumor has it that these motherboards will use Intel's H55 chipset.
Lynnfield early adopters need not worry, 32nm quad-core processors won't be out for at least a year.