The Problem at 245
The problem with the $245 price point that AMD's flagship sells at is one of positioning. It is dangerously close to the $284 price of a Core i7 920, which is generally a faster chip.
| | |
| --- | --- |
| CPU | Price |
| Intel Core i7 920 | $280 |
| Intel Core 2 Quad Q9650 | $320 |
| AMD Phenom II X4 965 Black Edition | $245 |
| Intel Core 2 Quad Q9550 | $220 |
| Intel Core i5 750 (Unreleased) | $199 |
The Core 2 Quad Q9650 simply doesn't make any sense, it's a wonder that Intel still sells it. The Q9550 can be had for around $220 and is generally slower than the 965 Black Edition. The i5 750 is the wildcard; if it does debut next month at $199 and is as competitive as we're expecting, it could force AMD to compress its upper end pricing.
Until Lynnfield arrives, the only things AMD has to worry about are the Core 2 Quad at the low end and the i7 at the high end. The more expensive Core 2 Quads don't really seem to matter, the Phenom II dispatches with them fairly easily. To fight off the i7, instead of lowering profit margins, AMD is going to be offering a number of bundles to help reduce total ownership cost.
While AMD wasn't specific as to what bundles will be available, starting today Newegg, Tiger Direct, ZipZoomFly, NCIX and MWAVE will all be offering bundles on the Phenom II X4 965 and certain motherboards. AMD is estimating the bundles to knock off around $40 from the total combined price. There will also be Corsair memory and AMD GPU bundles, but AMD was even more vague on what we should expect there.
A quick look at Newegg shows that currently you can save about $30 if you're buying a Phenom II X4 945 and a Gigabyte 790FX motherboard. Unfortunately it looks like the bundles don't kick in if you're buying any of the cheaper motherboards. It remains to be seen what sort of 965 bundles will be available.
Pressure from above with the i7 920 is relieved by lower prices, but next month pressure from below with the i5 750 is sure to make things difficult. AMD sweetens the pot by making its flagship part a multiplier unlocked Black Edition. Like the 955 before it, our 965 easily hit 3.8GHz without so much as an added millivolt. We just increased the clock multiplier and off we went.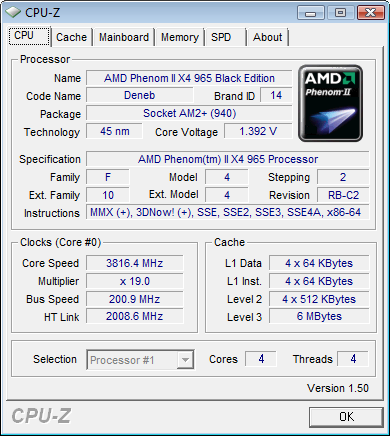 The Test
Motherboard:
Intel DX58SO (Intel X58)
Intel DX48BT2 (Intel X48)
MSI DKA790GX Platinum (AMD 790GX)
Gigabyte GA-MA790GP-DS4H (AMD 790GX)
Gigabyte GA-MA790FX-UD5P (AMD 790FX)
Chipset:
Intel X48
Intel X58
AMD 790GX
AMD 790FX
Chipset Drivers:
Intel 9.1.1.1010 (Intel)
AMD Catalyst 8.12
Hard Disk:
Intel X25-M SSD (80GB)
Memory:
G.Skill DDR2-800 2 x 2GB (4-4-4-12)
G.Skill DDR2-1066 2 x 2GB (5-5-5-15)
Qimonda DDR3-1066 4 x 1GB (7-7-7-20)
Corsair DDR3-1333 4 x 1GB (7-7-7-20)

Video Card:
eVGA GeForce GTX 280
Video Drivers:
NVIDIA ForceWare 180.43 (Vista64)
NVIDIA ForceWare 178.24 (Vista32)
Desktop Resolution:
1920 x 1200
OS:
Windows Vista Ultimate 32-bit (for SYSMark)
Windows Vista Ultimate 64-bit