We set our game resolutions to 1024x768 with either medium or low quality settings. All of our 785G boards at this point have been able to run the graphics core at 800MHz without any voltage tweaks so we settled on that speed for comparison results. The 790GX runs its core at 700MHz for comparison.
We might as well get this out of the way, do not plan on running any titles other than Peggle or Plants versus Zombies on the G41 unless you reduce resolutions to 800x600 or less if the game allows it. Speaking of Plants versus Zombies, every IG solution here ran the game on maximum settings at the 60FPS rate limit. We tried Ghostbusters and the G41 averaged 11FPS at 1024x768 on low quality settings while the 785G averaged 20FPS. The game was not playable in our opinion on either platform. We are testing other titles for the motherboard roundup.
Left 4 Dead
This game is a blast and addictive to boot - provided you like killing hundreds of zombies while trying to take care of your teammates and sustaining high blood pressure rates. We enable all options, set AA to 2x and AF to 8x, and play back a custom demo of a game session from the Runway Finale chapter within the Dead Air campaign.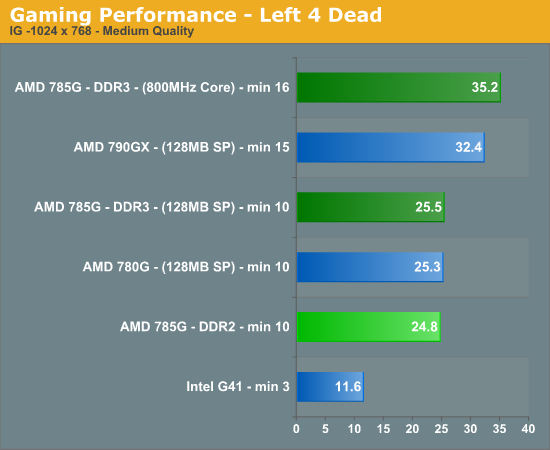 This game was actually playable on the 790GX and 785G with the graphics core speed increased to 800MHz. Just like the game's title, the G41 was Left 4 Dead in our first test.
Company of Heroes: Tales of Valor
The oldest title in our test suite is still the most played. CoH has aged like fine wine and we still find it to be one of the best RTS games on the market. We crank all the options up to their highest settings, enable AA at 2x, and run the game under DX9. We track a custom replay of Able Company's assault at Omaha Beach with FRAPS.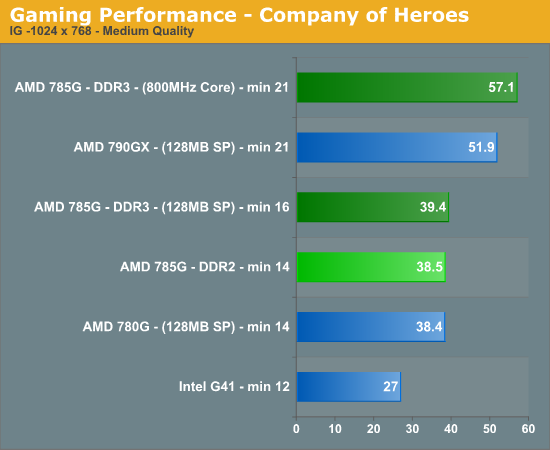 Speed kills in this title and that means either running the 790GX or overclocking the 785G. Both of these platforms allowed for a decent game experience, well until we tried increasing our resolution to 1280x1024, even the overclocked cores had us back in the 30FPS range with minimum frame rates at 12.
Warhammer 40K: Dawn of War II
We are big fans of the Warhammer franchise, especially Dawn of War II. One of the latest RTS games in our library is also one of the more demanding titles on both the CPU and GPU. We crank all options to High, enable AA, and then run the built-in performance benchmark for our result.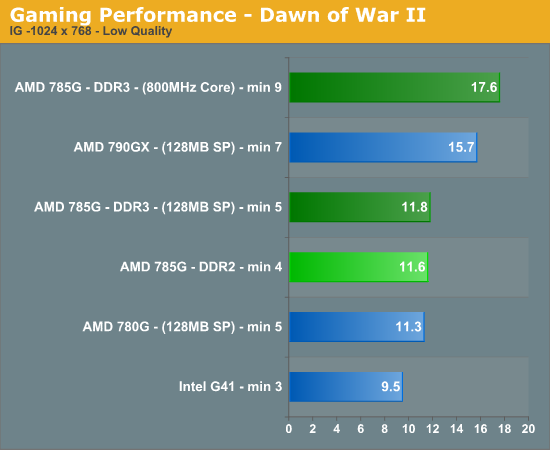 This game does not allow a resolution below 1024x768 or lower quality settings than we utilized. As such, it is not playable on any of our platforms. The overclocked 785G system allowed for a decent single player experience, but the performance under multiplayer conditions lead to a quick but agonizing death in every match we joined.
Tom Clancy's H.A.W.X.
While not a true flight simulation or even serious air combat game, it is a lot of fun and looks visually stunning on a 30" monitor with all options turned up. In our case, we set all options to high, enable 2xAA and DX10, and then use FRAPS to time a custom demo sequence. We run three loops of the benchmark and average our scores for the results.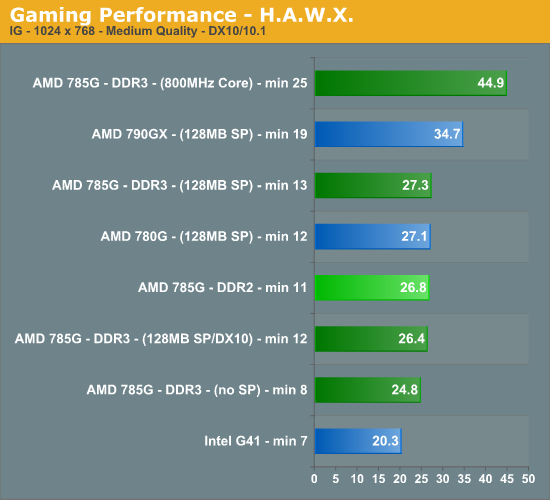 H.A.W.X. responded well to our core clock increases with the 785G platform with DirectX 10.1 enabled. Additionally, the game visuals were the best of our test suite today. We also tested with just DX10 settings and in this particular title, performance was not any different. Disabling SidePort dropped our 785G average frame rates by 10% and minimum frame rates by 39%. We did not notice these types of percentage decreases in our other game titles.
The Sims3
One of the most popular game franchises in history is The Sims. Sims3 is completely updated and sports a new engine that runs on a variety of platforms. Like most new games, it runs best with a decent discrete video card but the settings allow users with IG to still enjoy most aspects of the game. We fire up FRAPS to time a custom game sequence that involves several characters and locations. We run three loops of the benchmark and average our scores for the results.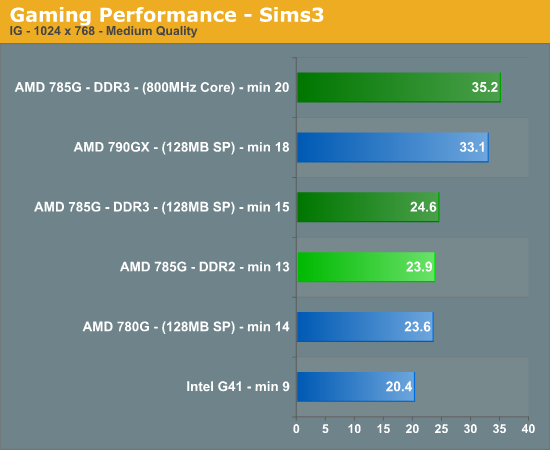 Our game experience in this title was not acceptable until we increased our core speeds on the 785G platform. Additionally, even our medium quality settings resulted in jagged characters and slow zooming speeds with several characters on screen or traveling to a new destination. The increase in frame rates on the 790GX and 785G OC platforms cured most of the slow zooming speeds and game pauses, but this game really needs higher resolutions to look right.