Test Setup -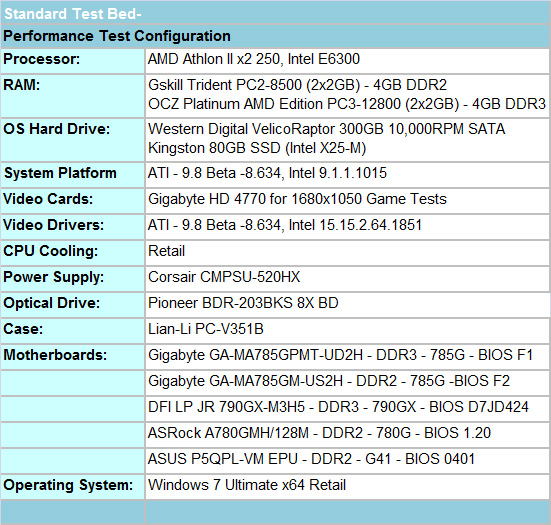 Our primary board for testing today is the Gigabyte GA-MA785GPMT-UD2H that features DDR3 memory support along with 128MB of SidePort memory. We selected the Gigabyte HD 4770 video card for our discrete graphics card duties. The WD VelociRaptor 300GB is our hard drive of choice for secondary storage purposes, while Kingston's 80GB (Intel X25-M) SSD is our primary drive choice. Pioneers's BDR-203BKS Blu-ray playback capable drives fills in for optical duties. We purchased OCZ's impressive DDR3-1600 C7 AMD 4GB kit for DDR3 memory duties along with GSkill's Trident DDR2-1066 C5 4GB kit. We chose the retail coolers for our standard results.
Our power supply choice is the excellent Corsair 520HX, and considering our standard test bed is limited to a single video card this power supply works perfectly. Our case choice is the Lian-Li PC-V351B. We utilized the ASUS VH242H 23.6" 1920x1080 LCD monitor for display duties. Finally, we have dropped Vista 64-bit for good and moved to the Windows 7 64-bit Retail release for our testing today - it just works better.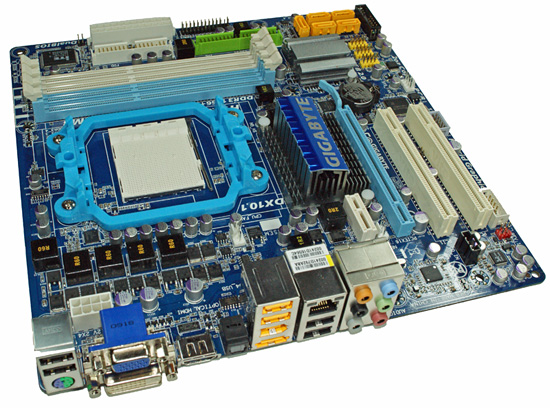 Gigabyte GA-MA785GPMT-UD2H
There are several 785G motherboards available for sale as of today with additional models arriving at various resellers over the next two weeks. We just received several boards from MSI, ASRock, ECS, ASUS, Gigabyte, Biostar, and Foxconn that will be part of an 785G roundup next week. In the meantime, for the more performance oriented crowd we highly suggest you take a look at our primary board from Gigabyte today or the ASUS M4A785TD-V EVO and MSI 785GM-E65. Prices for the 785G products should range from $75 up to $100 depending on the model and features.