Our first tests today concentrate on Blu-ray playback results using four movies and the three major formats. The Simpsons Movie covers H.264, Dave Matthews and Tim Reynolds Live at Radio City in VC-1, and CRANK for the MPEG-2 crowd. We are also tossing in Wanted for its picture-in-picture capabilities although we tend to like the combination of Angelina Jolie, fast cars, and guns more so than the technical attributes on the disc.
CyberLink's PowerDVD 9 Ultra is utilized for playback duties in today's review and it fully supports the decode acceleration capabilities built into the 785G and G41 chipsets. We are still performing tests with a variety of commercial and freeware software applications. Additional test results will be available in our 785G motherboard roundup next week.
The Simpsons Movie –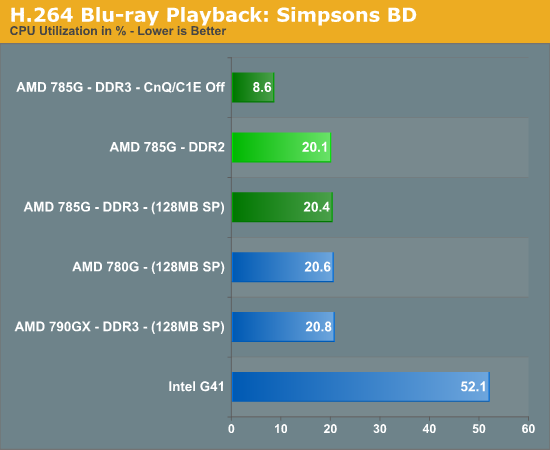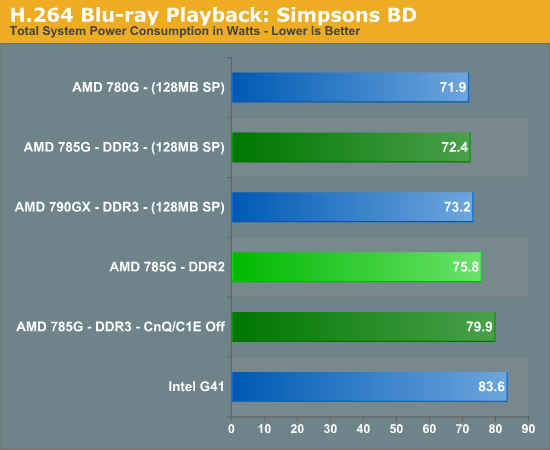 Crank –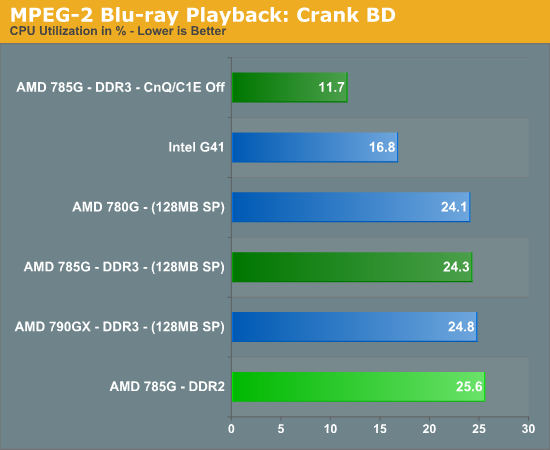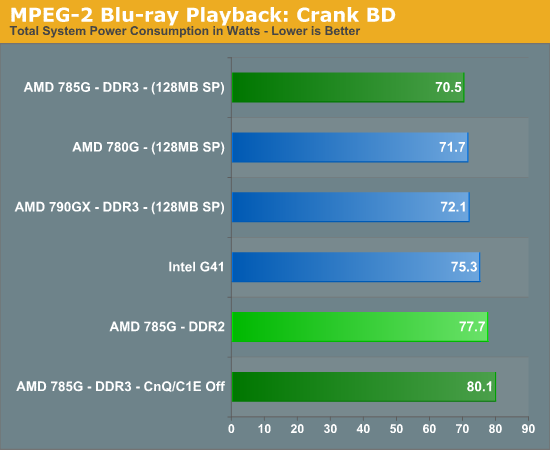 Dave Matthews and Tim Reynolds Live at Radio City –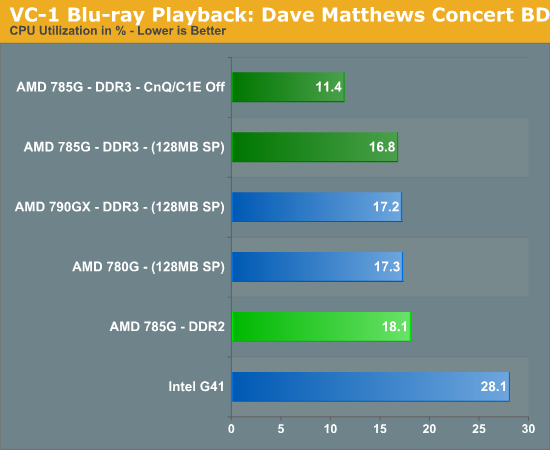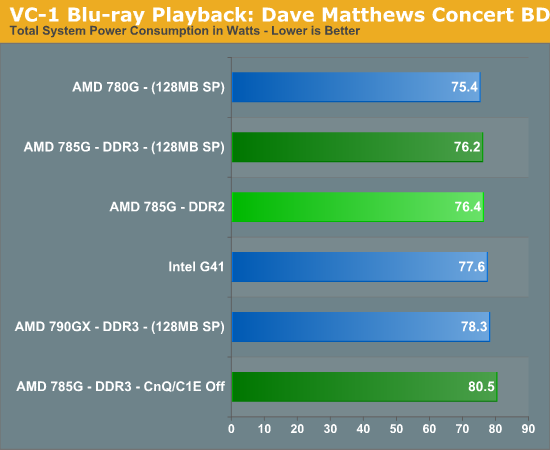 No real surprises here, since the Intel G41 chipset only supports hardware decode support with the MPEG-2 format. The G41 is not competitive with the 785G with H.264 titles but makes a decent showing in our VC1 based title. However, it does offer slightly lower CPU utilization rates in our MPEG-2 title than the 785G, unless you disable CnQ/C1E on the AMD platform.
The 785G DDR3 platform has the best overall power consumption numbers with power management features enabled. In the past, we recommended leaving CnQ disabled in order to ensure proper operation of the system and to avoid an overtly negative performance penalty, but those times have changed. Our 785G DDR2 system is voltage challenged in these tests as we had to manually set the CoreVid to 1.350V (1.332V real) as it would auto set to 1.392V instead of 1.325V. Undervolting the CPU to 1.288 worked fine in our playback tests but not in other benchmarks.
We did not note any substantial differences in playback quality between the 785G and G41, although we tended to prefer the 785G on our larger screens. It just seemed to have a slightly sharper picture even with all post processing effects turned off. We calibrated our monitors and TVs before each screening so a minuet offset in a setting could have affected our results, but our eyes always gravitated to the AMD setup in A/B comparisons.
Of course, the 785G offered significantly more video enhancement options than the G41 if you like to play with that stuff. Vector Adaptive de-interlacing, pulldown detection, edge enhancement, de-noise, dynamic contrast, color vibrance, flesh tone correction, and 1080P/24 were all working correctly in our latest driver set. Yeah, we know, it sounds too good to be true with an AMD driver set, but it worked this time for us.
Wanted-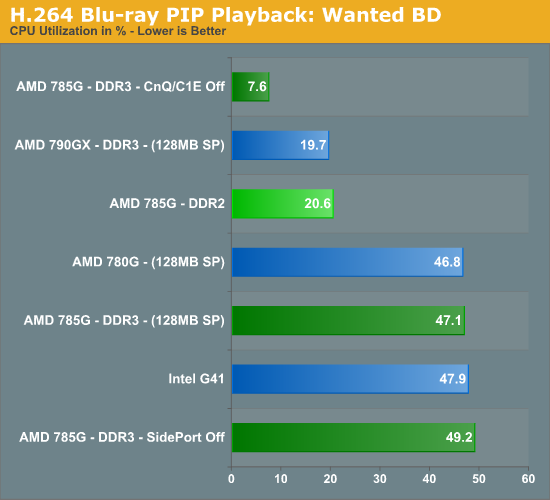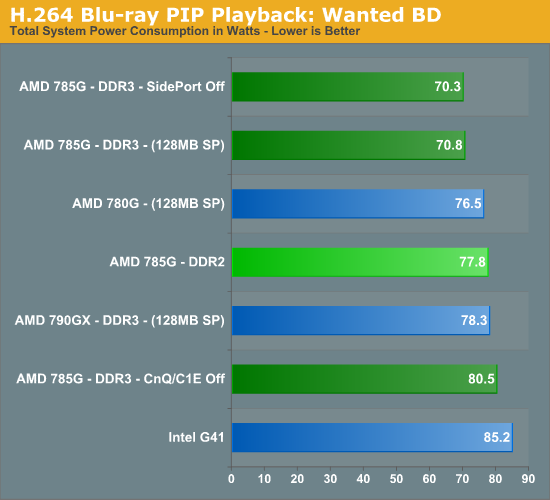 One of the new features of the 785G is hardware assisted picture-in-picture playback capabilities, actually AMD simply states accelerated multiple streams in their specifications. All we know is that it works, and works perfectly with a variety of Blu-ray titles that feature PIP capabilities.
Hulu TV HD
Full Screen -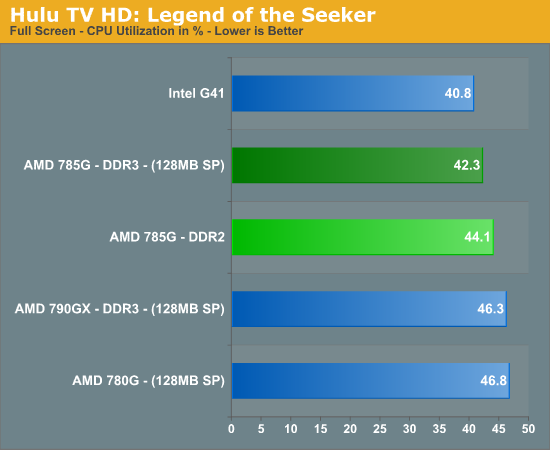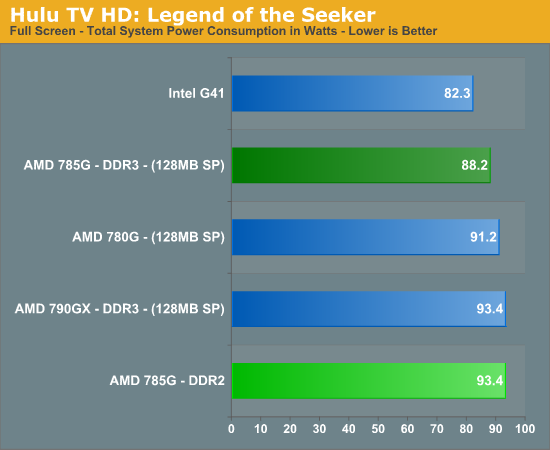 1280x720 -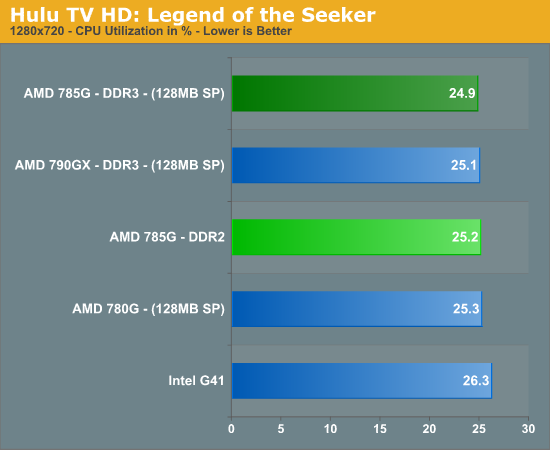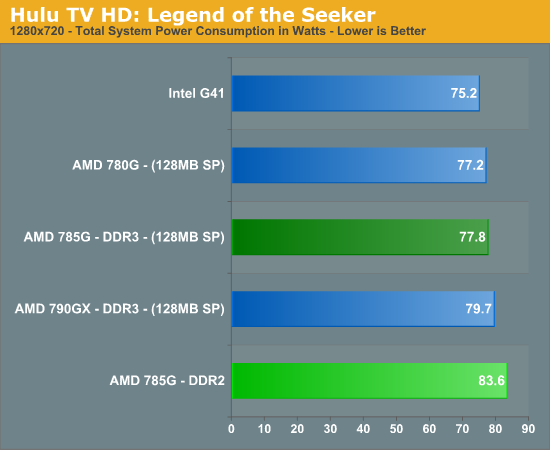 One of our favorite desktop applications is Hulu. We decided to incorporate this fantastic service into our benchmarks. Some might say that all you really need for decent Hulu playback is a fast internet connection and a system that actually cooperates well with Adobe Flash. We think a fast hard drive, lots of memory, and very good GPU is just as important.
The G41 offers the best CPU utilization rate under full screen mode when streaming our HD title. There is a reason for this; we had occasional judders and stutters during heavy action sequences or pan zooms that did not occur on the 785G platform. The G41 behaved better in 1280x720 mode but we still encountered the occasional stutter, just not as often.