The Fastest Processor for Single Threaded Tasks
In the past we've had to make concessions for single-threaded application performance on modern day quad-core processors. For example, $266 will buy you two 3.33GHz cores or four 2.83GHz cores from Intel. I generally recommend going the quad-core option but there's no getting around the fact that you do give up some performance when an application can't take advantage of more than two threads.
With the Core i7 Extreme 975 the CPU can run at up to 3.60GHz when only one core is active (3.46GHz if more than one core is active). In my testing I found that the CPU almost always ran at its maximum turbo frequencies.
The graph below shows single-threaded performance in Cinebench R10. Note that while the Core 2 Duo E8600 (3.33GHz) was the top performer in this test for quite some time, the Core i7's Turbo Mode has ensured that it's no longer true.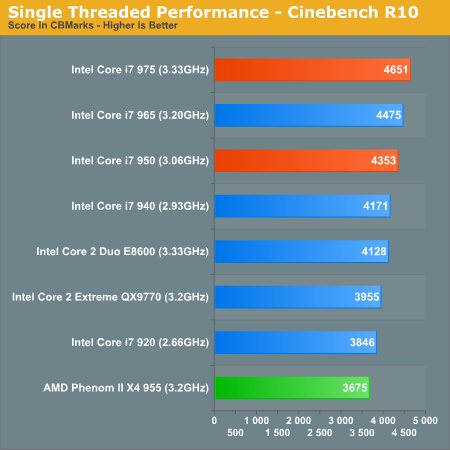 The fastest single-threaded processors are now Intel's quad-core, eight-thread Core i7s
The biggest issue I see with the i7's Turbo Mode today is that you only get one speed bin improvement (+133MHz) if 2 or more cores are active. The biggest boost (+266MHz) only comes when only a single core is active. Perhaps we'll have to wait for Lynnfield for that.
The Test
Motherboard:
Intel DX58SO (Intel X58)
Intel DX48BT2 (Intel X48)
MSI DKA790GX Platinum (AMD 790GX)
Gigabyte GA-MA790GP-DS4H (AMD 790GX)
Gigabyte GA-MA790FX-UD5P (AMD 790FX)
Chipset:
Intel X48
Intel X58
AMD 790GX
AMD 790FX
Chipset Drivers:
Intel 9.1.1.1010 (Intel)
AMD Catalyst 8.12
Hard Disk:
Intel X25-M SSD (80GB)
Memory:
G.Skill DDR2-800 2 x 2GB (4-4-4-12)
G.Skill DDR2-1066 2 x 2GB (5-5-5-15)
Qimonda DDR3-1066 4 x 1GB (7-7-7-20)
Corsair DDR3-1333 4 x 1GB (7-7-7-20)

Video Card:
eVGA GeForce GTX 280
Video Drivers:
NVIDIA ForceWare 180.43 (Vista64)
NVIDIA ForceWare 178.24 (Vista32)
Desktop Resolution:
1920 x 1200
OS:
Windows Vista Ultimate 32-bit (for SYSMark)
Windows Vista Ultimate 64-bit