FarCry 2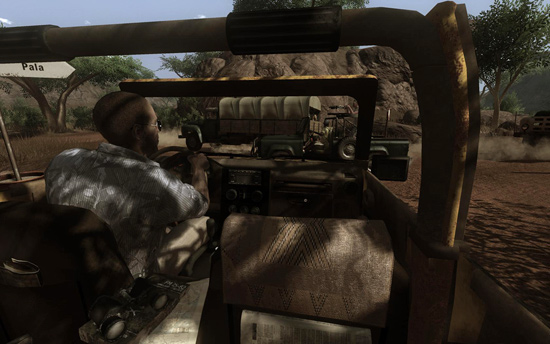 This title has beautiful graphics, an open ended environment, and is fun to play... but traveling between missions tends to get repetitive. If you dial up the graphics options, the game rewards with you some fantastic visuals courtesy of the Dunia Engine. The game also features the most impressive benchmark tool we have seen in a PC game. We set the performance feature set to Very High, graphics to High, and enable DX10 with AA set to 2x. The in-game benchmark tool is utilized with the Ranch Small level and we report an average of three test runs.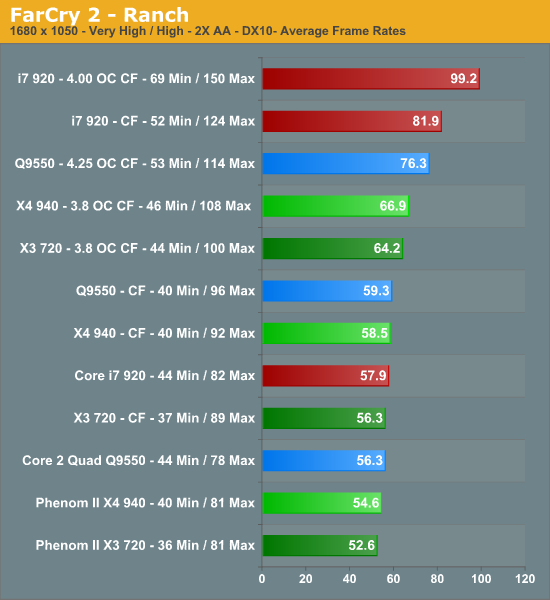 Two things still hold true about this game. It favors the Intel processors, and once you provide enough GPU horsepower, the performance of the i7 platform is untouchable. If you wanted to pick a single benchmark and show a large disparity in gaming performance between the Intel and AMD platforms, this is the one to use. Does that mean the game play experience on the Phenom II platform is bad, certainly not, in fact it is very good. However, you can run higher resolutions and/or quality settings on the i7 platform and improve your game play experience without affecting performance.
In the 1680x1050 single card and CrossFire test, the 720BE trails the X940 by 4% on average even with a clock speed disadvantage of 7%. The 720BE does hold an L3 cache per core and Northbridge speed advantage but clock speed is still important in the game. Adding a second card for CrossFire operation improves average frame rates by 7% and minimum frame rates less than 1% for the 720BE. Once we overclock our 720BE, average frame rates increase 14% and minimum frame rates 19% over stock CF numbers.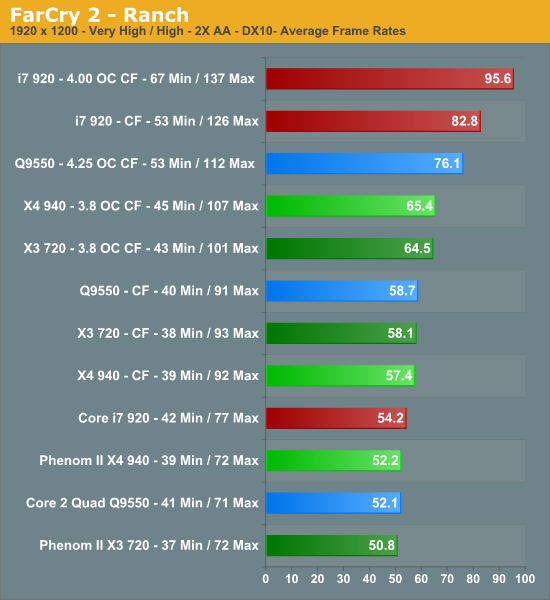 At 1920x1200, the benchmarks reveal nothing new between the platforms. The Phenom II processors are competitive with a single card configuration with the 720BE only trailing the X4 940 by 3%. As we start to become CPU/GPU limited the 720BE trails the X4 940 by less than a 1% in the CrossFire tests. Adding a second card to the 720BE system for CrossFire operation improves average frame rates by 14% and minimum frame rates by less than 1%. Neither Phenom II competes with the Q9550 in either average or minimum frame rates. The i7 is just stupid fast in these benchmarks compared to the other systems.
When it comes to game play experience and not benchmark tests, all three platforms behaved in a similar manner at our specified settings. We did not notice any advantages with the improved frame rates that the i7 offers over the other two platforms. However, with the i7 we could change the graphic settings to Very High and increase AA to 4x and still experience very good game play. It was as if nothing changed except now we were looking at the savannahs of Africa in a much better way. These same settings were not always a pleasant experience on the other two platforms during heavy action scenes, but the game remained playable for the most part.
Increasing Northbridge Speed for Performance Improvements
One of the quickest ways to extract additional performance on the Phenom II (also Phenom) platform is to increase Northbridge speeds. We are working on a separate article covering the advantages and disadvantages of this setting. Our initial results are positive for applications that heavily depend on memory throughput and low latencies. We thought it would be interesting to see what would occur if the Northbridge speed was raised from a stock 2GHz level to 2.8GHz on our 720BE processor in Far Cry 2. This is worst comparative game title for our AMD Phenom II processors today, so let's see if we have any performance improvements at 1680x1050.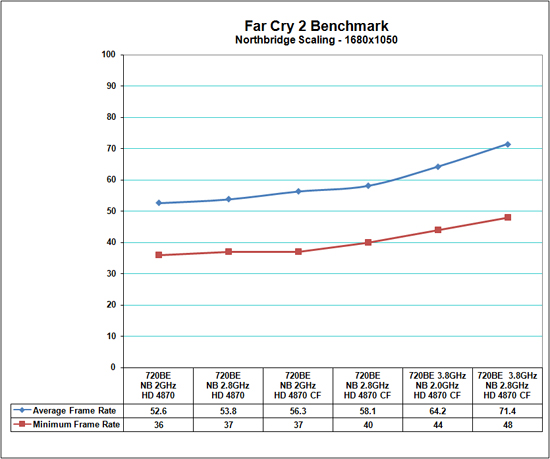 At stock processor speeds with a single video card there is a 2% increase in average and minimum frame rates. We did not expect much as the data pipeline is not under a lot of stress at this point. As we move to our CrossFire X configuration at stock CPU speeds there is a 3% increase in average frame rates and 8% in minimum frame rates. Now it gets interesting as we overclock our CPU to 3.8GHz and are able to feed the data pipelines in a proper manner, at least we thought so. By increasing our NB speed to 2.8GHz, the average frame rates increase 11% and minimum frame rates increase 9%. We have noticed similar results at 1920x1200 in this game and in other applications.
All that required was a simple increase in CPU/NB VID from 1.200V to 1.375V with this particular CPU. Some CPUs will require additional voltage and/or improved cooling to clock up the Northbridge speed to this level. In our experiences to date with the Phenom II processors, all of our samples have hit 2.8GHz with 1.375V to 1.425V on good air-cooling.