Power Consumption
All these results are taken at the wall (total system power) running the 3dmark Vantage POM (parallax occlusion mapping) shader test. This test uses very little other system resources and focuses on the GPU. This means that the numbers you see here are LOWER than total system power while playing a game -- often by more than 50W and sometimes 100W, depending on the game, benchmark and system. These numbers show clearer differences between GPU power draw, which is why we stick with them. These numbers should NOT be used to determine a proper PSU for a certain graphics card solution unless you consider a couple hundred watts of headroom in your calculation.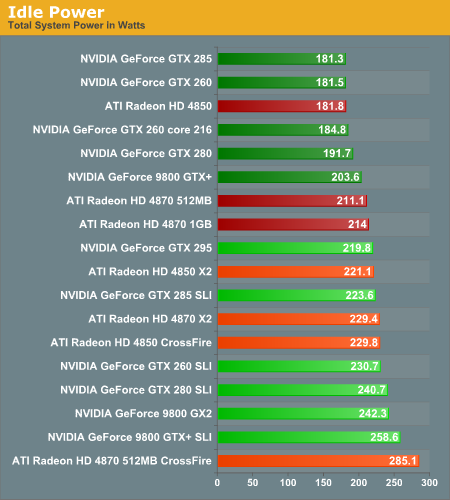 For idle power, NVIDIA's 55nm GT200 parts take the cake. We don't have a 55nm GTX 260 in house, but we would expect it's idle power to come in on par or lower than our GTX 285. AMD's 4850 hangs with the lower power NVIDIA options, but both the 512MB and 1GB 4870 variants pull more power than any of our other single GPU solutions.
For multiGPU options, SLI definitely draws the most power. The X2 single card multiGPU options are better than the two card solutions, and this carries over to NVIDIA as well with the GTX 295 coming in at lower power than 2x GTX 260s. If we had tested two 1GB 4870 cards, we would expect to see more than 285W power draw at idle, which is quite high indeed.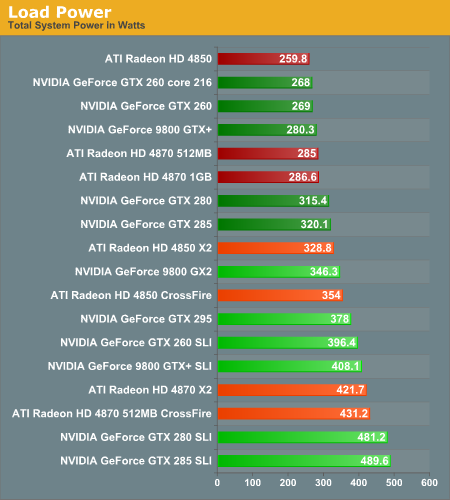 Things change up a bit when we explore load power draw. The lowest idle power parts end up drawing the most power under load. The additional draw of the GTX 280 and GTX 285 are not unexpected as they offer a typically higher level of performance for their power. All our multiGPU options do draw more power than all of our single GPU configurations, so, though we didn't calculate them, you can expect performance per watt advantages where ever a single GPU leads any multiGPU option in performance.