The Manufacturing Roadmap
The tick-tock cadence may have come about at the microprocessor level, but its roots have always been in manufacturing. As long as I've been running AnandTech, Intel has introduced a new manufacturing process every two years. In fact, since 1989 Intel has kept up this two year cycle.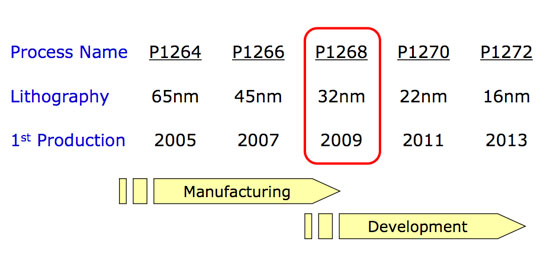 We saw the first 45nm CPUs with the Penryn core back in late 2007. Penryn, released at the very high end, spent most of 2008 making its way mainstream. Now you can buy a 45nm Penryn CPU for less than $100.
The next process technology, which Intel refers to internally as P1268, shrinks transistor feature size down to 32nm. The table above shows you that first production will be in 2009 and, after a brief pause to check your calendars, that means this year. More specifically, Q4 of this year.
I'll get to the products in a moment, but first let's talk about the manufacturing process itself.
Here we have our basic CMOS transistor: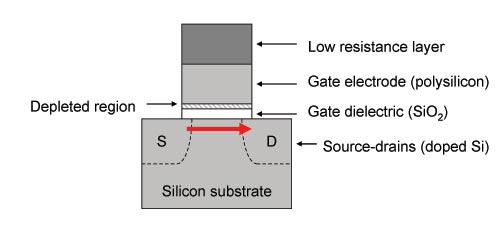 Current flows from source to drain when the transistor is on, and it isn't supposed to flow when it's off. Now as you shrink the transistor, all of its parts shrink. At 65nm Intel found that it couldn't shrink the gate dielectric any more without leaking too much current through the gate itself. Back then the gate dielectric was 1.2nm thick (about the thickness of 5 atoms), but at 45nm Intel's switched from a SiO2 gate dielectric to a high-k one using Hafnium. That's where the high-k comes from.
The gate electrode also got replaced at 45nm with a metal to help increase drive current (more current flows when you want it to). That's where the metal gate comes from.
The combination of the two changes to the basic transistor gave us Intel's high-k + metal gate transistors at 45nm, and at 32nm we have the second generation of those improvements.
The high-k gate dielectric gets a little thinner (equivalent to a 0.9nm SiO2 gate, but presumably thicker since it's Hafnium based, down from 1.0nm at 45nm ) and we've still got a metal gate.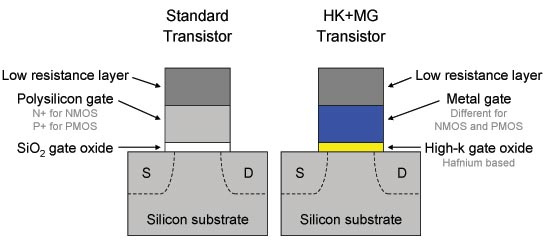 At 32nm the transistors are approximately 70% the size of Intel's 45nm hk + mg transistors, allowing Intel to pack more in a smaller area.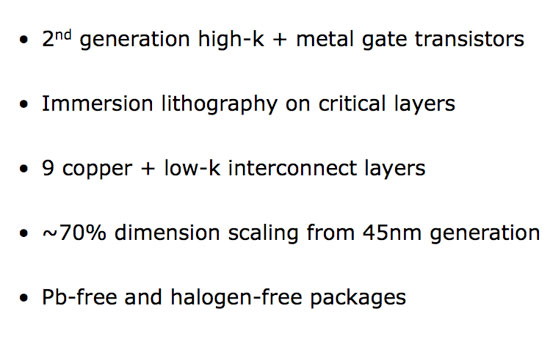 The big change here is that Intel is using immersion lithography on critical metal layers in order to continue to use existing 193nm lithography equipment. The smaller your transistors are, the higher resolution your equipment has to be in order to actually build them. Immersion lithography is used to increase the resolution of existing lithography equipment without requiring new technologies. It is a costlier approach, but one that becomes necessary as you scale below 45nm. Note that AMD to made the switch to immersion lithography at 45nm.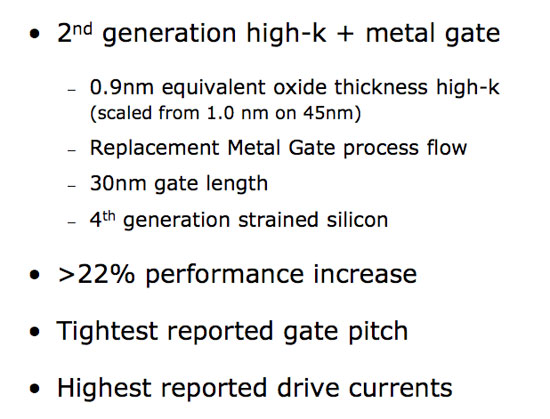 Intel reported significant gains in transistor performance at 32nm; the graphs below help explain: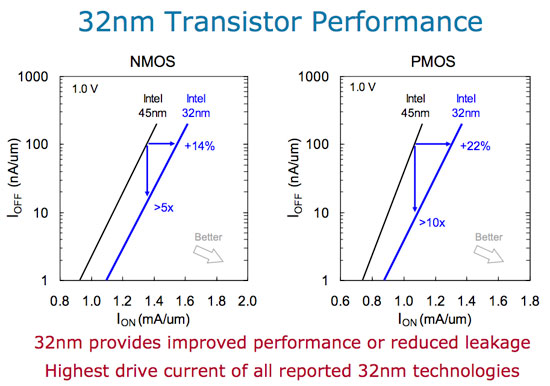 We're looking at the comparison of leakage current vs. drive current for both 32nm NMOS and PMOS transistors. The new transistors showcase a huge improvement in power efficiency. You can either run them faster or run them at the same speed and significantly reduce leakage current by a magnitude of greater than 5 - 10x compared to Intel's 45nm transistors. Intel claims that its 32nm transistors boast the highest drive current of all reported 32nm technologies at this point, which admittedly there aren't many.
The power/performance characteristics of Intel's 32nm process make it particularly attractive for mobile applications. But more on that later.