Introduction
Silverstone has had some interesting innovations for its customers, for example the FT01 designed for optimal cooling using positive air pressure. Today we are looking at another new cooling concept from Silverstone. Just as positive air pressure is nothing revolutionary -- search through any tech forums and you're likely to see some discussions about the topic -- the new concept with this case is that Silverstone change the direction the motherboard faces. Instead of having the I/O ports on the back, they will now be at the top of the case. If that immediately makes you worry about wires cluttering things up, don't: Silverstone has a cover to help keep the look clean.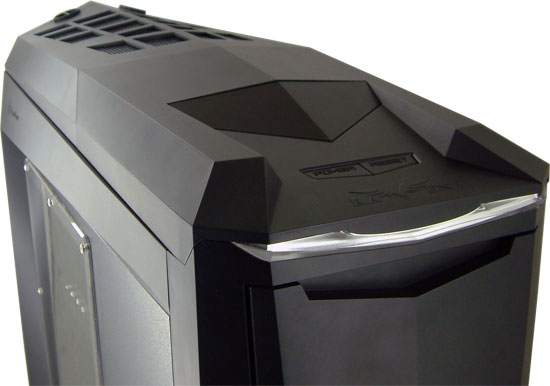 The case looks like it came directly from the Transformer factory, and that's likely something you will either love or hate. Silverstone told us that the general feedback from customers so far is very good, and since the case is already available they apparently have sales to back up that statement.
As far as changing the direction the motherboard faces, the goal is simple. Silverstone wants to use a chimney stack effect where cool air comes in at the bottom and naturally flows upwards -- hot air rises. By designing a case where all of the air enters at the bottom and flows out the top, cooling should be improved and perhaps noise levels will be reduced at the same time. There are still fans to help out, but the natural airflow will hopefully reduce fan speeds. We can't actually prove that the stack effect is better or worse than other cases, since this case is only designed to work with the effect being active.
Silverstone has invested a great deal of time explaining how different cooling effects work, which you can see on YouTube and their own internal website:

Stack Effect Cooling (YouTube video)
Positive Air Pressure (YouTube 1, YouTube 2)
Silverstone Raven Specifications
Motherboard Formfactor
ATX, Micro ATX, Extended ATX
Drive Bays
External
5x 5.25"
Internal
6x 3.5"
Cooling
Front
-
Rear
-
Top
1x 120mm exhaust
Side
-
Bottom
2x 180mm intake
Expansion Slots
7
Front I/O Port
2x USB, 1x Audio, 1x Micro , 1x IEEE1394
Power Supply Size
Standard ATX
Weight
15kg
Dimensions
280 x 616 x 660 (WxHxD in mm)
Now let's see if this case can actually live up to Silverstone's promises and stand out from the crowd.