From Humble Beginnings to Huge Success
Before success comes hard work. That holds true for every company earning money today. Doug was the driving power behind PC Power & Cooling over the years, and their success came with a lot of hard work and some good ideas. We got some old pictures that show some of the history behind the company.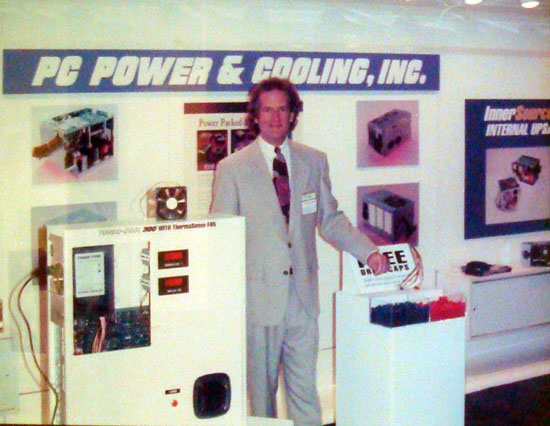 Here's a picture of Doug Dodson in 1992 at his Comdex booth in Las Vegas. Note how large the power supply is in the chassis. Also notable are the freebies under his left hand. Those are actually the same caps they are still using on some power supplies today.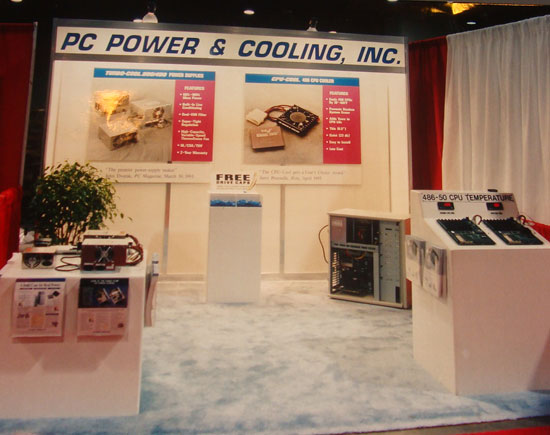 Here's another booth at a convention with Doug showing what he has to offer. Notice the poster of a cooler on the right side of the wall. That was one of the first CPU coolers available at a time when all CPUs were passively cooled.
Which company claims to have had the first 120mm fan in a power supply? This photo shows PC Power & Cooling already had such a fan in 1986. Note the name of the power supply: Silencer. Can you imagine this name is already 22 years old? Today, the Silencer series - including the 750 Quad - is still one of the best power supplies available.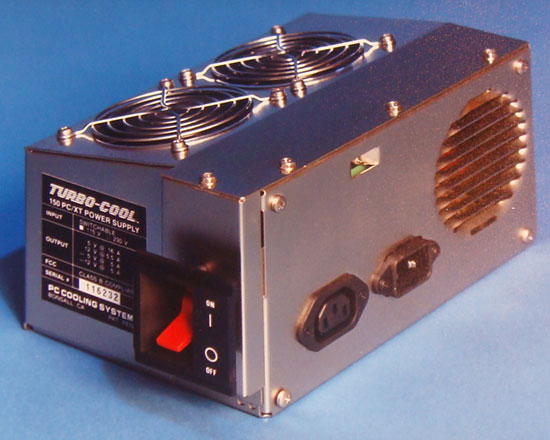 Here's the first Turbo Cool power supply from the successful series. This power supply made PC Power & Cooling what it is today. When other companies had bad ventilation and only one small fan, PC Power decided to use two fans that blew fresh air onto the components. Since the 5V rail fed most of the components back then, it was rated at a then massive 20A. In contrast, the 12V rail only supplied up to 8A. Another advantage PC Power had over the competition was the angled fans; the competition blew air straight at the components while PC Power angled the fans to improve airflow. There was simply no competition for these power supplies, which is where the company started its huge success.
The difference between the two power supplies in the above gallery is easy to see. While other manufacturers used very simple designs with few components, PC Power provided more - and better - components. Innovations such as these helped pave the way for modern power supplies.
That wraps up our visit with PC Power & Cooling in San Diego. Thanks to Doug and James for their time, as well as a nostalgic trip down memory lane.