The Phenom Inspired, Core i7-like, Phenom II
Want to hear something funny? When AMD launched the original Phenom, it was a unique looking architecture, something AMD touted as a significant advantage due to its "native" monolithic quad-core design (four cores, one die). I often argued that it wasn't an advantage, simply because the performance numbers didn't back up AMD's claims. AMD never won a real world desktop benchmark because of the monolithic quad-core design.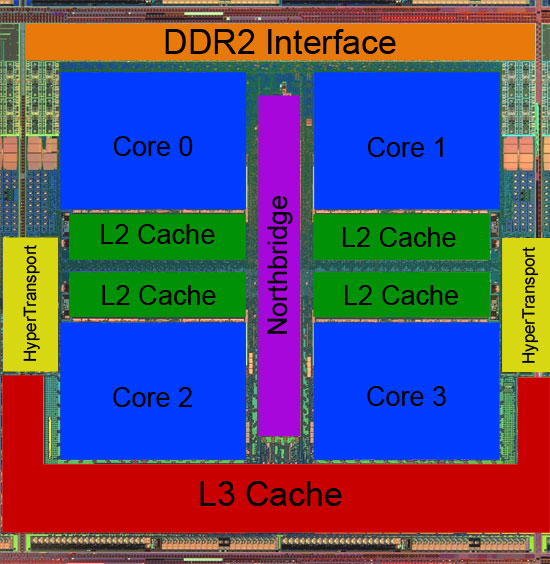 Intel followed up with Nehalem (Core i7), a microprocessor that had a very Phenom-like cache hierarchy (four cores, private L2 caches, one large shared L3 cache), but with much better performance.
Phenom II builds upon the same architecture as the original Phenom, hardly changed, but improves on a few key limitations. This isn't a new microarchitecture, this is a 45nm shrink of Phenom. In a sense, AMD gave up on improving the original Phenom. Early on after Phenom's release AMD went head in the sand and did whatever was necessary to make the 45nm transition perfect. Deneb, as it was called internally, had to succeed - because AMD as a company wasn't going to survive on the backs of the GPU division forever. It's somewhat ironic that Intel was able to execute a better Phenom-like microarchitecture before AMD.
| | | | | |
| --- | --- | --- | --- | --- |
| Processor | AMD Phenom II | AMD Phenom | Intel Core i7 | Intel Core 2 Quad Q8xxx/Q9xxx |
| Manufacturing Process | 45nm | 65nm | 45nm | 45nm |
| L1 Cache | 64K + 64K per core | 64K + 64K per core | 32KB + 32KB per core | 32KB + 32KB per core |
| L2 Cache | 512KB per core | 512KB per core | 256KB per core | 2x3MB, 2x4MB or 2x6MB |
| L3 Cache | 6MB | 2MB | 8MB | - |
| Transistor Count | 758M | 450M | 731M | 456M (6MB/8MB L2) or 820M (12MB L2) |
| Die Size | 258 mm2 | 285 mm2 | 263 mm2 | 164 mm2 (6MB/8MB L2) or 214 mm2 (12MB L2) |
The above chart details the specifications for the current AMD and Intel quad-core offerings, and here we see a problem. Phenom II and Core i7 are around the same die size and have similar transistor counts, yet Core i7 sells for $284 - $999 while Phenom II sells for $235 - $275. The part that Phenom II actually competes with is the Core 2 Quad Q9400 (and perhaps the Q9550; more on that later), and that's a ~36% smaller die. This is the downside to AMD's pricing strategy; while it's great for consumers it's not particularly great for AMD's profit margins. The other thing to keep in mind is that at 214 mm2 Intel has an entire line of quad-core processors that, in theory, could be moved down the price list if the price wars of 2008 were to continue into 2009.
The move to 45nm was severely needed as you can see by the table above. AMD and Intel seem to agree on the right way to build a quad-core processor today: four cores with individual L2 caches (or one shared L2 per two cores on Intel) behind a large global L3 cache. Intel, however, waited until the 45nm transition was complete to move to that sort of an architecture in order to outfit the chip with a large enough L3 cache. AMD jumped the gun early with Phenom and was forced to limit its L3 cache size to 2MB on 65nm. Finally, with the move to 45nm, Phenom II boasts a 6MB L3.
The transistor counts of Phenom II and Core i7 are surprisingly close, as are the die sizes. The two chips are designed completely differently, but the end result is similarly sized processors. Note that both Phenom II and Core i7 are too big for high volume mainstream markets; the die size would need to be around half of what it is now to address those markets. AMD and Intel will do so by introducing dual (or triple in the case of AMD) core versions at 45nm and then transitioning almost exclusively to quad-core at 32nm.
Phenom II also marks AMD's return to the >$200 CPU market. The two parts launching today are the Phenom II X4 940 and the Phenom II X4 920, priced at $275 and $235 respectively.
| | | | | | | |
| --- | --- | --- | --- | --- | --- | --- |
| Processor | Clock Speed | Uncore Clock | L2 Cache | L3 Cache | TDP | Price |
| AMD Phenom II X4 940 | 3.0GHz | 1.8GHz | 2MB | 6MB | 125W | $275 |
| AMD Phenom II X4 920 | 2.8GHz | 1.8GHz | 2MB | 6MB | 125W | $235 |
| AMD Phenom 9950 | 2.6GHz | 2.0GHz | 2MB | 2MB | 140W | $174 |