Thermaltake TR2 QFan 400W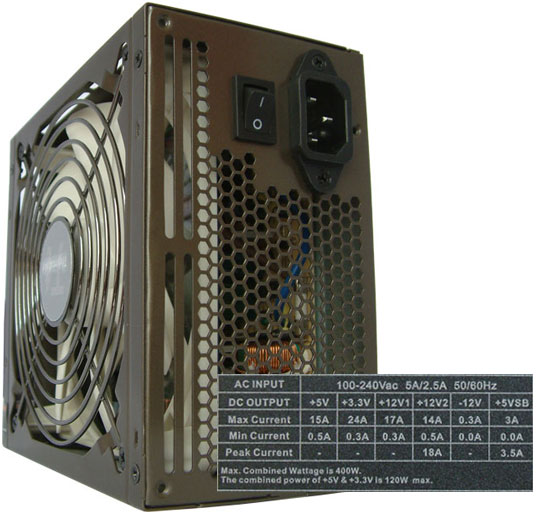 Today we will again show the Thermaltake TR2 QFan series since Thermaltake is one of the first manufacturers to show it will listen to end-users. Unfortunately, this series is still not available on the market and various statements from Thermaltake have ranged from "it's already available" to no comment at all. We don't have any clear idea what's going on with this series, but we will be sure to have a chat with the representatives at CES 2009. The first time we saw this series was at CeBIT in Germany this year, but since it's nothing new to find a manufacturer needs a little extra time for a product to hit the market we still aren't worried. The series comes a grayish brown color that looks quite cool. Thermaltake installed their QFan inside for a little extra airflow. We know that this fan can be noisy, even though Thermaltake praises it for very quiet operation.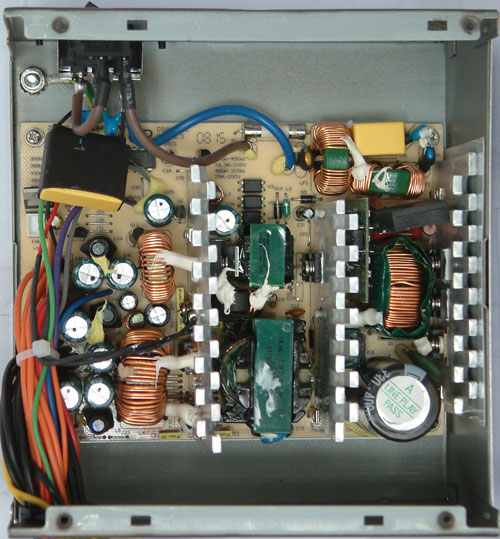 We have seen quite a lot CWT build power supplies -- the company must have had a hell of year in sales. As far as the QFan, we see minimal components on the input filtering stage and the internals are very sparse in comparison to higher-end PSUs. Of course, if you only need to output 300W to 450W, you don't need a lot of extra components. We find a standard CWT design with three heatsinks, two for the primary side. Thermaltake uses Hitachi capacitors for the primary and SamXon caps on the secondary side. We don't have any complaints about the Hitachi caps, and even though SamXon is a cheaper offering, we haven't encountered any problems with their capacitors in previously tested PSUs.
Cable sleeving begins just beyond where the cable harnesses leave the front of the power supply. We tend to think it looks nicer if the sleeving begins inside the power supply casing, but it's not a huge issue and personal opinion plays a role. Also somewhat odd is that Thermaltake provides the same number of cables and connectors, with identical cable lengths on all of the TR2 power supplies. That means users get plenty of connectors on the 300W model, but the 450W trimmings seem a bit spartan in comparison. We would have liked to see an 8-pin EPS 12V connector or an additional 6-pin PEG connector. Still, there are sufficient Molex and SATA connectors for all kinds of users.