Introduction
We visited many power supply companies during the past year, and many of them have commented, "the power supply market is dead -- there's nothing new that can be done to attract more customers." That's not entirely wrong, as PSUs are one of the components most people only think about when their old unit fails, or when building a new system. However, it's still important for power supply companies to research new technologies and features, especially if they want to stand out from the crowd. The most recent feature to make its way onto the scene is DC-to-DC technology, with several companies now sporting high-end PSUs that use it. For example, we have the previously tested Enermax Revolution 85+, Silverstone's Zeus 1200W, and Antec's Signature Series.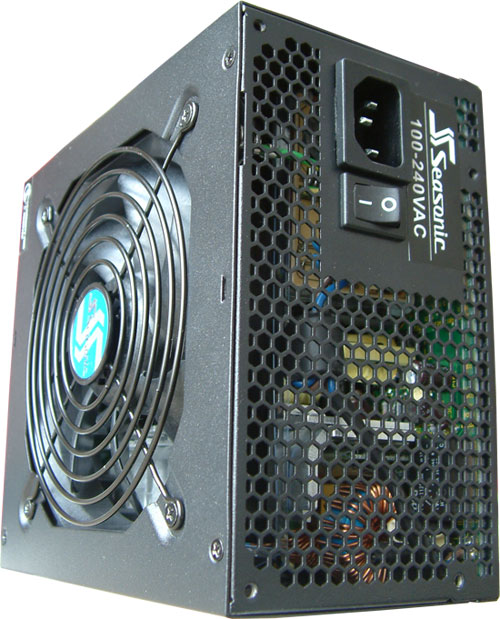 DC-to-DC technology is nothing revolutionary, as power supplies have always had 3.3V and 5V rails; the difference is simply that instead of taking these directly from the transformer, these rails now split off from the 12V rail -- hence, DC-to-DC. Like other companies, Seasonic has worked on implementing this technology, but they didn't want to rush the new products to market. According to Seasonic representatives, they didn't want to have end-users beta testing the technology, instead waiting until their new PSUs were truly ready for public consumption.
Today we are looking at the long anticipated M12D series, which of course features DC-to-DC technology. We want to see if there's actually difference between Seasonic's offering and the other power supplies that use this tech. Enermax already showed us that they can reach 90% efficiency with a DC-to-DC PSU, so we want to see if Seasonic can match that achievement. There's also more to building a quality power supply than raw efficiency of course, as we discussed recently, but it is worth mentioning that Seasonic has achieved 80 Plus Silver certification.
The outward appearance of the new M12D series doesn't break new ground, with Seasonic once again using their standard black design. The casing is 160 mm long, which is slightly longer than usual, but Seasonic has built PSUs for other companies that use a longer casing (i.e. PC Power & Cooling Silencer 750 Quad). Besides the DC-to-DC technology, Seasonic includes a few other interesting features, including a custom Sanyo Denki fan. The PSUs are also supposed to have very tight voltage regulation and use only Japanese manufactured capacitors. The M12D series starts at 750W and 850W, which is definitely at the high end of what most users need. We know in the past Seasonic has tended to focus on more reasonable wattages, so hopefully we will see some of the wattage models in the future.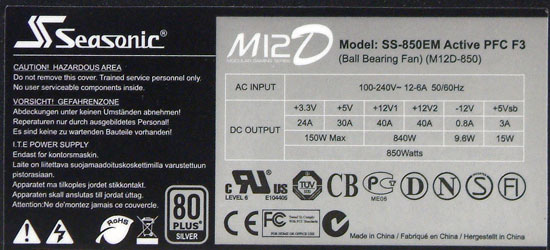 We are testing the 850W model today, which comes with two 12V rails each rated at 40A. Again, this isn't remarkably different from other Seasonic PSUs, but it does give users plenty of juice on each rail even with sudden large peak loads. The 3.3V rail is rated at 24A and 5V rail is 30A, both of which are fine for modern systems.