3D Rendering Performance
Our first 3D rendering test is POV-Ray 37 beta 29 and its SMP benchmark, the performance is measured in ray traced pixels per second: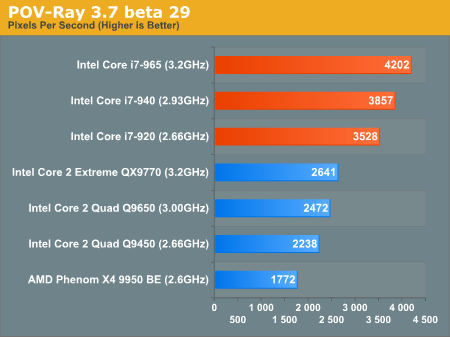 As we've already seen, Nehalem's multi-threaded 3D rendering performance is absolutely insane - the $284 Core i7-920 is faster than the $1400 Core 2 Extreme QX9770.
Next up we have Cinebench with both its single and multi-threaded rendering tests: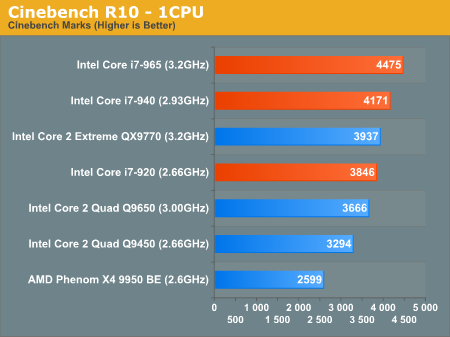 Nehalem's single-threaded performance is still improved over Penryn, here we're seeing a 13.7% increase in performance at 3.2GHz.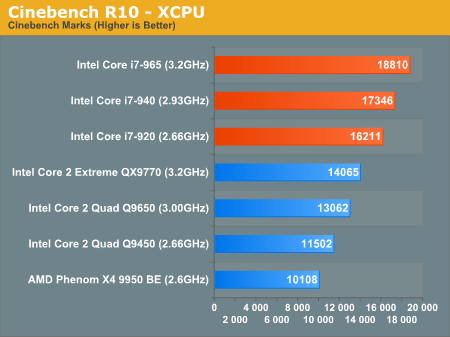 Toss more threads at the i7 and the performance boost jumps to 34%, once again the i7-920 is faster than the QX9770.
Our final 3D rendering benchmark is the SPECapc 3dsmax 8 CPU rendering test run on 3dsmax 9: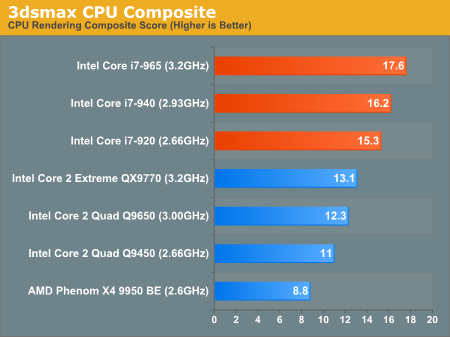 That's another 30%+ advantage for Nehalem. If you do a lot of 3D rendering on your system, Intel is going to give you $1400 worth of performance for $284. Merry Christmas.