Video and Media Encoding Performance
Nehalem is happiest in 3D rendering applications, but video encoding is a close second place. Our first video encoding test is Tech ARP's x264 HD benchmark, which does a test encode of a 720p source file using the x264 codec. We're reporting results from the 0.59.819 version of x264.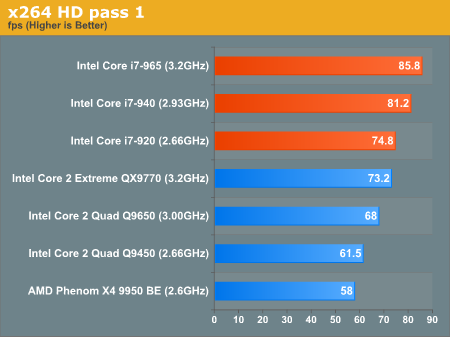 Here Nehalem can "only" deliver a 17% performance advantage over Penryn, but once again the $284 i7-920 is faster than the $1400 QX9770.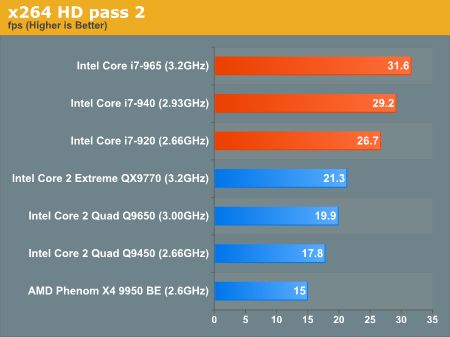 Our DivX test is the same DivX / XMpeg 5.03 test we've run for the past couple of years now, the 1080p source file is encoded using the unconstrained DivX profile, quality/performance is set balanced at 5 and enhanced multithreading is enabled: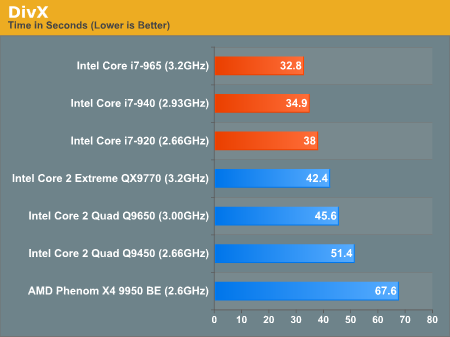 You know the drill, Intel introduces a new architecture and obsoletes its old one - the i7-920 is looking mighty tempting...
The WME test gives us a little dose of reality, the i7-920 is only as fast as the QX9770 here: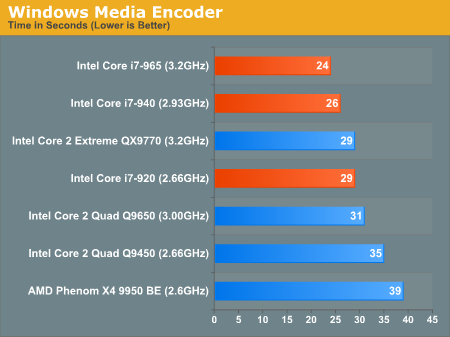 Although this isn't a video encoding test I wanted to include a lighter workload to illustrate a situation where Nehalem is no faster than its predecessor. The iTunes benchmark is a simple WAV to MP3 encode and Nehalem isn't able to dominate here: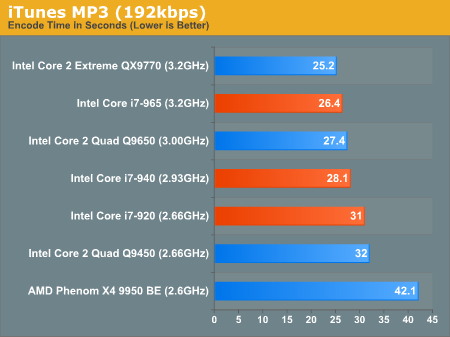 Penryn pulls slightly ahead at the top end but at 2.66GHz it falls slightly behind. In both cases the point is that you'll be faster with a QX9770 than an i7-920, and you'll be no faster with a Nehalem vs. Penryn.