Battery Life: Take Two Steps Forward, and Two Steps Back
If we look at the power consumption comparison we did in our GeForce 9300 review you'll see that the NVIDIA chipset pulls around 10W less power than G35 at idle, extending up to 15W under gaming loads. NVIDIA's 65nm GeForce 9400M used in the new MacBook and MacBook Pro is effectively the same chipset and thus it's safe to assume that there's a healthy reduction in platform power consumption afforded by the new hardware.
Apple reduced the capacity of both the MacBook and MacBook Pro batteries by 10W (60WHr down to 50WHr for the Pro and 55WHr down to 45WHr for the standard MB). Given that total platform power consumption should go down by around 10W, Apple's efforts here seem to make perfect sense. Smaller batteries mean lighter and potentially thinner notebooks; unfortunately it also means that battery life won't improve at all.
To test this theory I ran two of the battery tests I did back when the first Penryn MacBooks launched: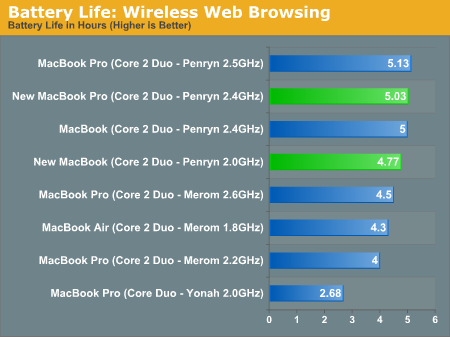 The web browsing test shows that the MacBook Pro battery life remains basically unchanged, while the MacBook takes a slight hit compared to its predecessor. For all intents and purposes, these notebooks won't last any longer than the old ones.
The same thing is true about the heavy usage scenario: battery life basically remains unchanged: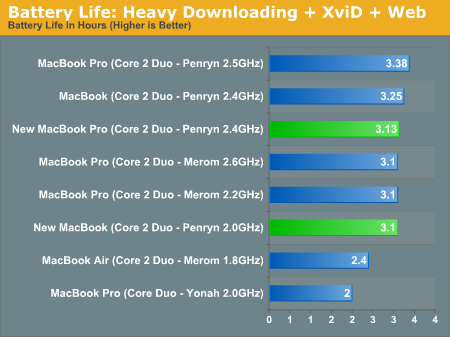 Note that in both of these tests the MacBook Pro's GeForce 9600M GPU was disabled and only the chipset's internal GeForce 9400M was used. Apple indicates that you lose 20% of your battery life if you use the 9600M on the MacBook Pro; to test this I ran the heavy usage scenario benchmark but with the 9600M enabled:
| | | |
| --- | --- | --- |
| | GeForce 9600M Disabled | GeForce 9600M Enabled |
| Battery Life (Heavy Usage Test) | 3.13 hours | 2.37 hours |
Using the dGPU dropped battery life by 24%, which is close enough to Apple's numbers to call them relatively honest. I also appreciate that Apple's 5 hour battery life is about what I got with the MacBook Pro in my web browsing test. Honesty is very important in any relationship, even if it's one between a manufacturer and a consumer.