The Test and Performance Improvement
Here's our test setup:
Test Setup
CPU
Intel Core 2 Extreme QX9770 @ 3.20GHz

Motherboard
EVGA nForce 790i SLI

Video Cards
ATI Radeon HD 4870 X2
ATI Radeon HD 4870
ATI Radeon HD 4870 1GB
NVIDIA GeForce GTX 280
NVIDIA GeForce GTX 260 SLI
NVIDIA GeForce GTX 260
NVIDIA GeForce GTX 260 Core 216
Video Drivers
Catalyst 8.7
ForceWare 177.34
Hard Drive
Seagate 7200.9 120GB 8MB 7200RPM
RAM
4 x 1GB Corsair DDR3-1333 7-7-7-20
Operating System
Windows Vista Ultimate 64-bit SP1

PSU
PC Power & Cooling Turbo Cool 1200W
Performance Improvement
So we'll spoil it right up front and give away the answer to the question on everyone's mind: how does performance improve with the addition of the extra 512MB of RAM to the 4870? And since we got a nice little surprise last week with the GTX 260 Core 216, we can even compare performance improvement of the slightly upgraded models of both the NVIDIA and AMD parts.
These comparisons are taken from the highest playable resolution in each game we tested, which is either 1920x1200 or 2560x1600 depending on the game. This class of card is able to handle the highest resolutions, but sometimes not with all the features cranked up (as our tests are designed). These high resolutions do the best job at stressing both memory and processing power, as processing more pixels every frame has an impact on both.
Another factor to consider is that we can't really tell you the maximum potential theoretical performance gain from adding more memory to a system. With the NVIDIA GTX 260 core 216, we know the maximum theoretical improvement is something like 12.5 percent. This is because we added 12.5 more compute resources. But doubling the amount of RAM, we aren't really doing anything directly to performance: we're just increasing the availability to resources to the hardware which may or may not improve utilization. Adding more RAM decreases the chance that something will need to be pulled in from system memory.
Both routes have the potential to improve performance, but both also speak to the balance of the initial design. We really don't want more memory on a board than we need to adequately feed the GPU, and, at the same time, we don't want so many compute/texture resources on the GPU that we can't possibly feed it enough data to crunch. From our perspective, it looks like the Radeon 4870 with 512MB was targeted at 1920x1200 or lower resolutions. More RAM has a lessened impact on lower resolutions, and the price point of the 4870 is generally in line with what a gamer would love to have paired with a high end 1920x1200 panel. People that buy 30" panels for gaming are more likely to go after more expensive solutions.
Some games also show a benefit from more RAM regardless of resolution, meaning they are very resource intensive games. While you can't make purchasing decisions based on future-proofing (there's really no way to accurately predict what card will do better in the future), the trend has generally been that newer games use larger and more textures and pile on more effects which take up more space in local memory. While the games that benefit across the board now are few, it is possible we could see that number increase down the line.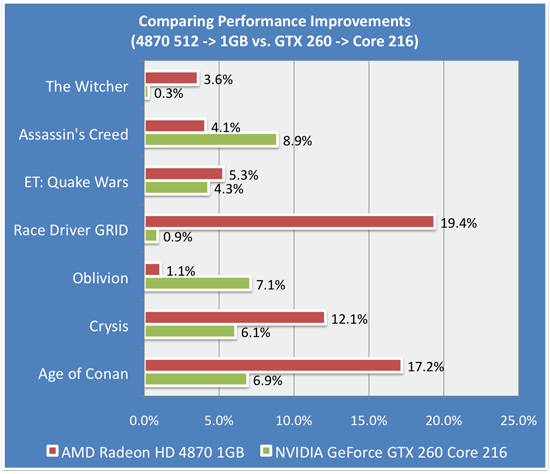 Oblivion and Assassin's Creed are the only two tests we see that don't see better improvement on AMD hardware. Perhaps not-so-coincidently, Oblivion is also one of two tests we ran where the NVIDIA GeForce GTX 260 Core 216 leads the AMD Radeon HD 4870 1GB (and the only test we ran where the original GTX 260 leads the 4870 1GB) - the other being The Witcher. This does change things up again, but it also highlights that the GTX 260 and 4870 are fairly well matched in general. With minor tweaks to performance they we are seeing a back and forth on whose part leads in our benchmark suite. It's like we have NVIDIA and AMD playing that game where each one grabs slightly higher on a stick.
Unlike the core 216, we've known this 1GB 4870 was coming down the pipe for a long time, and we've honestly expected some performance gain at high resolution. But we really didn't expect this much of a difference. The differentiation between the products is better with 4870 1GB than on NVIDIA hardware.
Let's drill down and look at individual game performance to get the rest of the picture.