Price Comparisons
Clearly, six cores and 16MB of L3 cache does not come cheap: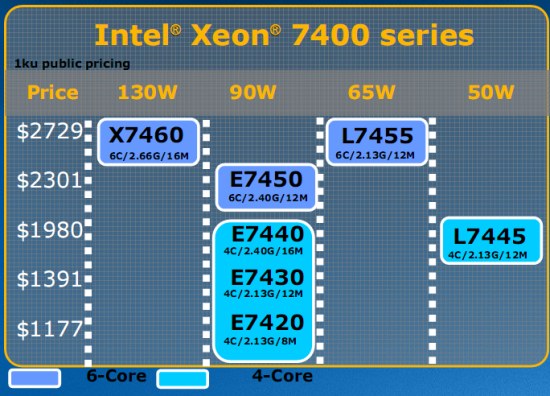 Pricing and TDP of the Xeon 74xx series
Let us see how this compares with the current AMD pricing, which AMD has not updated since March 2008.
Server CPU Pricing
Intel CPU
Price
AMD CPU
Price
Xeon X7460 2.66GHz (6 core, 16MB)
$2729
Xeon E7450 2.4GHz (6 Core, 12MB)
$2301
Opteron 8360 SE 2.5GHz
$2149
Xeon E7440 2.4GHz (12MB)
$1980
Opteron 8358 SE 2.4GHz
$1865
Xeon E7430 2.13GHz (12MB)
$1391
Opteron 8356 2.3GHz
$1514
Xeon E7420 2.13GHz (8MB)
$1177
Opteron 8354 2.2GHz
$1165
Opteron 8350 2.0GHz
$873
Xeon L7455 2.13GHz (6 core, 12MB)
$2729
Xeon L7445 2.13GHz (12MB)
$1980
Opteron 8347 HE 1.9GHz
$873
If we use the numbers from our quad socket comparison, it is clear that the two top models of the newest Xeons are out of reach of AMD. You might remember that a 2.5GHz Opteron 8360 performs more or less at the level of a 2.93GHz Xeon X7350. The E7450 that replaces the X7350 has six improved cores and a massive 12MB L3, which should ensure the newest Xeon easily outperforms the X7350 despite having a clock speed disadvantage of about 20%. Intel remains stubborn when it comes to the lower power CPUs, which come with a huge price premium. This leaves a small opening for AMD with its upcoming 45nm Shanghai CPUs.